While he may have chronicled the rock-and-roll lifestyles of old-guard musicians in a previous project, independent filmmaker Bob Zimmerman of R.A.Z. Films more recently engaged veterans of another stripe to help account for an episode in their lives when key doses of discipline, timing, and pure luck determined their very survival if not just success. Having fought in the intense Battle of Okinawa during mid-1945, six surviving members of the fabled Sixth Marine Division shared their memories with Zimmerman for his new documentary RISE OF THE VALIANT, available through Parasol Records, That's Rentertainment, Exile on Main Street, and Amazon. The video combines these candid discussions with archival visuals to dramatize the soldiers' experience in the last major United States military action of World War II prior to the nuclear bombing of Hiroshima and Nagasaki in Japan that August.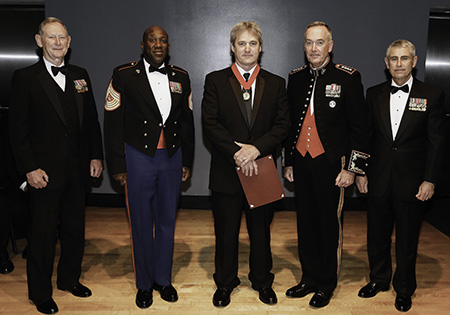 The filmmaker attended a ceremony on Saturday, April 25, at the National Museum of the Marine Corps in Triangle, Virginia, to receive the Major Norman Hatch Award given annually by the Marine Corps Heritage Foundation, the goal of which is "to recognize exemplary examples of creative art depicting Marine Corps culture and history." Zimmerman was one of 18 honorees that day. "Getting an award that really is on a national level like this means a lot to me," he told C-U Blogfidential in an e-mail exchange. "It is nice to be recognized for the film by the Marine Corps. To be on stage and presented the award with the top brass is really an honor." Attendees included the 36th Commandant of the Marine Corps, General Joseph F. Dunford, Jr., currently a nominee for Chairman of the Joint Chiefs of Staff.
RISE OF THE VALIANT is the Tuscola native's first military-themed video. "I decided to make [VALIANT] after I found some letters my dad wrote home from the war. It really inspired me to tell this story," explained Zimmerman; his father also served in the Marine Corps at Okinawa during WWII. "The Battle of Okinawa [ranging across several small islands off the southern tip of Japan] that claimed the lives of 250,000 [soldiers and civilians] in 82 days is [a story] not often told … I started in March of 2014 and by October the film was completed." The director and his wife Brenda traveled 6,000 miles to five states in order to meet the veterans – Dick Whitaker, Jim White, Bill Pierce, Junior Montgomery, Roy Wilkes, and Fred Westphal – as well as author Bill Sloan, who wrote the Okinawa history The Ultimate Battle.
ROTVTrailer7 from Bob Zimmerman on Vimeo.
A long-time member of the on-line media production forum DVXuser, Zimmerman recruited fellow poster Erik Wikström to provide original music while distinctive Champaign voice talent Eric Sizemore recorded narration. You can hear the former but not the latter in the trailer above, otherwise featuring material the filmmaker located through sources such as the USMC History Division and the National Archives. "It has been a real pleasure meeting so many great people making this film," said Zimmerman, "and to talk with the WWII Marines was such an amazing experience. There are not many of these guys left. If you meet one, shake their hand and listen to what they have to say. You won't be wasting your time."
Zimmerman will continue to find avenues for showing RISE OF THE VALIANT and sharing the Okinawa legacy with audiences in the immediate future. A previous article appeared Memorial Day in the Champaign News-Gazette and the Decatur Herald & Review ran a comprehensive piece on Sunday, complete with quotes from Sloan and certain veterans.
~ Jason Pankoke
p.s. You can purchase OUT OF NOWHERE, Zimmerman's Champaign-Urbana rock doc, at the same merchants mentioned earlier.