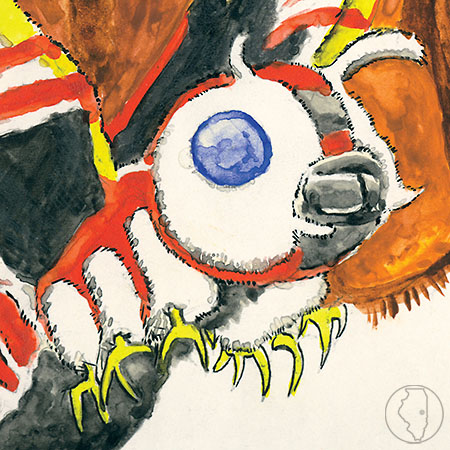 Run for cover, dearest readers! We dug out today's "Image of the Week" from mothballs deep within the Secret MICRO-FILM Headquarters to add a nostalgic twist to our Halloween entries, but we hope you don't mind if it has no direct relation to the movies of Champaign, Urbana, and the cities beyond … other than your humble editor painted it! His after-hours artistry took place ages ago during a streak of sci-fi fandom in the Nineties when Ye Ed mixed it up with fantasy role-playing game publishers as well as movie periodicals such as Scary Monsters, Fangoria, and Famous Monsters of Filmland. Unlike much of his monochrome menagerie produced for print, the depiction of Toho Studios' post-Godzilla creation Mothra is a full-color illustration made for a trading card pitch sent to the St. Louis-based company Trendmasters, then manufacturers of the first full-blown kaiju toy line in the United States. Neither an acknowledgment nor thank you ever made it back to young Mr. JaPan, but this image would find a home before long. Canadian editor J.D. Lees ran the watercolor-on-board Mothra a year later in the September 1996 issue of G-Fan, still devoted to "international understanding through Godzilla" and company to this day. (A pen-and-ink Gamera visage, rendered expressly for G-Fan by JaPan, also appeared in issue 23.) While somewhat rough in technique, it is one-of-a-kind in your editor's portfolio so we're happy to share it for the first time in nearly 20 years! Few friends of MFHQ have ever known about his attempted dalliance with the now-defunct Trendmasters and we simply can't spin the tale without spilling the goods; therefore, you will find below an additional picture of our mock-up cards, unseen by the public until now. You will also want to click on certain pictures to take a closer look, for what it's worth, but don't blame us if you find yourself humming the Mothra priestesses' song of prayer while doing so. You're welcome.
~ Jason Pankoke
~~~~~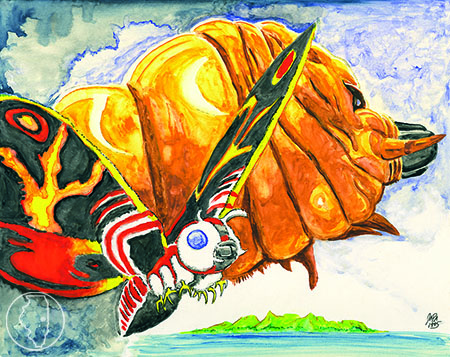 ~~~~~
p.s. Trendmasters' Godzilla products came packaged with exclusive collector's cards, inspiring the proposal for an autonomous set covering not just the licensed monster characters but the entire Toho tokusatsu legacy, mixing stills and vintage graphics with "Magic the Gathering"-quality artwork by industry professionals. To our knowledge, the first full Godzilla set marketed in America – albeit imported from Japan and without involvement from Trendmasters – appeared the following year. Of course.
p.s.2 As depicted in the artwork, Mothra is based on the "Heisei era" moth and larva appearing in GODZILLA VS. MOTHRA (1992). By sheer coincidence, we discovered while compiling Friday's Calendar that Sony Pictures Home Entertainment repackaged a tonnage of latter-day Godzilla and Mothra films in two DVD sets released this past Tuesday, October 20; MOTHRA appears in the first set.
p.s.3 This early "JaPan era" is discussed a bit further in C-U Confidential #8, finally on track to be issued next month!
p.s.4 We probably should note the "Mothra" name and likeness is a trademark of Toho Co., Ltd., and displayed for informational purposes only.