The agriculture thriller CONSUMED, filmed locally in summer 2014 and produced by West Coast shingle Mister Lister Films, will debut at the Art Theater Co-op on Tuesday, November 17, at 7 and 9:30 p.m. We have been patiently waiting to see it and assume many of you have as well. It's too bad, then, we couldn't share verbatim the details first given C-U Blogfidential by our friend Brett Hays at Shatterglass Studios, stating the Art would be hosting four premiere showings instead of just two. Filling that auditorium with nearly a thousand community members bearing witness to the (non-GMO) fruits of this crew's hard labors, versus the few hundred who will ultimately attend "for one night only," would have been an epic gesture to publicly support filmmaking activity in Champaign County. Given the chance, we'd love to think many more interested persons want to watch it with a crowd on the big screen sooner rather than later, in particular since producing partners Daryl Wein and Zoe Lister-Jones announced on Facebook in October that streaming services would not begin offering CONSUMED until early next year. Yet, ticket presales through Gathr Films have been modest at best, forcing cancellation of the proposed November 18 encores. According to this week's Art Co-op e-newsletter, the 7 p.m. show on Tuesday is sold out except for a handful of seats available at the door prior to show time, while plenty of 9:30 p.m. seats are still available through Gathr although that show will happen as planned. Cross your fingers CONSUMED makes a big enough impression all around, in Champaign and at other theatrical sites such as both Los Angeles and Chicago earlier this week, for audience members to talk it up aplenty with others.
Consumed – Call to Action Trailer from Daryl Wein on Vimeo.
Could artwork, a preview, and further details possibly entice you to vie for those remaining seats, dearest readers? Above, we've embedded a "call for action" teaser pushing Gathr bookings that sports precious few glimpses of new footage, and below is the simple but striking poster graphic focused on Lister-Jones in her role as Sophie, a young mother whose son falls ill and drives her to investigate the origins of what her family consumes. After the jump, we've shared the Shatterglass press release shorn of the outdated details regarding Wednesday. Do your Confidential duty, people of Champaign-Urbana, and check out this film even though it does not have STAR WARS or THE HUNGER GAMES or Marvel in its title!
~ Jason Pankoke
~~~~~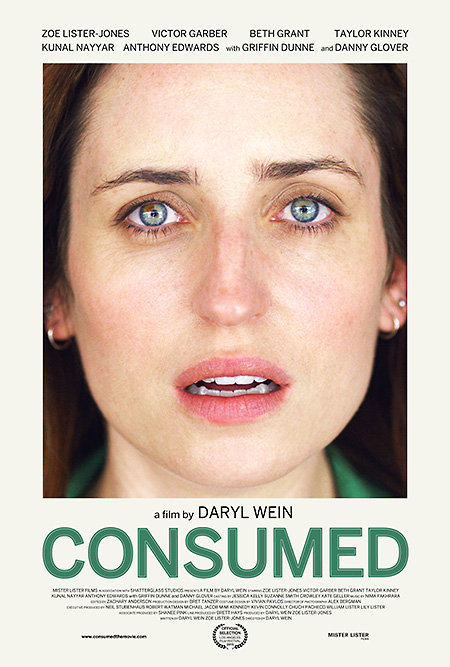 ~~~~~
From October 14, 2015:
FOR IMMEDIATE RELEASE
LOCALLY FILMED "CONSUMED" COMING TO THE ART THEATER CO-OP
CHAMPAIGN, IL (October 14, 2015) – Local film producer and co-owner of Shatterglass Studios, Brett Hays, will lead special screenings of the new feature film CONSUMED at the Art Theater on November 17. CONSUMED was filmed in Champaign County during the summer of 2014 and produced in association with Shatterglass, which utilized local and regional sources. The November 17 screening at 7 p.m. sold out within three hours, so an additional screening has been added at 9:30 p.m. on the 17th.
CONSUMED is a dramatic thriller set in the complex world of genetically modified organisms (GMOs). The story is anchored by a working-class single mother who goes on a journey to uncover the cause of her son's mysterious illness. Interwoven are the stories of an organic farmer in danger of losing his farm, the CEO of a biotechnology corporation trying to save the world, two scientists on the verge of a major discovery, and an ex-cop caught in the middle of everything. CONSUMED features emotionally gripping performances in combination with intriguing sociopolitical issues, casting the landscape for a powerful original story that begs the audience to question what we as Americans are eating every day.
The film premiered at the 2015 Los Angeles Film Festival and features a stellar cast including Danny Glover (LETHAL WEAPON), Kunal Nayyar (THE BIG BANG THEORY), Victor Garber (ARGO), Zoe Lister-Jones (LOLA VERSUS), Taylor Kinney (CHICAGO FIRE), Anthony Edwards (TOP GUN), Griffin Dunne (DALLAS BUYERS CLUB), and Beth Grant (THE MINDY PROJECT).
Special event screening tickets in Champaign are available now as a result of using Gathr® Theatrical on Demand®, a platform that allows individuals to bring films they want to see right to their own local theater. You can reserve tickets for the November 17, 9:30 p.m. screening here: https://gathr.us/screening/13404
"People ask me all of the time about when they are going to be able to see CONSUMED, so it's really exciting to be having it screen at the Art Theater," says Hays. "The film was made entirely in Champaign County, so the audience will constantly be seeing familiar locations. The generous support the C-U community brought to this production was really integral in its success and I'm very proud of what we accomplished."
"It was wonderful to see the attention that the production got, to see how excited everyone in town was to be working on a film locally," says Austin McCann, the Art Theater general manager. "The Art has been a local cinema institution for nearly 102 years, so it's a natural fit for a similarly locally-rooted project with a big vision for its art."
CONTACT
http://www.consumedthemovie.com/
https://www.facebook.com/theConsumedmovie/
@thefoodmovie
###