C-U Blogfidential is happy to debut a new department called "Flicker of the Week" in which your humble editor and guests wax ecstatic about film and media happenings in our immediate geography, selected due to the writer's personal whim and not necessarily a proclamation of "the best" of what is playing at the moment in Champaign, Urbana, and the cities beyond. Beginning today, we will share our immediate choices for the most interesting, offbeat, integral, and out-there public presentations as solo posts during the next four Fridays and then fold the sequence into our weekly Calendar.
We'd be remiss to not make note of the iconic David Bowie who passed away on Sunday, January 10, at age 69, dampening the hearts of music, fashion, and movie fans worldwide. Local theaters have since booked a pair of his fantasy features in remarkably short order – thank you, industry-mandated digital delivery – to recognize the malleable greatness of our "Ziggy Stardust" now returned to the stars. The Normal Theater, 209 North St., Normal, will conjure the Jim Henson/George Lucas collaboration LABYRINTH (1986) late tomorrow, Saturday, January 16, 10:30 p.m., and again on Sunday, January 17, 1 p.m. The next day, Monday, January 18, 7:30 p.m., the trippy consumerism parable directed by Nicholas Roeg, THE MAN WHO FELL TO EARTH (1976), will alight at the Art Theater Co-op, 126 W. Church St., Champaign; their customers will also receive a chance in early February to dive into LABYRINTH.
As "Jareth the Goblin King" in the youth-skewing LABYRINTH and alien "Thomas Jerome Newton" in the slippery and cerebral EARTH, Bowie projects an unearthliness and sensuality to memorable effect, while the films themselves are striking archetypes of what constituted fantastical (and relatively analog) storytelling in their respective decades. Drenched with the distinctive visual sensibilities of Henson and Roeg, the productions offer innumerable delights worth experiencing on the big screen. EARTH holds added significance for yours truly as one of the first films I wrote about for a local publication, in this case The Octopus, as a program note for "The 1st Annual Octopus Sci-fi Film Festival" held at Urbana's Thunderbird Theater in June 1996. Sadly, publisher Paul Young would never follow up this epic 35mm outpouring of science fiction splendor, although further Octo-shows did enliven the so-called "Brew 'n View" as it was alternately known back then.
~ Jason Pankoke
p.s. Interested in picking and pontificating over the "Flicker of the Week" for the C-U community? Write us at cuconfidential [at] gmail [dot] com!
~~~~~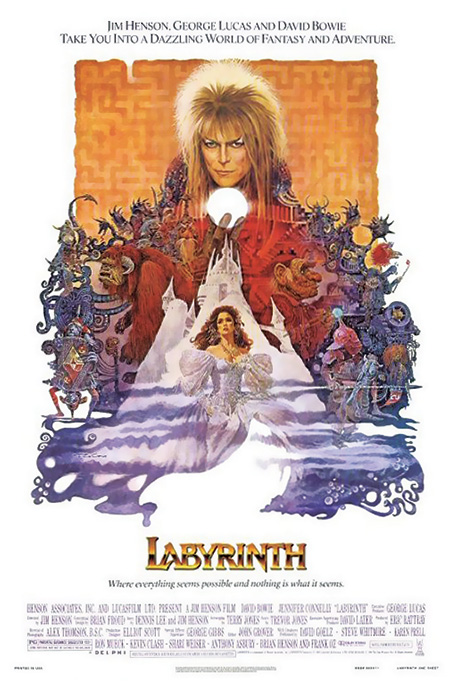 ~~~~~
LABYRINTH artwork © TriStar Pictures