Rock music fans worldwide have been struck in the heart these first weeks of 2016 with the losses of David Bowie, Glenn Frey from The Eagles, "Lemmy" Kilmister from Mötorhead, and others, but cinema aficionados closed out 2015 in grief themselves upon learning that the cinematographers Haskell Wexler and Vilmos Zsigmond had also left this mortal coil. Wexler, an Oscar-winner for the black-and-white WHO'S AFRAID OF VIRGINIA WOOLF? in 1967 and full-color BOUND FOR GLORY in 1977, acted as director of photography (DP) on other notable films including ONE FLEW OVER THE CUCKOO'S NEST, COMING HOME, FACES, THE SECRET OF ROAN INISH, BLAZE, and the inventive docudrama hybrid set in his native Chicago that he also directed, MEDIUM COOL. Himself an Academy Award recipient for CLOSE ENCOUNTERS OF THE THIRD KIND in 1978, Zsigmond emigrated from Hungary in the Fifties to pursue his Hollywood dream and would lend his touch to the likes of DELIVERANCE, BLOW OUT, THE LONG GOODBYE, HEAVEN'S GATE, THE GHOST AND THE DARKNESS, and CASSANDRA'S DREAM. Whereas Zsigmond toiled in the B-movie trenches for more than a decade before receiving his big-studio break on THE PICASSO SUMMER (1969), Wexler tirelessly spent his last decade making social issue exposes of a kind that pepper his filmography throughout. Wexler passed away on Sunday, December 27, at age 93, and the 85-year-old Zsigmond followed on Friday, January 1; please look below for links to articles and documentaries commemorating their lives and accomplishments.
Other than paying our respects, C-U Blogfidential has added purpose in discussing them apart from recalling Wexler's local appearances at Roger Ebert's Film Festival in 2003 and 2013; it so happens that both venerated artists had done professional work on east central Illinois soil in the past. Set decorators and CGI compositors transformed the Danville Dans stadium of Danville into major league ballparks of another era for THE BABE (1992), filmmaker Arthur Hiller's drama starring John Goodman as legendary slugger "Babe" Ruth; Wexler provided DP finesse for this Universal Pictures release. Zsigmond co-photographed the documentary DEATH RIDERS (1976) with its director, James Wilson, capturing the exploits of the Death Riders Motorcycle Thrill Show based in Danville; a scene captured during a performance in nearby Cayuga, Indiana, ends with a teenage stunt man's grandmother fainting in the stands! Crown International Pictures distributed it during the height of America's "car and trucker" craze. Finally, the production crew for the two-part Paramount Pictures television movie FLESH AND BLOOD (1979) used Land of Lincoln locations to full effect; DP Zsigmond "took his camera into the Cook County Jail, Joliet State Penitentiary [sic] and the streets of Chicago, among other places," wrote reviewer Chris Palmer in the October 13-14, 1979, edition of the Bangor [Maine] Daily News just before BLOOD premiered on CBS-TV. "The result is a realism and, yes, a seaminess that gives the film its guts," he also remarked.
Considering BLOOD has yet to reach home video or streaming nearly 40 years after its original air dates, we have little more than vintage journalism and foggy Internet forum anecdotes on which to gauge this adaptation of the Pete Hamill bestseller. However, a window into its production past does exist, hence our justification for filing this under "Images of the Week." Among the "other places" obliquely cited as Illinois shooting locations by Palmer, the University of Illinois' Assembly Hall doubled as an arena and soundstage in which small-screen veteran Jud Taylor and his team staged a pair of boxing match sequences set in New York City and Las Vegas. A short preview article on p.10 of the November 22, 1978, edition of the Urbana Morning Courier tells of a then-impending, four-day shoot on December 2 and 4-6 requiring up to 1,000 extras as fight fans in the audience, while a follow-up piece run on p.3 of the November 29 issue reveals the visiting stars to be Tom Berenger (LOOKING FOR MR. GOODBAR), Suzanne Pleshette (THE BOB NEWHART SHOW), and John Cassavetes (THE FURY). For our purposes, the prize could be won on pages 1 and 3 of the December 5 Courier as they reproduce an on-set story by Dan Doyle and behind-the-scenes snaps by Jerry Lower; while Doyle's report is relatively flat and dismissive, due in part to "quite a bit of sitting around" on the set between takes with all the other "non-stars," it is nice to see the cast and crew of FLESH AND BLOOD in crisp monochrome action.
To honor Zsigmond and continue our efforts to inch towards a complete picture of the movies of Champaign, Urbana, and the cities beyond, we share with you four of the five Lower glossies stored in the files of the Champaign County Historical Archives at the Urbana Free Library. Their patient staff also helped us retrieve the companion articles via – you guessed it – microfilm. Be sure to hover over each image for a short description and scroll down for even more Seventies-era folderol.
~ Jason Pankoke
~~~~~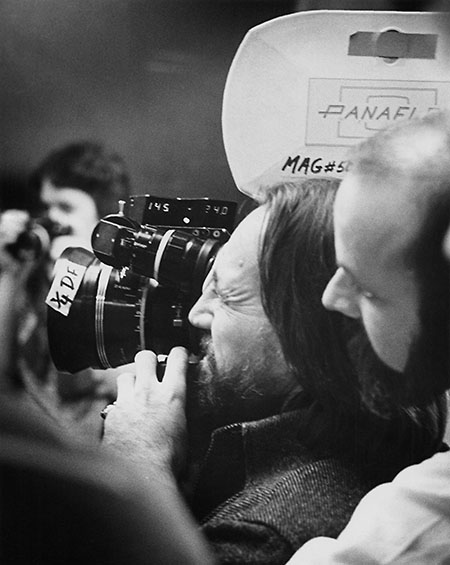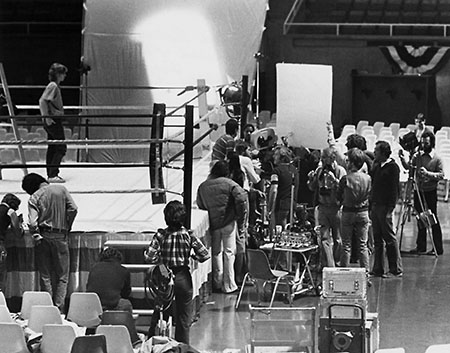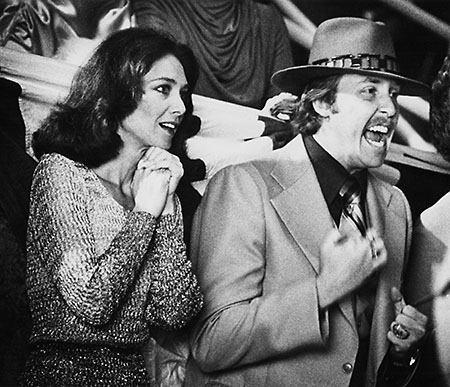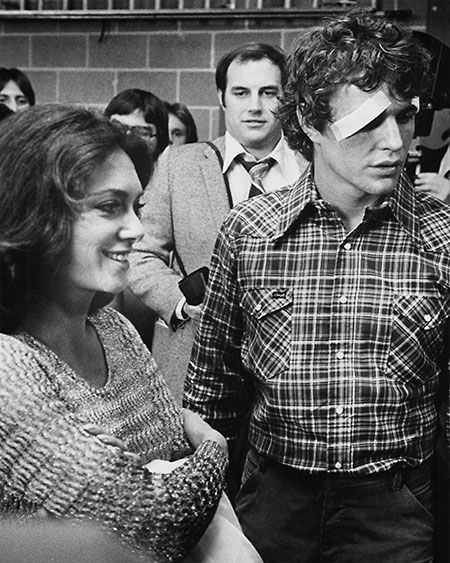 ~~~~~
p.s. We are fortunate to have these awesome FLESH AND BLOOD assets for the sharing not only due to the curating efforts by Historical Archives, but also sheer luck in the timing. Formerly housed in what is now the Courier Café building on Race St. in downtown Urbana, the Courier would publish its last issue on March 31, 1979, four months after their BLOOD coverage and not very far into their 100th volume. A framed copy of its front page hangs in the Courier to this day.
p.s.2 The sum total of the Courier's articles conveniently failed to make any mention of the crime, incarceration, or incest elements of the edgy pulp epic penned by famed columnist and socialite Hamill. All aspects carried over into the mini-series to some degree, per the Palmer write-up, and most likely were downplayed in local press due to the production using an educational institution's facilities.
p.s.3 In the nearly 10 years we've been rocking the CUBlog, we have never discussed BLOOD, DEATH RIDERS, or THE BABE in a post until today. (If you ever think we might run out of relevant topics to broach, dear sir or madam, you would do best to think again.) Look for more about RIDERS later in the summer!
p.s.4 Coincidentally, all three titles involve sports pursuits. Because, by C-U, of course they do.
p.s.5 On the occasion when research via local media is in order, we're always interested in what played the theaters near us in any given time period. Page 37 of the 11/26/78 Courier cited above provides illustration of a post-STAR WARS, pre-SUPERMAN THE MOVIE period that is populated by familiar names and now-classic titles but not yet overrun by big ticket franchises, remakes, and trends as brazenly as is today's entertainment marketplace. Starting in downtown Champaign, the Virginia Theatre had the current Sylvester Stallone vehicle PARADISE ALLEY, the Rialto Theater played THE BIG FIX starring Richard Dreyfuss, and the Orpheum Theater carried over John Carpenter's first-run thriller HALLOWEEN into the Thanksgiving season. Naughty flickers carrying an "X" rating drew patrons of particular sorts to both the Art Theater (LIPPS & McCAIN, DIRTY WESTERN) and Illini Theater (PASTRIES, CANDY LIPS). Just west of the University of Illinois Main Quad, the Co-Ed 1-2-3 on Green St. booked the all-star Woody Allen production INTERIORS, the acclaimed animated feature WATERSHIP DOWN, and the philosophical bane of college administrators, professors, and resident assistants everywhere, NATIONAL LAMPOON'S ANIMAL HOUSE. On Goodwin Ave., two blocks east of the Quad, Urbana's Thunderbird Theater (now Canopy Club) continued with the Alan Parker film MIDNIGHT EXPRESS, soon to be nominated for the Best Picture Oscar. Not nearly in that league, the Tim Conway family comedy THEY WENT THAT-A-WAY AND THAT-A-WAY brought mirth to the Cinema Theater in downtown Urbana as well as the Lyric Theater in nearby Monticello. The Gem Theater in nearby Villa Grove harbored summer movie season also-ran JAWS 2. And, all the way back across the Twin Cities at the recently-opened Country Fair Theaters in the like-named mall facing Mattis and Springfield avenues, a mix of movies filled its screens: the Warren Beatty hit HEAVEN CAN WAIT, a cattle rancher drama with Jane Fonda and James Caan called COMES A HORSEMAN, the Disney double feature of ESCAPE TO WITCH MOUNTAIN and RETURN FROM WITCH MOUNTAIN, and an unseemly pairing of the "delicious mystery" WHO IS KILLING THE GREAT CHEFS OF EUROPE? and the mercenaries-in-Africa adventure THE WILD GEESE. All this spelled out, you will notice the absence of large multiplexes and, conversely, at least four times as many venues total as today if one includes the Twin City and Widescreen drive-ins, which most likely would have been advertising if still open for the season.
p.s.6 This ain't our scene(s). No, really.
~~~~~
Click to read: Obit of Vilmos Zsigmond in Variety
Click to read: Obit of Haskell Wexler in Variety
Click to watch: Zsigmond/László Kovács doc
NO SUBTITLES NECESSARY
Click to read: NO SUBTITLES NECESSARY
on PBS' INDEPENDENT LENS