Can you believe it? The residency of Jason Butler and Brainsmart Productions at Mike n' Molly's, 105 N. Market St., Champaign, IL, continues tonight, Monday, September 29, 8:30 p.m., with yet another free show filled with blood-curdling thrills, alcoholic spills, and more Skald Wolfcap than you can shake a hatchet at. Marvel at bureaucratic ineptitude and a barfing Liz Biondi in WEREWOLF CEMETERY: Issue 2 (8:30 p.m.)! Cheer at the strange nocturnal behavior of townies on the prowl in THE TEETH OF THE BOTTLE (10 p.m.)! Gasp at the werewolf cabin siege to beat all werewolf cabin sieges in WEREWOLF CEMETERY: Issue 3 (12 a.m.)! Give kindly to the Brainsmart Tip Jar and Murph will gladly match the love!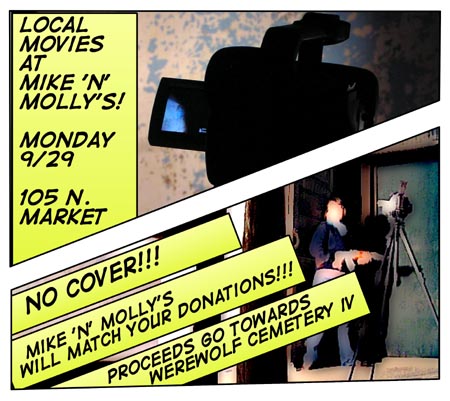 All that dough will help fund WEREWOLF CEMETERY: Issue 4, as before, and in today's exclusive set photo we bring you none other than C-U Blogfidential agent A-Rock. We caught up with the sexy beast just after a stint playing a lycanthrope who gets shot in the back several times by ExtermoCorp shock troops; the grimace is not from the impact of the bullet hit effects (which were achieved without explosives) but the cold and sticky sangre substitute flowing down his britches. Fortunately, Terry Fichtner was on hand to help A-Rock pull off the costuming and "blood balloon" apparatus underneath, anchored by duct tape and backed by good ol' cardboard.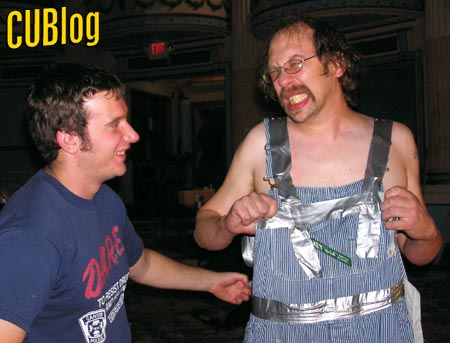 Let's finish up by addressing the rampant question, "How can I get a copy of WEREWOLF CEMETERY?" As of right now, WC is not formally available on disc and probably won't be for some time since JB wants to finish WC 4 and then spruce up some techincal aspects of the older episodes. The faithful and the curious can still get their fix over at the Brainsmart YouTube page, where a smattering of trailers and behind-the-scenes hilarity have been posted for your perusal.
~ Jason Pankoke
p.s. Don't forget to glean some laughs from the improv of The Abe Froman Project, performing on the second floor of Mike n' Molly's tonight at 9 p.m. Make sure to ask them about sausage.