This moment is not a time for secrets to be revealed, a façade to be toppled, or sins to be repented a little too late, as whomever finds comfort at the local picture show will set their worries aside for a spell. Each individual sits quietly at full attention, a diverse crowd relishing their mutual respite…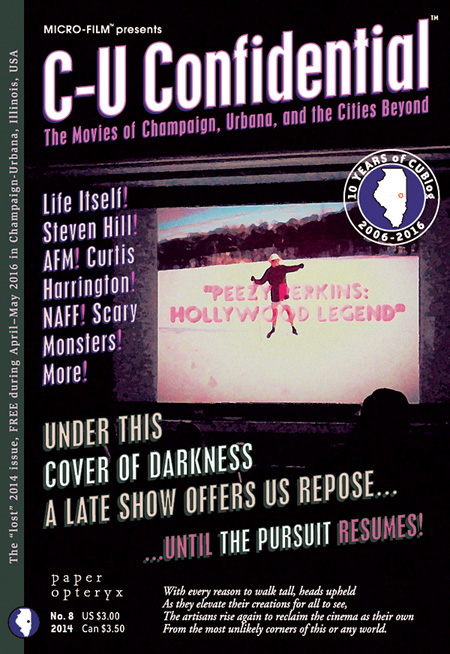 When the house lights come up at wherever you may be, flip open the nearest copy of C-U Confidential for your education and enjoyment of the indigenous film culture we are lucky to share! Stacks began to appear 'round the towns on Friday, April 15, so look fast for all the movie news fit to print and, if you can't easily find us, play it cool and double check locations with our Facebook feed!
A smattering of patrons gaze at the flickering images of a bygone era, starring matinee idol Andy Due, to take their minds away from the daily doldrums and dastardly dealings of life. While they're distracted, dearest readers, call dibs on a well-lit seat and dive headlong into what we've assembled just for you! CUZine friend Robin Christian submits a report from the American Film Market in Santa Monica, CA, summarizing the advice of entertainment industry professionals on what it takes to produce film and television for today's audiences. Crossing the country and international borders, Greg Woods of Toronto acquaints us with the American experimental film pioneer Curtis Harrington in conjunction with a vintage review of his feature debut NIGHT TIDE, written a half century ago by the late University of Illinois languages and film professor Steven P. Hill. Elsewhere, Ye Ed praises the award winners in our milieu, ruminates on the uphill climb facing many independent producers with distribution, projects that eight might not be enough in our print history, and pulls a couple of personal tear sheets from his past to share in our present. Apart from all this, the expanded C-Universe awaits your inquiring minds!
Always feel free to take one C-U Confidential for yourselves and another to share with friends or colleagues who crave a primer on the movies of Champaign, Urbana, and the cities beyond! Plans are afoot to return sooner rather than later, so be sure to watch this space for details to come forth from the Secret MICRO-FILM Headquarters. And finally, we'd love to thank our advertisers whose support allows us to go analogue with our unique coverage. Accuraty Solutions, The Art Theater Co-op, Bachelor Pad Magazine, Champaign Movie Makers, Champaign-Urbana Theater History, Cinema Gallery, Damian Duffy Hates Everything, Dreamscape Cinema, Exile on Main Street/Dandelion, HD Productions Media, Premier Print Group, R.A.Z. Films, and Shatterglass Films should be commended for helping ensure CUZine is once again a (physical) thing here in 2016!
~ Jason Pankoke