A new outdoor series, launched by the Orpheum Children's Science Museum and a local firm called Provision Elevator Advertising, is set to debut later tonight and continue weekly through the summer when weather allows. "Champaign Cinema under the Stars" will be hosted in downtown Champaign at the Orpheum, 346 N. Neil St., in the cozy little parking lot just north of the former movie palace and south of the corner of Washington and Fremont streets. On Thursday, May 26, KUNG FU PANDA 3 (8 p.m.) kicks it off after which young adult drama THE FAULT IN OUR STARS (10 p.m.) will warm the heart. Then on Friday, May 27, THE PEANUTS MOVIE (8 p.m.) will rekindle nostalgia for Charles M. Schulz's funny page favorites prior to the odd brew in this six pack, WEEKEND AT BERNIE'S (10 p.m.), getting the dead man's party started. Finally, the little-snail-that-could animated story TURBO (8 p.m.) will rev up the crowd on Saturday, May 28, in anticipation of the live action sports comedy DODGEBALL (10 p.m.) putting an exclamation point on the marathon. Entry for each evening, also sponsored by The Montessori School of Champaign-Urbana, will be $5 adults, $4 age 3-12, and free for tiny humans age 2 and under, with partial proceeds being donated to the museum and C-U food trucks invited to park around the perimeter for those nocturnal noshing needs. You might want to consider bookmarking Provision Elevator's event calendar and the series' dedicated Facebook page to glean details on future titles, which have yet to be announced. This recent segment of the WCIA-TV program CI LIVING explains how "CCUS" is being cross-pollinated with a larger promotion in Campustown that also begins this weekend. You can even access full "poster art" for the inaugural double features by clicking on the popcorn thumbnail below, if visual reminders float your boat!
The forecast on The Weather Channel as of this writing calls for storm fronts to cross through central Illinois between today and Saturday, meaning that each movie twofer has a good chance of being rained out. Adults need to eyeball the local radar and consult the above links for notices, as we want all our dearest viewers great and small to be safe and sound, while it has been confirmed for C-U Blogfidential by the organizers via Facebook that movies "will be cancelled and rescheduled" if necessary.
~ Jason Pankoke
~~~~~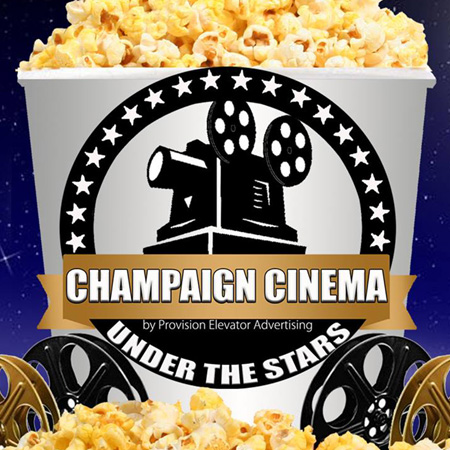 ~~~~~
p.s. Ironically, this will be taking place mere yards from the space that once housed a perfectly fine and functional Orpheum Theatre for decades, because of course it will.
p.s.2 Strategically, we did not share the program's URL right away since www.champaigncinema.com has yet to go live and points back to the Provision Elevator destination linked above.
p.s.3 Coincidentally, a second anthropomorphic fuzzy critter flick is scheduled to play the great outdoors during prime time Thursday concurrent with KUNG FU PANDA 3. That would be ZOOTOPIA, the first "Summer Quad Cinema Series" entry for 2016 chosen by the UIUC Illini Union Board to entertain the campus community. It is free and slated to start at 9 p.m. on the north end of the Main Quad.
p.s.4 Expectedly, the folks behind "Urbanalove" would love for you to frequent downtown Urbana during these slower college town months, but they seek assistance to book open air movie screenings as well for the third year running. Peruse their Indiegogo campaign to learn about their needs, choose between donation levels to show your support, and give pause at our communities' unflagging reliance on the "Roger Ebert is from Urbana" chestnut for validating movie-related projects based in Champaign County.
p.s.5 Drunkenly, a pair of seriocomic hairy creature features have been chosen to frighten a certain beer garden populace on Thursday simultaneous to the ZOOTOPIA and KUNG FU PANDA 3 shows. They would be THE ADVENTURES OF THE SCREAMING APE and WEREWOLF CEMETERY, unleashed for one last duct-taped hurrah at Mike n' Molly's beginning at 8 p.m. Only the rarefied few will understand the context or humor of the juxtaposition pictured below, captured a few weeks back by your heads-up humble editor.
~~~~~