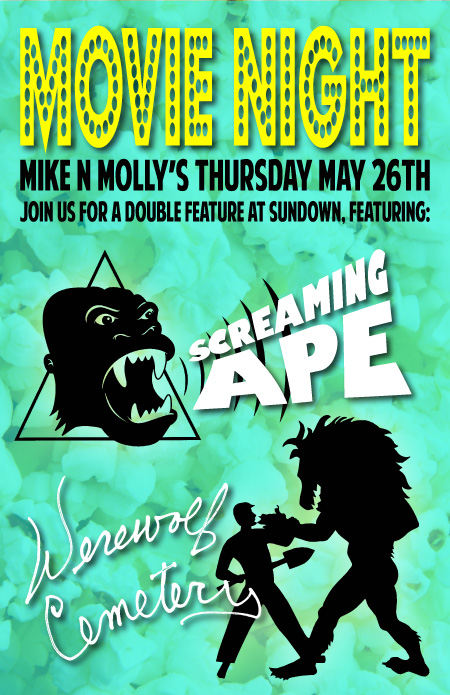 ~~~~~
Holy gravediggers, dearest readers! The past seven days have evaporated so quickly that we could not carve out the quality time needed to write an extended preview of this evening's "Movie Night" at Mike n' Molly's in Champaign. Therefore, we ask you to trust our totally biased judgment and help pack the joint beginning at 8 p.m. tonight, Thursday, May 26, for the occasion. Word at 105 N. Market St. is this mini-marathon will be free admission and projected indoors on the first floor, considering that a series of potentially severe weather fronts will be making their way through Illinois the next 72 hours. [What a rouse! The final days of Mike n' Molly's have transpired in nothing but partly sunny and slightly blustery conditions, meaning we could inhabit the beer garden instead. – ed.] Once you arrive, be sure to greet owner Michael Murphy with best wishes on retiring from his bar career after the Memorial Day weekend, do your part in depleting the alcohol stock, take a seat among the well-worn, red-and-green décor, and let down your bemused guard – "These are low budget, local, indie films, right?" – so you can enjoy the final event of its kind in this beloved establishment with an open mind and generous heart.
What better motion pictures to present to an audience that will primarily be Mike n' Molly's regulars than ones cooked up by the very same crowd? We call them "frat films" not in terms of their setting, a la NATIONAL LAMPOON'S ANIMAL HOUSE, but their origins in the hands of adventurous everymen and –women who belong to the informal "downtown Champaign drinking fraternity," Pi Omega Omega, which amazingly has retained its "word on the street" mystique to this day. [If you must satisfy your curiosity, The Brass Rail has been named the watering hole successor for followers of St. Jack and Sweet Sue. – ed.] It stands to reason that idea dude Jason Butler and camera guy Mark Peaslee struck enough of a positive chord within the Pi Omega ranks, employing them to participate in a string of ambitious genre comedies with the sparest of resources and variable learning curves, that their culture essentially fostered its own filmography. As a late blooming confidant of the Butler-Peaslee tandem and a fellow Pi Omegan, I can honestly describe these wonders as being the hard-earned results of a wry "mother of invention" sensibility operating way outside any professional studio or "film scene." For that, we should be as happy as PBR-inebriated clams.
"Movie Night" will include three recent examples direct from the BrainSmart Productions vault located in Portland, Oregon, all directed by Champaign native Butler and populated with his friends, neighbors, and spouse and collaborator Ann Fitzgerald. "Episode 1" of THE ADVENTURES OF THE SCREAMING APE will play first, followed by "Issues" 2 and 3 of WEREWOLF CEMETERY. [Murph ultimately defied the noise ordinance and allowed his projectionists to play the epic "Issue" 4 finale in its entirety. Thank you! – ed.] Since C-U Blogfidential has covered the BrainSmart armada in the past, we suggest you enter these titles into our search engine to dig up further details on the duo. We will link you directly to an early interview with Butler, the first ever conducted for CUBlog a little more than a decade ago, for it will give you an idea of how such oddball fare like this can spring from the fertile C-U prairie. We complete our "midnight oil" ode to the Pi Omega cinema aesthetic with an eye-popping, teeth-gnashing, claw-bearing show filer by ace graphic designer and C.L.A.W. co-mastermind Joanna Troutman, courtesy of Mike n' Molly's confidant Kenneth Weatherford.
All that said and rhapsodized, if you have even the slightest yearning to learn what happens when an APE, a WOLF, and a Lenscap walk into a bar – in particular, one about to enter the Champaign history books after 19 years of service to its wide-ranging clientele and serving everything from a perfectly poured Guinness on down – you simply need to be there, fair and square.
Three cheers, then, for Mike n' Molly's at the movies! Go! Fright! Fin.
~ Jason Pankoke
[Updated 6/4/16, 2 a.m. CST]