Heading into our second weekend sans Mike n' Molly's, we're filling the sentimental void with a visual flashback inspired by the wonderful show poster that decorated our previous post about the now-closed establishment, along with our gratefulness for the creative opportunities Champaign-Urbana can provide! After co-curating a pair of events in early 2003 with the Urbana Independent Media Center involving low-budget cinema, we ventured on our own and landed at 105 N. Market St. in downtown Champaign, where Michael Murphy agreed to schedule our next public gig that October. We elected to use the large white rectangle marking the bar's outer wall, painted by WEREWOLF CEMETERY keepers Jason Butler and Mark Peaslee as a de facto screen, on which to project MICRO-FILM favorites in the beer garden despite the threat of chilly and drizzling weather. Smarting from sparse attendance as a result, even though our debut under Murph's watch otherwise went smoothly, we declined to do-it-ourselves in the C-U for another three years. Eventually, four more MICRO-FILM movie shows were staged at Mike n' Molly's in 2006, split between outside and the second floor, which did not fare any better and forced us to scuttle the series by the holidays. We certainly relished the challenge and learned the expected lessons, given that event promotion was not our forte, with the blow ultimately softened thanks to a local film program we hosted at Urbana's Caffe Paradiso in 2009 for the Boneyard Arts Festival. Other than attracting a good crowd, it built our confidence and led directly to the launch of the New Art Film Festival our community embraces today. As far as we're concerned, however, these primeval MICRO-FILM presentations at Mike n' Molly's proved their worth by making us consider after the fact how to better conceive and execute such events in the future no matter where they took place. Check out below the fliers from our early flings as indie film impresarios, designed by your humble editor and shared on C-U Blogfidential for the first time.
~ Jason Pankoke
~~~~~
Thursday, October 2, 2003 :: 8:30 p.m.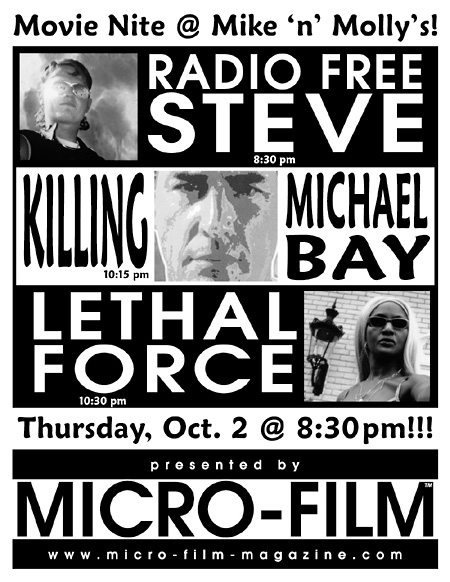 ~~~~~
Sunday, July 23 & Wednesday, July 26, 2006 :: 9:30 p.m.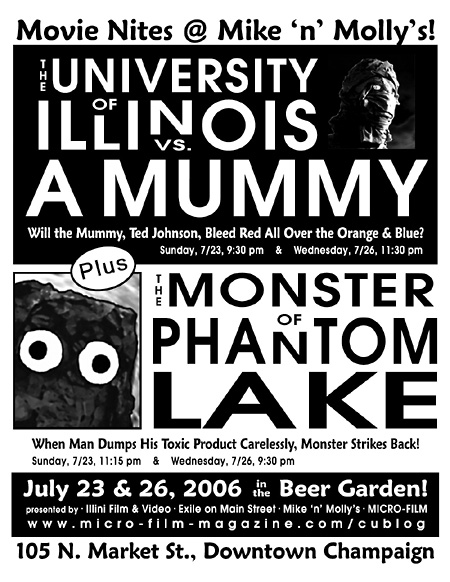 ~~~~~
Saturday, September 9, 2006 :: 8 p.m.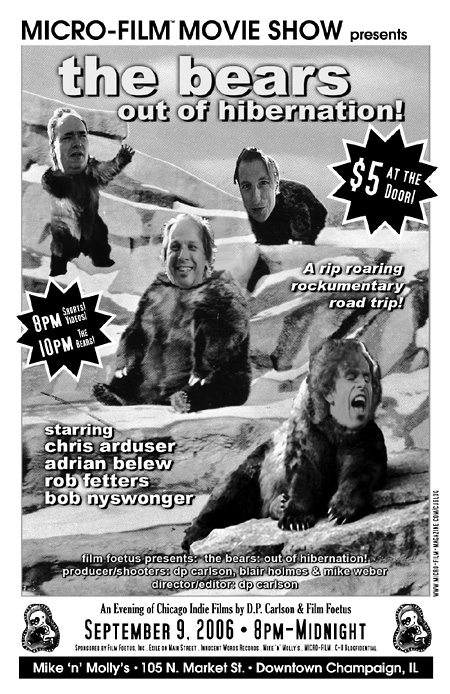 ~~~~~
Saturday, October 28, 2006 :: 8 p.m.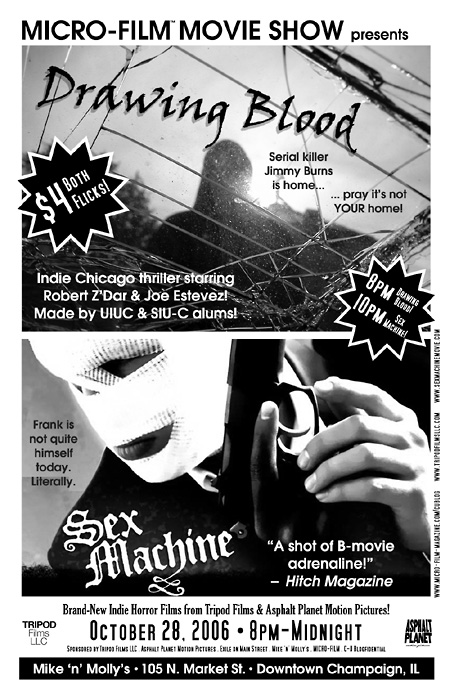 ~~~~~
p.s. Such is the fate of interesting, non-mainstream cinema that fails to enter the cultural zeitgeist – hence, the point of us attempting to introduce it to an audience in the first place – for it may seemingly disappear overnight! Nationwide DVD releases for Baltimore action comedy LETHAL FORCE (Unearthed Films), Chicago slasher DRAWING BLOOD (Brain Damage Films), and Austin identity thriller SEX MACHINE (Anthem Pictures) followed closely after the MF screenings but are long out of print. Texas-lensed retro opus RADIO FREE STEVE (Ugh Films) and Chicago rock documentary THE BEARS: OUT OF HIBERNATION (Film Foetus), the latter starring former C-U musician Adrian Belew, have never been commercially available; luckily, a self-released STEVE DVD can be purchased at the link above. CUBlog friends will be familiar with student epic THE UNIVERSITY OF ILLINOIS VS. A MUMMY (Illini Film & Video), sold here or viewable for free on YouTube. Over at Vimeo, the Kansas City satirical short KILLING MICHAEL BAY (Stickman Productions/DV Brothers) can be watched in its uncensored glory. Finally, vintage sci-fi homage THE MONSTER OF PHANTOM LAKE (Saint Euphoria Pictures), coincidentally named after a real life location visited annually by Murph, kicked off a series of budget B-pictures by Christopher R. Mihm and friends; the whole Minnesotan menagerie lurks for you right here!