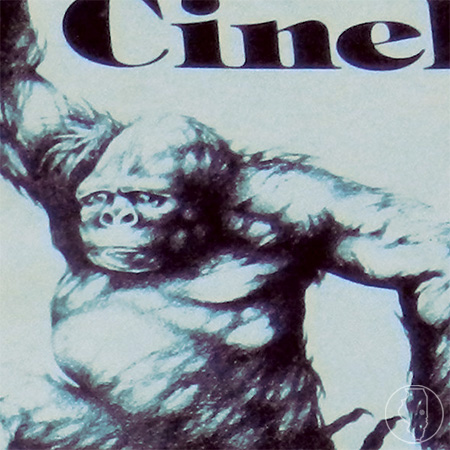 Your humble editor has never quite understood the appeal of "collectible selfies," where individuals regularly share their purchased or gifted pop culture items for all to see on social media, or "unboxing videos," in which consumers or "reviewers" remove a collectible from its packaging on camera to show off the contents. Most novelties and ephemera that he has given a home in the past 15 years either remain private or appear in context as illustration to journalism. Considering how spotty this luxury has been for him lately due to the lack of disposable income, he often finds the willful display of costly tchotchkes as nerd-heaven braggadocio if not worse. It's all right. He gets over it. Mostly.
That said, he'd like to present a few numbers acquired recently from eBay merchants, less to file away safely at the Secret MICRO-FILM Headquarters than to read and digest their implications. Directly related to his pre-Confidential involvement in science fiction and horror entertainment fandom, it should be no surprise that he might connect a few dots between his selections. We will refrain from diving deep into the Big Issues he hopes to address within the print issues and instead open a rare doorway to the fantastical corner of his universe, nurtured in an accepting household well before Hollywood turned once-disdained genres and related materials into cash cows from which they could milk fan-service gold.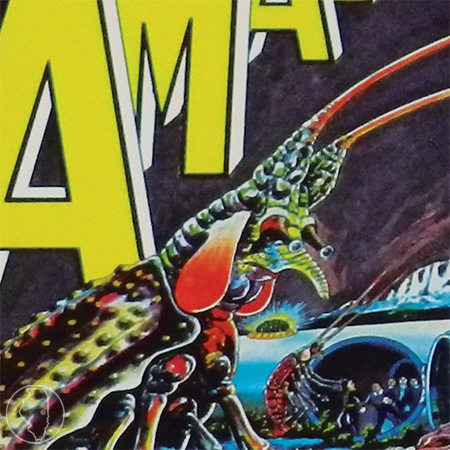 Veteran visitors to C-U Blogfidential may recall this 2008 acknowledgment of memorabilia collector and fan culture mainstay Forrest J Ackerman after his passing; despite a predilection towards literary speculative storytelling in the first half of his life, most remember the lanky and bespectacled punster for his tenure as editor of Famous Monsters of Filmland from 1958 to 1983. Grown-up "monster kids" will also recall its second run between 1993 and 2009 under divisive publisher Ray Ferry and merchandising assistant Connie Bean; their falling out with Ackerman led to lawsuits and financial ruin on both sides of the graveyard fence. Fast-acting entrepreneur Phillip Kim somehow plucked the trademark rights from that unfortunate mess and returned FM to comic shops and newsstands starting in late 2010.
FM announced in summer 2016 its third series would be scaled back to an annual following the release of issue #288, celebrating the centennial of Ackerman's birth and ending a six-year run of more than 40 editions and spinoffs. Ye Ed enjoyed this final bimonthly FM, loaded with variety and heart by executive editor David Weiner. During a casual eBay search days later, though, he happened upon another issue that seemed new yet a phantasm from an alternate timeline. He then remembered the official FM #250, released in 2010 prior to the Kim relaunch and also an Ackerman tribute, replaced an FM #250 planned by Ferry and Bean as a personal farewell to the brand if not their monster career. (The duo have added more than 25 entries of their happily-stuck-in-the-Sixties successor, Freaky Monsters, to their résumé since then.) Following the give-and-take legalities, its tone was rumored to be highly caustic.
That reputation and mystery, fueled by Internet claims circa 2009 from folks who landed an electronic edition of this FM redressed as a one-shot Ferry memoir called We Got By with a Little Help from Our Fiends, triggered anew your humble editor's curiosity. Could it be sheer coincidence the illicit version has finally surfaced in the immediate wake of Kim's near-cancellation? Going against personal preference by ordering from a near-anonymous seller, albeit one with a good salesmanship rating and fair prices, he took the chance to find out for himself what lies within. Sure enough, FM #250 Ver. 1 arrived safely at MFHQ in a week's time. We ultimately direct your eyeballs to our sole "collectible selfie" of the post that will help us encapsulate for you each piece of the periodical pie! In a clockwise circle we go…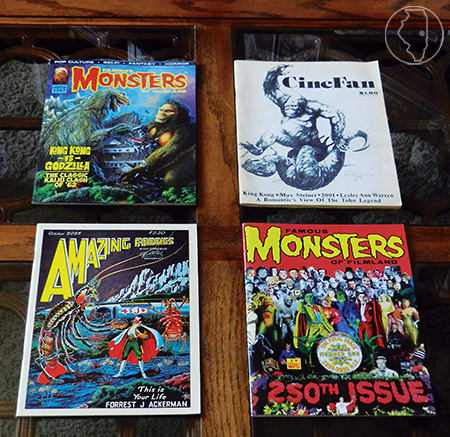 Lower right is Famous Monsters #250, filled with Ferry's recollections of his life, career, and respect for vintage showbiz leading up to the first FM revival. Lower left is Ackerman's own analogue, Amazing Forries #1, self-published in 1976 as a souvenir to friends and fans on his 60th birthday while designed in the FM aesthetic of the time. Upper left is Famous Monsters #287, the next-to-last bimonthly issue of the Kim era featuring more Ackerman coverage as well as Bob Eggleton cover art that Mr. JaPan simply could not refuse. Upper right is Cinefan #1, a quintessential genre film fanzine from 1974 edited by budding movie music expert Randall D. Larson and sporting bylines from future industry veterans Ernest D. Farino (THE ABYSS) and Mark Verheiden (FALLING SKIES).
Ye Ed has begun working through FM #287 with #288 still fresh in memory; both paint the positive of Ackerman as could be expected. He then plans to take a fantastic voyage through the contrasting egos of Ackerman and Ferry by immersing himself in AF #1 and FM #250, cleansing his palette afterwards with CF #1 and its lost world of young and opinionated fan-scribes looking at cinema for cinema's sake. We'll now conclude this trip outside MICRO-FILM Country with an appropriate episode of DEJA VIEW, shared on Facebook last week by Neon Harbor Entertainment of Champaign. Creator Ed Glaser and guest host Allison Pregler compare the original KING KONG with its oddly endearing offshoot, KING KONG ESCAPES, a mash-up of monstrous mayhem, international intrigue, and the diabolical Doctor Hu!
~ Jason Pankoke
~~~~~
~~~~~
p.s. You can now begin to imagine how we sometimes must rely on incomplete information and educated guesses to fill gaps in the history of Champaign-Urbana film culture!
p.s.2 Why monster magazines? That would take a little explaining, especially since Ye Ed recently turned 39 for the eighth consecutive year, but we'll note it and stick a slip in the MFHQ suggestion box for you.
p.s.3 Does the Amazing Forries cover look familiar? Download its inspiration – Amazing Stories, Vol. 1 No. 7, October 1926 – from the Internet Archive! This is the issue Ackerman claimed had leapt into his arms as a child and cemented his life-long interest in science fiction. Famous pulp illustrator Frank R. Paul painted the original artwork as well as the facsimile on commission from Ackerman decades later.
p.s.4 If you happen to still have a bone to pick over "the controversy," we will block you like a monolith if you lob it in our direction. We're not interested. Life is too short.
p.s.5 Did you really think we could get out of this post with dignity intact if we neglected to point you towards something Godzilla? O ye of little fire-breathing faith!