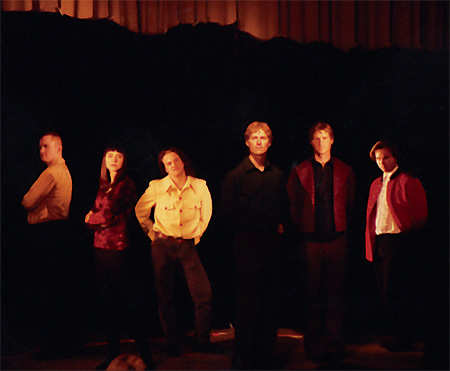 ~~~~~~
Directly following the lead of our last post, in which we talked about the inherent joy we feel in seeing the past of Champaign-Urbana creative media dovetail into the present, we revisit a curiosity evoked in the pages of C-U Confidential #9 last year. Although we used the VHS promotional tape of DREAM WHEEL CIRCUS more as a vehicle to illustrate points about exploration and discovery in our local culture, we want to fully address (and picture) it today since it is related to a rare event that your humble editor has been pining for since, well, the sextet in question split up two decades ago.
Collinsville, IL, and St. Louis, MO, natives Matt Docter (vocals/lead guitar), Jason Docter (drums/vocals), Brian Krumm (guitar/vocals), Brian Hunt (bass), Mary Weingartner (violin/vocals), and Jake Brookman (cello) previously made up The Suede Chain, one of Ye Ed's favorite local bands from the Nineties when he finally stopped worrying and learned to love live music. We suddenly have the privilege to hear what seasoned performers can do with the aggressively muscular art-rock of their C-U college years, given the demands of personal lives and professional careers that have thwarted prior attempts to reunite. After playing their first gig since 1997 in St. Louis last night, The Suede Chain will finish what they've started later tonight, Saturday, January 6, at Cowboy Monkey, 6 Taylor St., Champaign, beginning at 8:30 p.m. Opening solo is Chicago musician and studio engineer Brian Leach, a friend of the band who also plays in the brawny blues-rock combo The Great Crusades with Krumm and Hunt. Tickets are $15 at the door and we know the experience will be worth the extra bones.
Fans in the same age bracket as the musicians should hit that bonus sweet spot of nostalgia when enjoying the show from the same stage where many of them would have heard the band for the first time, back during the venue's iteration as Chris Knight's original Blind Pig Company. We recall the live sound of The Suede Chain adding heft to the rich melodies and arrangements found on their albums ripplemark (1994) and Piloted by Ghosts (1996), released by Mud Records of Urbana and not impossible to find at nearby shops like Exile on Main Street and Record Swap. You can learn more about their story from recent interviews in Troy Michael's long-running Webzine Innocent Words as well as the St. Louis Post-Dispatch. We imagine the crowd will be thoroughly enthralled by the experience in the best ways.
So, we arrive at contributing to a Suede Chain legacy that isn't well defined since their departure coincided with the dawn of Internet everything. The second of two conceptual public performances by them after "Rust," "Dream Wheel Circus" took place multiple times between April 22 and April 24, 1994, in a vacated Champaign storefront that would soon house Radio Maria. As shown in DREAM WHEEL CIRCUS, attendees walked through a ground floor maze to reach an art gallery and refreshments, after which they went upstairs to sit before a large canvas stretched across the loft. Apart from the opening number, The Suede Chain mostly performed from behind said canvas as actors and dancers mimed a series of vignettes to the music; occasionally, the live component would break for an interlude provided by an impressionistic film short. Band members and friends designed and choreographed the entire show.
Much of the "track listing" of "Dream Wheel Circus" is sourced from ripplemark and earlier release Dry Gulch with the notable absence of their breakout college radio hit, "Daisy Dawn." In succession, The Suede Chain performed "Show," "Hold Me in the Trees," "Cycles," "Mississippi," "Lampland," "Radiance," "Oli Oli Oxen Free," "Wine, Flowers, Photograph, Kisses," "Esophagus," and "Church House Moan." Todd Dare recorded audio while Paul Summers and Ian Mitchell lit the space and videotaped the proceedings. Other participants in myriad roles included Nathali Rottier, Nathan Storm, Christian Moder, Thomas Spanos, George Van Dyke, and Mark Saric.
We obtained our copy of DREAM WHEEL CIRCUS from That's Rentertainment when they closed their satellite location on Lincoln Avenue in Urbana. Were they sold by the band at concerts or solely stocked in a handful of places for customer rental? We don't know but we're certain it is equally as scarce as an actual Suede Chain sighting. While the video itself is not otherwise available in any form and it hardly replicates "being there," we can at least share a facsimile of the cover artwork that we put together just for you! Click on the image below to view the entire design. Maybe if a video master surfaces, some day…
~ Jason Pankoke
p.s. "I awoke the next morning and it was all a dream," states the back page of the "Dream Wheel Circus" program unearthed by Mud Records' parent, the Parasol Label Group. In some uncanny way, the act of watching a camcorder recording like DREAM WHEEL CIRCUS on fuzzy VHS tape can replicate a dreamlike sensation in real time. Appropriate, yes?
~~~~~~