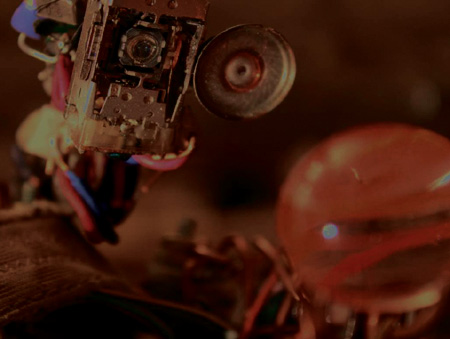 ~~~~~
Truth be told, we have moments when we contemplate why the New Art Film Festival and Champaign-Urbana film culture of 2017 does not outwardly resemble or inwardly feel like that which originally stoked our fire in, say, 1997. Times change, people grow, the Twin Cities evolve, and local media tends to reflect its community's needs, yet we can't escape the possibility that our own interest level flags. In the thick of NAFF action between mid-summer and the fall, we're fine; during our down time through the rest of the calendar year, we inevitably self-criticize and question the place or need for our reporting, aggregation, and outreach.
Strangely, it is when we dig deep to bring forth the past that we often feel the most engaged in the present, for we better than most understand the historic groundwork that is the basis for the movies of Champaign, Urbana, and the cities beyond. If nothing else, recalling the early years can only help to reset perspective when our compass du C-U is out of whack. We hope our overall investment is apparent to you, dearest readers, whether we post about the old or the new.
A few months back, we happened to catch a Facebook share by our friend Johnnie May of an early film short he finally digitized and uploaded to stream. Known alternately as CA 1997, CA 1999, and now CA 2017, the stop-motion Super 8 phantasmagoria CASTLE ASSHOLE was designed, animated, and photographed by May and Brian Robertson (MONSTER, NAFF '17) in the former's Urbana basement using a mix of art supplies, found objects, discarded toys, mechanical parts, and recyclables. Modest Mussorgsky's famous composition "Night on Bald Mountain" accompanies a high-seas adventure as pipe cleaner rogues brave a raging storm to make land and cause mischief in the title structure.
The primitive technique is at once charming in its handmade quality and hallucinatory in its leisurely gait, allowing the viewer to study in real time its clever low-budget camera tricks. We don't remember if CA 1997/1999 surfaced at the Freaky Film Festival after it was first finished – other Tabletop Studios inventions like ISOLATION and COMPLETELY DRESDEN did make the Freaky cut – but it embodies the freewheeling, rough-and-ready underground film aesthetic that once ran rampant in America.
We miss the unpredictable and often anarchic nature of Freaky-style filmmaking that became a sort of hipster-resistance subgenre in the Nineties and Aughts, but what may have populated the B-list indie film circuit then simply does not materialize now in the annual lot of NAFF submissions. This is completely acceptable because the NAFF is designed to primarily represent the local movie projects of today. However, we thank the cinema gods when they bless us with an opportunity to fuse the old guard with the current zeitgeist.
Case in point, May contacted the NAFF after a long break from his own work and we eventually accepted from him a vintage music video (SHOT ON SIGHT, NAFF '14) and a brand-new dimensional animation (THE CROSSING, NAFF '15) that improves greatly on his frame-by-frame craft. For comparison, we have paired THE CROSSING and CASTLE ASSHOLE 2017 below so you can see how a distinctive artist can progress and also retain a visual identity. May has made Madison, Wisconsin, his home since 1999 although we still consider him "one of us" and could not have been happier to include him with our usual suspects at the NAFF. Enjoy his flights of fantasy, C-U. We do.
This concludes our run of last-minute NAFF VIII writings in 2017 as we head into the 2018 fray. Have a hearty New Year's celebration and join us safely on the other side!
~ Jason Pankoke
~~~~~