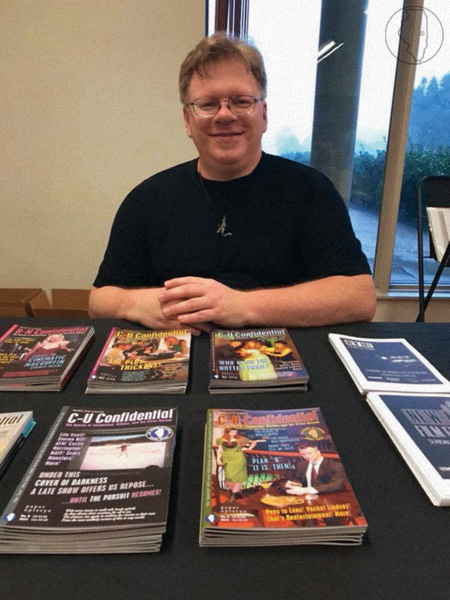 ~~~~~
There is not terribly much to say about our experience back on Saturday, July 14, when we tabled for the first time in several years during the 2018 Indie Art Convention & Film Festival at the Savoy Recreational Center in Savoy. Organized by local pop culture promoter Brian Ward in collaboration with Willy Adkins of Breaking Fate Entertainment in DeKalb, the show was one of several concepts the duo appeared to be testing in the Champaign-Urbana market to see if they could build a stable of events to be anchored by Ward's own homegrown hit, the Dark History & Horror Convention.
A dozen or so vendors signed on to participate in the venue's cozy activity room, allowing for a seating space to be partitioned in the back where a short film program would run all day, and patiently waited out the morning's blustery downpours for the hoped-for attendees to arrive and browse in the afternoon. Traffic never materialized, though, as we wiled away eight hours with little to do and very few folks to engage with other than ourselves. At the least, your humble editor had lovely table neighbors from the C-U in painter Phil Strang at stage left and multimedia artist Drea Aarons across the aisle; DV Entertainment Pictures of Indianapolis displayed the token movie eye candy on the floor with their low-budget science fiction serial SUBMERGE. Apart from those pluses, hrumph. The obvious analogy is of the band gig without an audience. If you must go on, rock hard and then move along.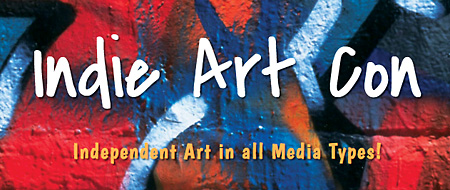 Without interpreting too much from spare details and presumptions, we honestly wonder if Ward did not have the gumption to push Indie Art adequately with dates for the much larger Dark History convention looming near. We also suspect that Adkins remained hands off given his recent decision to offload numerous Breaking Fate properties, including the Art in Equality event held in Savoy previously and the Prairie State Film Festival that has featured local productions, in order to somewhat simplify the company's workload. (Personal and health concerns are apparently guiding his decisions as well, which Ye Ed and Confidential agent Cara Day learned when he and a lady friend stopped by our table.) A post-show Facebook announcement on July 17 revealed that Indie Art would be turned over to Breaking Fate and transformed into the "Films With Feelings Festival" that will presumably be held either in DeKalb or Gatlinburg, Tennessee, the entrepreneur's home away from home. C-U Blogfidential appreciates their incentive in giving the Indie Art Convention a chance in our neck of the cornfields. It simply did not take root.
We wish Adkins and his cohorts the best in realigning their efforts and hope Ward finds continued success where his heart lies; it was revealed on July 26 via Facebook that Dark History would move from the rec center back to its previous home, the Garden Hotel (formerly the Wyndham Garden) in Urbana, on November 16-18. Until all that transpires, we have a New Art Film Festival to whip into shape for October 30. Don't leave us hanging at the Art Theater like you did in Savoy, peoples. Deal?
~ Jason Pankoke
p.s. Ward belatedly announced the awards for the Indie Art film festival program on August 1. "Best Film" went to THE BOO with first, second, and third runners-up certificates being earned by SUBMERGE: ECHO 51, MISSING PEACE, and MIMESIS, respectively. We didn't even know a written program of any sort existed until researching for this post.
p.s.2 It goes without saying that we had plenty of opportunity to snap pictures while on the scene. Enjoy.
~~~~~