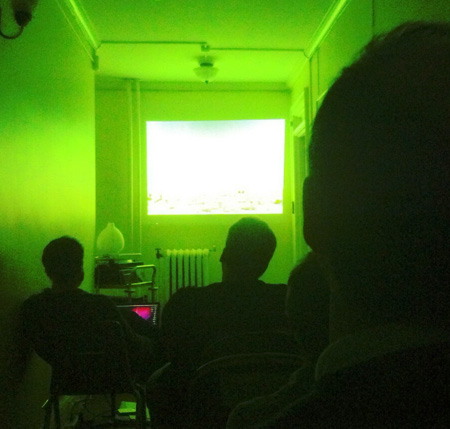 ~~~~~
Hrmn. Since we have recognized the fact that our own film festival felt like a bust and our presence at a local art show was inconsequential, let's go for the self-depreciating three-peat as we dare to revisit the elephant in the Secret MICRO-FILM Headquarters! You might have noticed that C-U Confidential has not come out lately. We've had material edited and visual assets collected for the oft-promised issue 10 for many months and, after two efforts in the past year to book advertisements fell on mostly deaf ears, we have not felt a great desire to get right back to it. Of course, we'd also hate to waste the total effort.
This is due in large part to the unusually strong showing CUZine received from guest contributors. They include David Gracon, a professor at Eastern Illinois University who talks about Hallways Microcinema wherein he presented alternative media programs in his home, along with James Hall, a University of Illinois junior in cinema studies who reports on the former UI undergraduate film journal MacGuffin, and Troy Michael, the publisher of Innocent Words Magazine who theorizes on what keeps him going in the lively world of independent journalism and fandom. Your humble editor also planned to present a "lost" (yet relatively recent) interview with Skip Huston, discussing the success of the Avon Theater in downtown Decatur, in addition to his scene-specific miscellanea that fills out every issue.
We know it would be easy to post this material on C-U Blogfidential and be done. It also would make us feel like heels since we intended for a tactile reading experience. Much more so than when we launched CUZine in 2007, the editorial appearing in its pages is drafted and designed to work in print. The same holds true for the aforementioned pieces and everything else we still need to finish for issue 10. We'd prefer to stick with our program, so we're prepared to make a proposal to our Champaign-Urbana community that is not limited to the immediate purveyors of our film culture.
~~~~~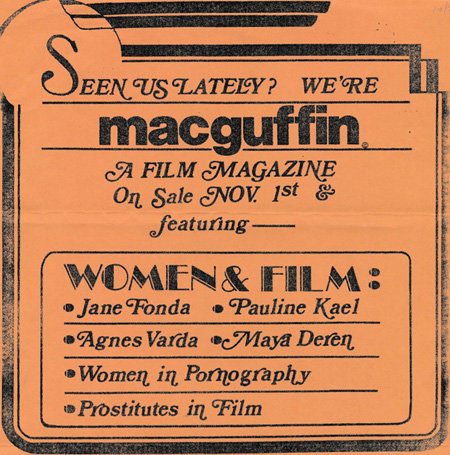 ~~~~~
The prevailing gut feeling is that we can't rely solely on advertisers to help us afford CUZine from this point on. (We'll always be overjoyed to be proven wrong on this point, for what it's worth.) Their fees have allowed us to distribute all our issues for free at your favorite local places with open shelf and counter space to display them for the taking. Therefore, we're dipping our entrepreneurial toe into the world of crowdfunding and ask everyone who cares about what we've been doing at MFHQ for the past 20 years – yes, 20 years – to pitch in with a few spare bucks so we can return to the printing press by the New Year.
An elaborate tiered campaign offering all sorts of collectible whatzits and face-to-face meet-cutes does not sound like the way to go in this case. We're treating this as a drive to breathe life into the publication one more time as a communal action, bent on dispensing local stories and useful information in a portable format without loading up everyone with disposable swag, and have selected GoFundMe as our on-line base of operations. For the sake of transparency, we'll state that our target budget has typically been $2,000 to afford at least 1,000 copies for distribution, meaning, our GoFundMe benchmark is to raise at least half that amount from non-advertisers for issue 10. If we blow past the monetary goal, that extra funding would go into making up for lost advertising, printing bonus copies of 10, and then providing seed money for our next publication, in that order. It's straightforward.
Between gifts from dearest readers like you and a good handful of traditional ad placements, we would receive the pick-me-up to finish off CUZine 10 and place it back in your hands where it belongs. In its own small way, CUZine gives Champaign, Urbana, and the cities beyond the gift of cultural and historic knowledge like only we can do. Any amount contributes to the whole and, if nothing else, consider it an early birthday present for your less-humble-than-usual editor who will hit it bigger than ever on December 30. This will provide a happier ending to our less-than-invigorating year in Confidential machinations.
The GoFundMe campaign for C-U Confidential #10 will begin on Monday, November 26, and is set to last through Sunday, December 30. Updates will also appear here and here.
~ Jason Pankoke
[Updated 11/28/18, 11 p.m. CST]
~~~~~