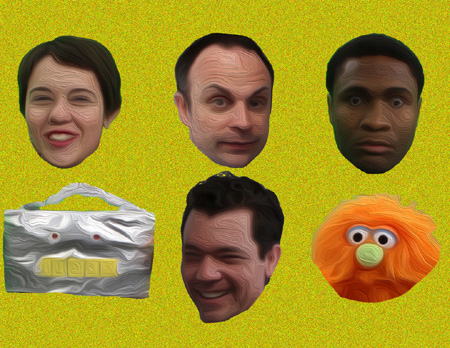 ~~~~~
They're back! With college students returning for study now that Mother Nature has finished obscuring the highways with snow, their creative vibes will thaw out the region's university campuses from their winter slumber. In particular corners it will involve film and media, so we'd like to remind undergraduates as to what is happening this first week back in Champaign-Urbana. Illini Film & Video resumed their weekly meetings last night, Monday, January 14, at 7 p.m. in Room 1022 of Lincoln Hall at the University of Illinois with much to discuss. Tonight, January 15, Champaign Movie Makers moves back to Tuesdays at 7 p.m. for their own monthly meetings at the Champaign Public Library, this one covering the topic of visual effects techniques with an expected shout-out to Pens to Lens planning. We also want to mention the new RSO on the block, a cinema appreciation group called C-U Cinefile, even though we don't know when or where they gather. Keep tabs on their Facebook for happenings, YouTube for video essays and round-table talks, and Web site for pertinent information about this venture, led by Cece Walcynski and our contributor James Hall. All are free to check out and invite your participation.
Of course, there will be other group meetings and screening events littered throughout the academic calendar where the UI student body can get their film fix, but we always seem to be a bit unclear as to how young people interested in making movies can be hands-on with learning the process. Bracketed by the likes of Columbia College and DePaul University in Chicago and also Southern Illinois University in Carbondale, which have long-standing and prolific filmmaking programs, the geographic heart of Illinois is nearly barren of centralized nuts-to-bolts instruction that is geared towards coeds. They need to look carefully at what their course work, extracurricular options, and surrounding community can provide for them as far as a space in which to experiment with media and storytelling. (Local film productions and the aforementioned Pens to Lens are always options in the C-U.) One strategic idea is to incorporate a video component within the confines of a research project or degree track as did Dakota Pruemer, who hails from the Charleston area and earned his Master's in communication studies from Eastern Illinois University in December, with a little help from … the Heimlich Hero?!?
~~~~~
~~~~~
It seems this hero is an accidental media star due to his appearance "live on the air" during the "New News" broadcast seen in ONLY IN IT FOR THE NEWS, a "pilot" conceived by Pruemer as EIU course work that uses layered visuals and tangents to comment on the nature of mass media. (His earlier "pilot," MITCHELL ROBERT'S HOUSE, features Greg Trumbold as a Fred Rogers stand-in and plays with the notion that low-budget, local station flavor might amplify whatever weirdness goes on behind the camera; we closed the 2017 New Art Film Festival with this fit of subversion.) In Pruemer's thesis video, he and co-writer Scott M. Walus obliterate the traditionally stoic nature of the nightly television news show. Thinly-veiled corporate promotion and a viewership with a short attention span place "New News" anchor Dawn Wotcher (Kennedi Carodine) and her investigators Sam Middle (Faith Ramsey) and Jeffrey Newman (Woody Newman) at their mercy, forced to make up so-called reporting on the fly. Social media trends and marketing hooks twist the team's air time into something bold, crass, and vapid. Is it mere foreshadowing or disarming future shock beneath the slick exterior?
~~~~~
DIY in Urbana from Emma Sielaff on Vimeo.
~~~~~
We now segue from a student-produced video that is hyper-stylized in vision and somewhat anarchic in intent to one that is charmingly straightforward and organic. Discovered by the folks at Smile Politely who always have a nose for music news, DIY IN URBANA was made close to home by Chicagoan and UI undergraduate Emma Sielaff for the "Time Arts 2" course offered through the School of Art + Design. The short is a documentary about the local house concert scene; footage with student-led bands and teeming teen crowds alternates with interviews of friends and fans who value this underground slice of life, including C-U videographer and photographer Veronica Mullen. Warm and welcoming, it's exactly what we'd expect to see through the eyes of someone who loves the arts. Brief Web research tells us that Sielaff is also involved with the student-run "free-form arts and humanities magazine" The Collective and the UI-based paper-making lab Fresh Press. Good for her! We always hope for the best as the learners of today open wide to the possibilities of tomorrow through their education. May this always involve the cinema in some way, shape, or form.
~ Jason Pankoke