On more than one occasion, myself and Mr. Brian Paris had verbally spun wheelies around the concept of putting together a short film show, going so far as to host a movie night for friends and pour through some classic MICRO-FILM submissions for inspiration. Alas, good ideas do not automatically translate into action; this ill-fated initiative currently sits on the shelves while, 80 miles down the highway, some other folks stopped dreaming and put a similar plan into motion.
747 Productions, founded by brothers Gregory and Douglas Berry (who are also professional pilots, hence the name), recently premiered its program WATCH MY SHORTS on ACCESS 4, a public-access channel based at the University of Illinois at Springfield in partnership with the Insight Communications cable company. Starting on Friday, January 5, a new episode will air each week featuring one or more independently-produced shorts and audio interviews with their makers. The show is hosted by FOX 55/27 promotions coordinator and on-air talent Rachael Atchison.
"747 Productions launched WATCH MY SHORTS [locally] because both Greg and Doug are from this area and have developed a core of people to help them with the show," creative consultant Linda McElroy tells C-U Blogfidential. "The Los Angeles branch will concentrate on making feature-length films, while the Springfield group will do the TV show and make short films, music videos, and commercials." The company is also working with Brandon Clayton of Hazard Films as well as LA-based Beef Tips On Rice Productions, with whom 747 collaborated on the tense psychological short UNDER MY SKIN, directed by Vito Lappicola and starring Eric Passoja and April Wade.
While the January 5 episode kicked off the series with UNDER MY SKIN, the producers don't intend to limit each half-hour to plugging their own efforts. "WATCH MY SHORTS is currently showcasing short films that have been featured at the Route 66 Film Festival," continues McElroy, who also serves as director of the Springfield-based movie event which occurs each September. "We are seeking short films of all genres of less than 30 minutes for future shows." Interested viewers can click here for the current schedule; filmmakers can follow this link for submission information and requisite forms.
Atchison, a Pawnee native who earned a Bachelors in Advertising degree from the University of Illinois at Urbana-Champaign in 2005, auditioned for her hostess gig at a meeting of the Springfield and Central Illinois Film Commission in November 2006. "I'm pretty new to the whole independent film scene," she reveals to CUBlog via e-mail. "I decided to audition for the host of WATCH MY SHORTS so I could learn more about independent filmmaking and, to be honest, meet some new people. I've had the privilege to interview some great filmmakers, and I look forward to seeing many more of these outstanding films."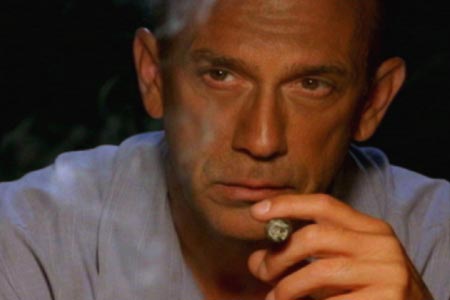 This week's episode features A CIGAR AT THE BEACH (2006), a wry male-centric fantasia written and directed by Stephen Keep Mills about a mid-life Smoker (Billy Gillespie) who dreams his way into highly cinematic encounters with giggly bikini girls, an exotic woman in white, several grizzled mariners from far-away lands, and an extremely big wave. A winner that blends professional craft with personal storytelling, CIGAR alone is worth a good long peek into 747's SHORTS; it airs this Friday, January 26, at 4:30 a.m., 12:30 p.m., and 9:30 p.m. on ACCESS 4.
– Jason Pankoke