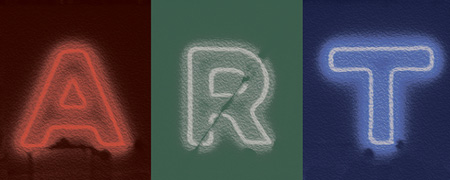 ~~~~~
I'm not a big proponent of goof-off posts on C-U Blogfidential. There is usually a sense of purpose to everything that appears here for the sake of the movies and media creatives of Champaign, Urbana, and the cities beyond. If this looks like a colorful lark on its surface, so be it, but know that my heart would collapse a bit if I didn't do anything outside the MFHQ box to commemorate the 10th anniversary of the New Art Film Festival. Please join me in having some fun as we consider how it's gone so far.
~~~~~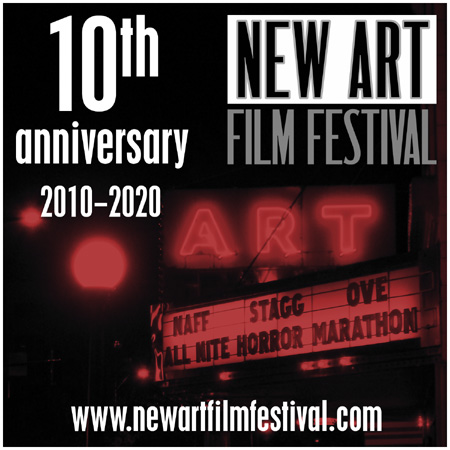 ~~~~~
At the moment, I feel content the NAFF has catered to our community as best as possible during nine shows across its first decade. The original launched on Thursday, April 15, 2010, during the Boneyard Arts Festival and lasted an additional five days, leading up to the opening night of Roger Ebert's Film Festival. Screenings that curious filmgoers might have attended 10 years ago at the Art Theater in Champaign included the area premiere of documentary HOOPESTON, a compilation of short subjects produced by University of Illinois students in the Illini Film & Video club, a sneak preview of an under-the-radar Dreamscape Cinema thriller called DISPOSABLE, and a late show highlighting the moody science-fiction feature RETURN IN RED from Indiana. The ambitious nature of our peculiar marathon taught yours truly and incoming Art owner Sanford Hess a handful of serious lessons about what to do, not do, and try the next time. We found a more comfortable formula to fit the NAFF and our audience a year later.
~~~~~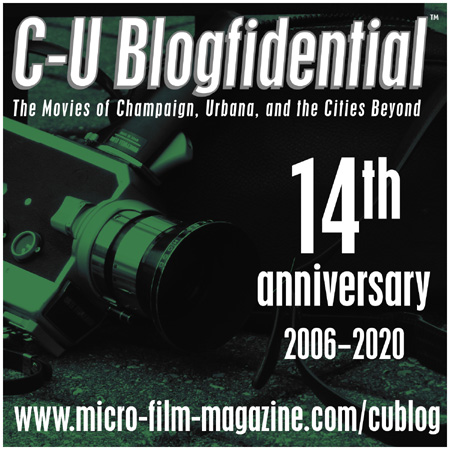 ~~~~~
Fast forwarding to the present, I will aim to give the NAFF faithful and onlookers late to the party a few nuggets they can take to heart in appreciating what our local film culture can achieve. I'm sharing them on CUBlog because the official NAFF webpage will go dark soon due to a recent agreement. Maybe I'll compile up to a sextet of articles in reference to the six days spanned by the first NAFF, maybe I'll keep it compact since I have several other pieces in the queue. We'll see. Pandemics and idiots make me blink.
~~~~~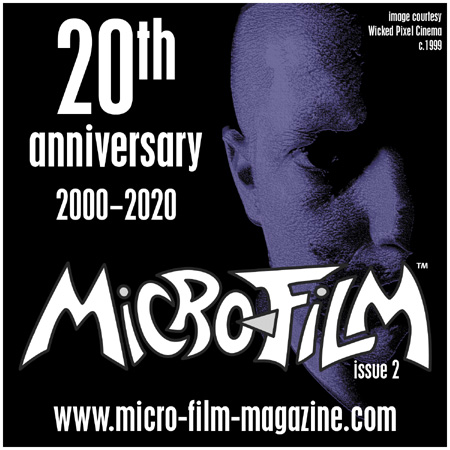 ~~~~~
You are welcome to convince me to go long instead of short with NAFF reflections by the social media graphics embedded in this article. I could not resist designing a badge for the NAFF. It pictures a loaded Art marquee from a few seasons ago and is based on a prior badge made in February to highlight the 14th birthday of CUBlog. I've revised and included the latter here. A surprise badge fills out the triptych and notes the release of MICRO-FILM 2 in April 2000 at the former Overlooked Film Festival; it features the distinctive St. Louis actor D.J. Vivona in his role as "The Presence" from the underground head trip ICE FROM THE SUN. All graphics are released to Facebook as of this writing, so wear them loud and proud in the virtual world if you would be so kind! Click on each thumbnail in this post to pull up full-size versions you can copy and paste. We thank you in advance for sharing. More soon, NAFF Nation!
~ Jason Pankoke