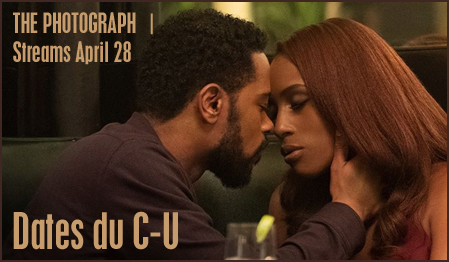 Our movie and media Calendar appears every Friday/Saturday on C-U Blogfidential and caters to the downstate region anchored by Champaign-Urbana, Illinois, USA.
~~~~~
MILESTONES | Happy Birthday to You!
5/4: Andrew J. Rausch (author, Perspectives on Stephen King, McFarland & Company, Jefferson, NC)
CONFIDENTIAL ALMANAC | Dates in Film Culture History
10 Years Ago … February 5-7, 2010: Seeking to establish a vehicle for video screenings that welcomes a variety of personal and political perspectives, the Independent Media Center in downtown Urbana presents the second annual IMC Film Festival. A modest program features more than 25 pieces, serving as a "celebration of the art of cinematography" per AmeriCorps hire and outreach advisor Nicole Pion, and is rich with interactive portions to engage audience members. Activists, students, and producers from the immediate community are behind many of the movie selections while live attractions include a deejay and projection set by DJ Belly and Matt HarsH, post-film discussions led by the Gesundheit! Institute and the People's Potluck, and an orchestral performance synched up to the silent German classic, THE CABINET OF DR. CALIGARI, of an original score composed and conducted by University of Illinois graduate student Vin Calianno. Organizers and rotating hosts of the event are Pion, Katy Vizdal, Laura Fuhrman, Brian Dolinar, and Jason Pankoke, the latter taking the reins at the first New Art Film Festival a scant two months later. Dolinar and friends would bring back the IMC Film Festival for a third and final bow in September 2011. As reported on 1/13/10, 2/1/10, 9/14/11 at CUBlog.
LOCAL FILMS, ETC. | Support Your Media Storytellers
@ YouTube
UIUC MACS 464 and Illinifest present "Illini Film Fest" live stream (5/2, 5 p.m.) Channel
NOW PLAYING | Champaign-Urbana Area
@ AMC Champaign 13, Champaign, IL
Closed for the week.
@ Family Video, Champaign-Urbana, IL
BAD BOYS FOR LIFE, GUNS AKIMBO, ONLY, THE ASSISTANT, RIDE LIKE A GIRL, THE DARK RED, DREAMKATCHER, more! (4/28 on)
@ Goodrich Savoy 16, Savoy, IL
Closed for the week.
Events featuring locally produced movies are marked with an asterisk (*). Additional "Now Playing" and "Coming Soon" listings appear after the jump!
~~~~~
NOW PLAYING | The Cities Beyond
@ AMC Classic Village Mall 6, Danville, IL
Closed for the week..
@ AMC Peru Mall 8, Peru, IL
Closed for the week.
@ The Avon Theater, Decatur, IL
Closed for the week.
@ The Lincoln Family Theater & Community Center, Lincoln, IL
Closed for the week.
@ The Little Lorraine, Hoopeston, IL
Closed for the week.
@ The Normal Theater, Normal, IL
Closed for the week. "Living Room Film Festival" virtual screenings: THE WHISTLERS, THE WOMAN WHO LOVES GIRAFFES (4/24-5/7), DEERSKIN, THE BOOKSELLERS (5/1-5/14) Purchase
@ The Onarga Theatre, Onarga, IL
Closed for the week.
@ The Princess Theatre, Leroy, IL
Closed for the week.
@ Roxy Cinemas, Ottawa, IL
Closed for the week.
@ Streator Eagle 6, Streator, IL
Closed for the week.
NOW PLAYING | Midwest
For detailed and curated listings of Chicago-area film presentations and related events, as well as cancellations and postponements due to the ongoing coronavirus pandemic, please visit the fine folks at Cine-File and subscribe to their definitive "Cine-List" weekly blast.
COMING SOON | Area-wide Events
10/4
Dead in Decatur presents "The Art of Fear"
@ Heroic Age Art Center, Mt. Zion, IL, 4 p.m.-12 a.m.
NEW! 11/6-11/7
19th annual Route 66 Film Festival
@ State House Inn, Springfield, IL
11/28
SAFETY LAST feat. BIG BUSINESS w/live organ accompaniment by Steven Ball
@ The Virginia Theatre, Champaign, IL, 7 p.m.
COMMUNITY & CAMPUS SERIES | Champaign-Urbana area
The News-Gazette Film Series
@ The Virginia Theatre, Champaign, IL, 1 & 7 p.m.
5/16: CAT ON A HOT TIN ROOF; 6/20: FANTASIA
~~~~~
Compiled by Jason Pankoke.
~~~~~
"Calendar du C-U"
© 2020 Jason Pankoke/C-U Blogfidential