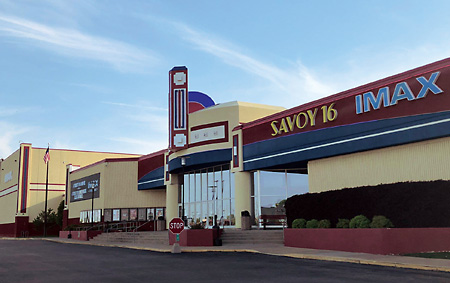 ~~~~~
We have unfortunate news to share, dearest viewers, although some of you have possibly been anticipating it as the pandemic wears on. Thanks to a tip by Confidential agent JK, we learned from a press release issued last Friday, July 17, that most of the assets of Goodrich Quality Theaters (GQT) in Kentwood, MI, have been purchased by two New York-based firms, Mason Asset Management and Namdar Realty Group. It rescues the chain from bankruptcy proceedings, although not all the previous GQT locations carry over in the new deal. I reached out to Jake McSparin, vice president of theater operations at the revamped "New GQT" chain, for clarification and he responded via e-mail, "I can confirm that the Savoy 16 IMAX will not continue on as a Goodrich Quality Theater." This development effectively reduces the number of first-run screens in Savoy and Champaign-Urbana to less than half from the same time frame a year ago, while the Willow Knolls 14 in Peoria is the only one of the four GQT sites in Illinois that is being readied to open under the New GQT brand between now and the end of August.
McSparin, along with family members Mark and Matt, will manage the 22 surviving Goodrich locations through their company VIP Cinemas, which also owns or operates 11 houses in several Midwest states and is headquartered in nearby Charleston. What happened in Savoy, then? "GQT was unable to develop a continued partnership with the landlord at this location," explained McSparin in his reply, identifying them as EPR Properties of Kansas City, MO. One look at the theater portfolio on the webpage of EPR, a real estate investment trust (REIT) that owns and leases commercial sites across the United States to companies that trade in memorable customer experiences, and I wonder how much the future of Savoy 16 is up in the air. EPR might sell it since the exhibition industry is abysmal and they have nearly 200 other theaters to watch over. EPR could also court any of the dozen or so chains such as AMC, Cinemark, or Regal that are tenants in their facilities elsewhere. Interestingly, the interior design of their theaters can be retrofit to accommodate other kinds of merchants as detailed in this animated video. It's a handy option if multiplexes remain closed due to COVID-19 restrictions and the plot of Savoy land is valuable to them, assuming Savoy 16 was built for this. I've written to EPR for comment on their plans.
All that loyal customers can do in the present is remember their best moments with family, friends and favorite movies at Savoy 16 while we await AMC to resume shows in north Champaign. I seemed to prefer Savoy for my Hollywood screenings and appreciated the chain's dedication to contemporary Asian films, special event programming, and the rare low-budget release, so I'll miss making the trek south on Route 45 for a visit. According to Perry C. Morris' ever-expanding website, Champaign Urbana Theater History, construction commenced for the original Savoy 10 in May 1990 and Goodrich welcomed their first audiences on December 19 of that year. Four screens were added in 1993 and two more in 1998, after which a major remodeling incorporated the area's first IMAX screen in 2013. Months shy of their 30th anniversary in Savoy, Goodrich opened their last wide-release films back on Friday, March 13 – BLOODSHOT, EMMA., THE HUNT, I STILL BELIEVE – while the final attraction to debut there was the CBN-funded dramatization, I AM PATRICK: THE PATRON SAINT OF IRELAND, on Tuesday, March 17. The auditorium lights at 232 W. Burwash Avenue went dark a day or two later.
No matter what EPR announces, the parting of Goodrich and the Savoy 16 IMAX affects the place of cinema in Champaign County just like several other recent occurrences. You can hit the links to read about how venue owners are doing what they can to combat a loss in revenue, when blatant neglect adds insult to injury, and why underachieving foresight amounts to plain and simple insult. In better news, AMC Champaign 13 should come back, the Virginia Theatre will come back, and the Avon Theater is back and hopping with popcorn. What else do we have? For the sake of our communities, commerce, and cultural arts, the foundation must be strengthened with new materials if not rebuilt from scratch if we want to avoid relegating the motion picture to flat screens, monitors, tablets, and smart phones. Once we thwart the virus, I want to see viral evidence aplenty of filmic action and innovation stirring up the C-U again.
~ Jason Pankoke
[Updated 7/24/20, 5 p.m. CST]
~~~~~