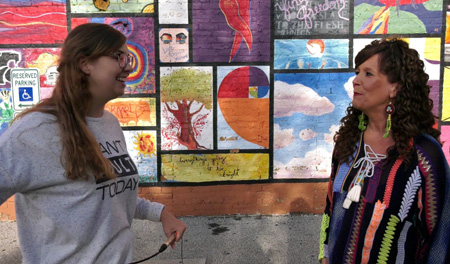 ~~~~~
"Negotiation" is often a key word in the culture we strive to uphold in our communities. Last week, I briefly debated whether a local multiplex preferred by many in Champaign, Urbana, and Savoy will stand a chance in the economic doldrums of the present, assuming the landlord partners with new management to reopen it. This week, I'll offer my two cents on the resolution of how a public artwork loved by many in Bloomington, Normal, and nearby towns will be handled as the owner of the building it resides on wants to make way for redevelopment. The conflict at the core of the latter situation is addressed in a 20-minute-long short called MAKING A MURAL, produced by Illinois State University students earlier this year and embedded below for your convenience. You can also watch a preview at FilmFreeway.
Claire Bottom, Colin Connelly, Akila Howard, and Ian Roberds teamed up in a spring semester course taught by professor Brent Simonds to make a documentary on the ubiquitous mural in downtown Normal. As told by Roberds to Laura Kennedy of WGLT-FM, the university's public radio station, it challenged the group to look deeper into the controversy surrounding the mural and also find a way to amend their workflow so they could finish the film from a distance, having returned to their respective homes after ISU closed down its campus. The classmates' effort paid off as MAKING A MURAL earned them an Award of Excellence in the "Short Form Documentary" category of the 2020 Broadcast Education Association (BEA) Festival of Media Arts, a national juried competition for educators and students that celebrates its winners during the annual BEA convention, shortened and held virtually this year due to the pandemic. Out of more than 1,700 entries, 368 video and audio programs received citations.
~~~~~
~~~~~
Without taking away from their achievement, certainly a bright spot for the foursome and their instructor after watching their semester slip away due to pandemic restrictions, the situation presented in MAKING A MURAL is a bit discouraging for all involved. Voicing support for the artwork is Natalie Wetzel, the former owner of boutique shop The Pod that once resided at the address where the mural remains, and Janean Baird, one of the contributors who painted its panels in 2011 after Wetzel proposed the idea. Expressing a desire to clear the property is Normal mayor Chris Koos, who claims the mural was always expected to be an ephemeral piece, and R.C. McBride, general manager of WGLT and a former town council member who sees worth in establishing a modern mixed-use building at 104-108 East Beaufort Street in line with similar construction that has reshaped the downtown area in the last 15 years. Heartfelt sentiment goes up against revenue-generating opportunism to no one's surprise.
As reiterated by a text screen at the end of MAKING A MURAL, a federal judge ruled in January to dismiss a lawsuit brought last year by more than a dozen artists against the town of Normal to receive compensation for the mural. The same judge also brushed off a request by city officials to be reimbursed by the artists for fees associated with the legal proceedings. Prior to this, the town agreed that it would attempt to move the mural intact to another location, another costly line item that clearly rankles Koos in his interview segments, before contractor Bush Construction, LLC, can begin on the "Trail East" building, designed by the Farnsworth Group and almost completely leased. The planned razing will take out the adjoined storefronts at the location – fleeting glimpses in the student film show a space unoccupied and decayed with flaking paint on the façade – and much of the parking area behind it. At this point, it seems like it is potentially a hazard and should be destroyed, save for the mural.
~~~~~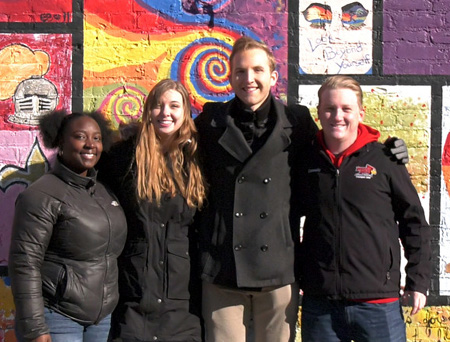 ~~~~~
I will admit that I have a soft spot for downtown Normal that originated way before the ever-long quest began to mold an "Uptown" attractive to locals with disposable income, future ISU families, and white-collar professionals. As an alumnus of Illinois Wesleyan University in Bloomington, I relied on businesses in the shadow of Watterson Towers for the purchase of school supplies and amusements as well as late-night distractions. As an adult, I've regularly taxied off the highways for a pit stop at The Coffeehouse, just a few doors down from the location in question, for a fresh jolt of java and to stretch my legs by walking along Beaufort. The ramshackle college-town charm always felt comfortable to me. In fact, I'd argue the Pod mural affects a lovely kind of handmade expression that would have been quite at home 20 or 30 years ago along this drag. Maybe such an aesthetic quality has not helped its cause, especially to those planning committees that have been purging block after block to erect their slick monoliths.
Seasons change, though. The downtown I stopped visiting regularly in the mid-1990s is very much an altered beast apart from the Normal Theater and a smattering of storefronts. Murals that I painted from top to bottom at my high school in the west Chicago suburbs in 1990 are long gone thanks to opaque coats of nothingness and remodeling. Both live on as memories, stories, and photographic evidence, much as the MAKING A MURAL team have captured the sense of time and place for the Pod artwork as well as its surroundings and players, but I feel there is not much ado to be made about them today. Conversely, I'm sure many are still feeling a mite raw over this fracas. Even if the B-N community can successfully point visitors to the decade-old draw in its second home, the impact may never be the same for its creators, ardent fans, and all those pedestrians who interacted with it spontaneously as they wandered about Normal. Welcome to the "new Normal," then.
~ Jason Pankoke