It feels pretty good to contemplate how communities are capable of pulling together for the sake of a beloved local institution, does it not? In terms of Champaign-Urbana film culture, we've now seen it happen twice in a year's time on a relatively large scale with one movie house, the Art Theater Co-op in Champaign, and one ozoner, the Harvest Moon Twin Drive-in of Gibson City. Not all can be that lucky, however. Quality of product, reputation, and legacy only count for so much if tomorrow's operating dollars aren't coming through the door today, so we must pass along the sad news of two other media businesses that have met their respective demise in the past month.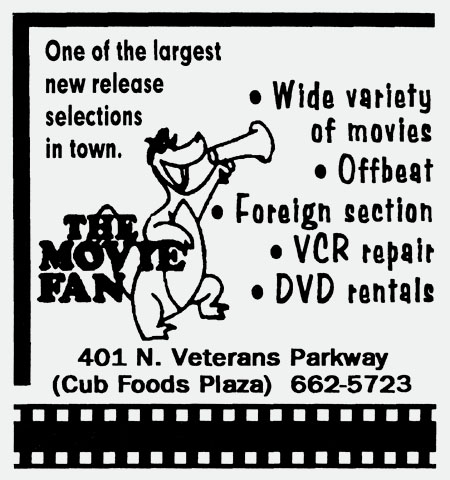 Unbeknownst to C-U Blogfidential at the time, the five days of last month's Roger Ebert's Film Festival ran parallel with the last five days during which owner Dave McBride kept open the doors to The Movie Fan, 503 S. Main St., Normal. After starting the shop in 1995, McBride moved from a strip mall on Veteran's Parkway in Bloomington to a prime location across the street from the Normal Theater in downtown Normal, offering discerning year-round residents and the campus populations of Illinois State and Illinois Wesleyan universities a diverse video library more than 20,000 titles deep. Due to the Town of Normal's aggressive rebuilding program, McBride relocated one last time to the current address in between a pizza (now frozen yogurt) joint and coffee house, along a stretch eerily echoing our new-look Campustown.
According to a final Weblog post, The Movie Fan era was scheduled to finish at 7:30 p.m. on Sunday, April 21. We can only guess McBride made his decision due to the paying public's gradual drift away from brick-and-mortar stores to kiosk dispensers, rental by mail, and on-line streaming for their entertainment needs. The alternative student newspaper, The Indy, named another culprit hastening its end – the massive loss of foot traffic due to last year's shuttering of Southside, a cluster of aging ISU residence halls located mere blocks away. Apart from appreciating the nearly 20-year run managed by McBride and his staff, we simply feel for our fellow cinephiles up I-74 way. Be sure to show your love for That's Rentertainment, dearest readers, if you value organic discovery over touch-button convenience.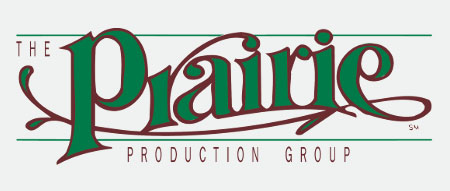 Not two weeks later, CUBlog friend Mike Trippiedi announced via Facebook the closure of his long-time employer, the Prairie Production Group. "From national [television] spots to segments for AMERICA'S MOST WANTED, and all the little stuff in between, it was a great run," posted Trippiedi on their last day of business, Tuesday, April 30. "Thanks to all the crew, actors, and clients that I had the privilege to work with over the years." The Station Theatre veteran and AMBER ROSE director served as Operations Manager for the firm, founded in 1989 as an arm of the umbrella company which owns The News-Gazette newspaper, WDWS 1400 AM radio, Central Illinois Business magazine, and other media outlets. Steve Main purchased PPG a while back and spun it off as an independent company.
Located at 509 S. Country Fair Dr., Champaign, PPG offered video and audio production as well as duplication needs for regional and national clients including State Farm Insurance, Discovery Channel, Parkland College, Champaign Park District, Federation of Animal Science Societies, and Weather Channel. A defunct subsidiary, Electronic Memories, transferred home movies to analog and digital media for general consumers. Other former employees who have moonlighted in C-U movie-making include Bill Yauch, Sam Ambler, Alaric Rocha, and Scott Warren. We wish Trippiedi and others who remained with PPG until the end a speedy path towards their next work and life commitments.
~ Jason Pankoke