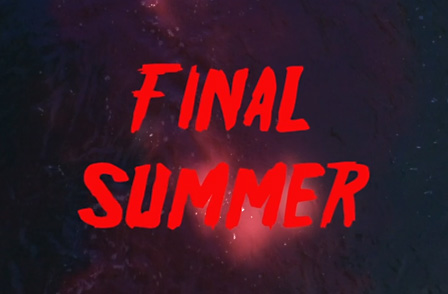 ~~~~~
With due respect given to the waning pandemic, creatives and artists are pushing forward with projects all over Champaign County and filmmaking is no exception. We'll be pointing out what's good in the coming months but for the moment, dearest readers, let's address a most immediate need for a production that is less than a week away from launching in our neck of the woods … and we do mean "the woods."
Location filming is set to begin next Monday, August 9, on a stylish "retro" slasher movie called FINAL SUMMER, hailing from writer/director John Isberg's Swede Films of Urbana and partly crewed by folks who have participated in his Workshop Films Collective group. According to social media postings and an interview with Danielle Million at Ghoulish about his feature debut, Isberg sees FINAL SUMMER as a love letter to horror thrillers of a certain bent as well as an opportunity to modernize traits of the genre, such as how female characters inform the story, and explore the ways in which past trauma can affect the behavior of survivors as brand-new chaos erupts around them. What little exists online for FINAL SUMMER so far, such as the proof-of-concept trailer filmed a year ago at the same campground where principal photography will take place, is purposely vague about the menace that lies in wait.
Similar to how shoots have gone in the area for Shatterglass Studios and Dreamscape Cinema in recent years, Swede Films will rely on a team of veterans, professionals, and dedicated newcomers from both near and far to bring the project to fruition. Isberg and Chicago-based freelancer and podcaster Kevin Lau are producing FINAL SUMMER, while executive producer Adam Moyer is branching back into theatrical cinema with this film – his career began on the set of THE SHAWSHANK REDEMPTION – after nearly two decades of working in television. The core cast, which includes Anastasia Kasimos, Charlee Amacher, Cole Carter, Fabian Guererro, Jenna Kohn, Myles Valentine, Rico Whitehead, and Seth Boyer, will portray camp counselors and the like. Adult roles are to be played by Chicago stage actress Jessica Kadish, University of Illinois associate professor of acting Robert Gerard Anderson, and former Parkland College Theater artistic director Joi Hoffsommer, who echoes the late Betsy Palmer in the teaser.
~~~~~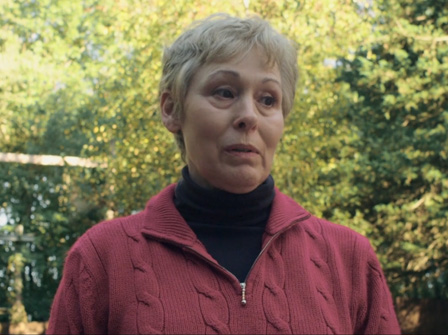 ~~~~~
Isberg has also cast a few recognizable talents in FINAL SUMMER, although the scope of their respective involvement has yet to be confirmed. Thom Mathews, known for Eighties horror movies like FRIDAY THE 13TH PART VI and THE RETURN OF THE LIVING DEAD, will appear along with Tom Atkins, a familiar face in several John Carpenter adventures and memorable as the detective in NIGHT OF THE CREEPS. Also signed are respected actor Bishop Stevens from GIRL ON THE THIRD FLOOR and SLICE as well as busy B-movie personality John Stokes who, believe it or not, is suiting up as "Jason" himself in the fan film VOORHEES: NIGHT OF THE BEAST later this fall. Additional cast and crew members will fill out the Internet Movie Database profile as things progress with FINAL SUMMER.
At present, Swede Films is looking to raise at least $15,000 of additional budget to cover costs for "rentals, food, COVID supplies, [and] lodging for crew." Despite the stretch goals mentioned at the beginning of the current Kickstarter campaign, which is set to expire after 8:55 a.m. on Saturday, August 7, only about $11,000 of the minimum has been pledged as of this writing. We sincerely hope you will consider pitching in to help afford these basics to make life on the grounds of "Camp Silverlake" for the FINAL SUMMER personnel as pleasant as can be. Every instance when there is an effort to make a quality film in Champaign, Urbana, and the cities beyond is a good opportunity for us, the friends and neighbors, to contribute in any way, shape, or form. We can afford to provide the well-timed nudges that will encourage our media storytellers to keep pushing for excellence and success in what they do.
You can read more about FINAL SUMMER in the filmmaker's own words via the press release shared after the jump. Isberg talks about his love for movies and the continued potential for the C-U as a production destination with both Swede Films and the Workshop as major catalysts.
~ Jason Pankoke
~~~~~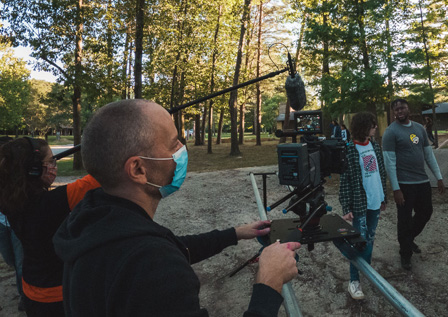 ~~~~~
FOR IMMEDIATE RELEASE
CHAMPAIGN AREA TO BE SETTING FOR SUMMER HORROR FILM
Local filmmaker is set to begin filming in August 2001
(Champaign, IL) July 13, 2021: This summer, the greater Champaign County and Danville area will set the scene for an upcoming feature-length horror movie by local filmmaker, John Isberg. FINAL SUMMER is launching a Kickstarter campaign to round out funding for the film and will begin shooting in August. A hometown premiere at Champaign's Virginia Theatre is arranged for Summer 2022.
"'Camp Silverlake' has been a family owned and operated summer camp for over 35 years. In the summer of 1991, 'Camp Silverlake' opened for the final time." Horror fans will enjoy all the staples of the genre, including numerous Easter eggs, and the project has drawn in notable fan-favorite cast members, Thom Mathews (FRIDAY THE 13TH PART VI: JASON LIVES) and Bishop Stevens (GIRL ON THE THIRD FLOOR). Even the soundtrack includes notable musicians, Jeff Schroeder of Smashing Pumpkins and composer Eric Watkins. As an avid horror fan, Isberg wrote, directed, and produced a movie that fellow fans of the genre will enjoy.
"I love film," said Isberg, "and this is made with the blood, sweat, and passion of a fan and filmmaker." The movie follows the familiar themes and tropes one would expect to find in a horror film, but Isberg's unique narrative weaves in a deeper character development to tell a story about trauma and survival. As a survivor himself, Isberg felt it was important to cast a light on mental health and overcoming. "This is my love letter to slasher films…written for more modern sensibilities," he said.
John Isberg is a local videographer and filmmaker. His production company, Swede Films, works with the University of Illinois, area studios, and marketing firms. He founded a non-profit film collective, bringing together other area filmmakers and students to share skills, insights, and hone their craft, producing many short films, music videos, and documentaries. "To see these men and women work together to produce something great…and then to see them go off to film school or work on big-name industry projects…it's very cool and gratifying," Isberg said. Many members of his non-profit collaborative will be paid cast and crew in the FINAL SUMMER production.
One of the objectives of this project and Kickstarter campaign is to highlight the major movie-making potential of central Illinois. The settings for the film are all local, as well as the people involved and the resources used to make this feature possible. "This area has everything a serious filmmaker needs from talent to locations and connections," Isberg noted. FINAL SUMMER will show scenes that are familiar to area residents with the big-screen production made possible through connections and resources such as the Champaign County Film Office, his non-profit film collective, and Isberg himself.
CONTACT
John Isberg
info [at] swedefilms [dot] com
###