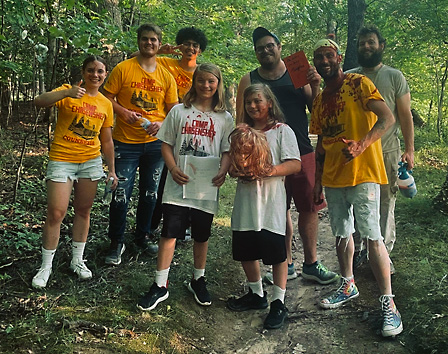 ~~~~~
Horror of horrors, the indie filmmakers of Champaign, Urbana, and the cities beyond have a lot of pent-up anxieties and on-screen conflicts they want to throw at us in the current wave of productions! Navigating what's going down and who's scaring whom is becoming a bit of a challenge, almost like choosing which way to turn in the cornfield mazes and haunted houses that will be up and running soon in anticipation of Halloween. However, getting lost within the woods and confronting the fears that await is currently in vogue. Down one path, we might cower as an archetypal masked killer goes up against wary heroes who need to plumb the deepest strengths to survive. Down another, we might cringe as undergraduates willingly refuse to let sleeping rural myths lie for the sake of a grade. Choose yet another, and … we're cajoled into dancing, laughing, and swooning our way to the bloody end. Oops! Wrong turn, perhaps?
Sure enough, behind Tree Number 3 is an indescribable terror that will take on an isolated group of young people just like in the other scenarios, and it will also be the one coming after the viewing public first. While Swede Films begins their initial edit for FINAL SUMMER and Into the Night Motion Pictures wraps their location shoot on HUNTING FOR THE HAG, another crew is pushing forward to complete their own inaugural full-length creation that will possibly have the longest combined run time and certainly has the longest title, CHASE AND SHEP'S SUMMER CAMP OF HORRORS! This cheery outburst of forestry, frolicking, and frightful shenanigans is the next big step in the ambitions of collaborators and good friends Chase Todd and Aaron "Shep" Sheppard who reside in and near Champaign County, respectfully.
~~~~~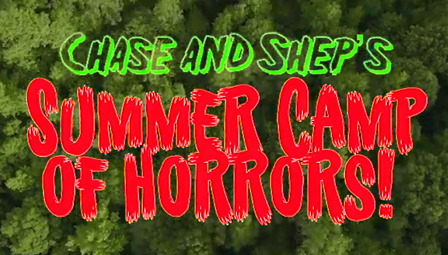 ~~~~~
It is pretty clear in the few viral videos posted so far for SUMMER CAMP that "fun" is the main ingredient both at "Camp Chasenshep" and under the duo's umbrella brand, The Chase & Shep Show. They have hit their stride rather quickly, laying down more than 100 episodes of their eponymous podcast since launching it a little less than a year ago, and the thematic permutations have helped keep the endeavor fresh. For every "Mental Health Monday" show, where they banter real talk about their lives, there is a horror movie review marathon. For every "Fantastic Friday" show, centered on something catching their fancy in entertainment, there are charmingly weird remix videos and found footage edits set to their own music tracks. And now, Chase & Shep are narratively inclined. We'll see very shortly how they fare.
Once I made it out of the virtual thicket that is the official Chase & Shep website, I invited Todd to gab about SUMMER CAMP. He generously offered an insight as to why they decided to go this route, a coincidental choice given the other projects in progress in east central Illinois, and what they aim to achieve for themselves as well as offer an audience with this particular show. Listening to a smattering of their podcasts in the meantime, it is clear they are thoughtful fellows who are realistic in their aims and unabashed in their love of music, storytelling media, and pop culture. S'mores is always better!
CHASE AND SHEP'S SUMMER CAMP OF HORRORS! will arrive on Friday, September 17, with a two-episode debut on YouTube and weekly episodes thereafter until the end of October. It stars Tony Garcia, Isabella Cooper, Dylan Heck, Jon McEwen, Katherine Bokenkamp, Natalie Wise, Sheppard, Todd, and Judah and Isaac Phelps, who played a mad scientist in the online kids' show, SUPERZUZAA.
~ Jason Pankoke
Read on, MacDuff…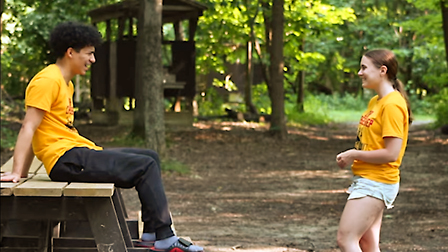 ~~~~~
C-U Blogfidential: Chase, we thank you for hiking on over to Camp CUBlog so we can talk about activities and crafts that are worth it while huddled around computers or basking in the great outdoors! I've been looking through the Chase & Shep website and archives … do you ever sleep?
Chase Todd: We get plenty of sleep! Ever since we originated The Chase & Shep Show with "The 25 Slays of Christmas" [last year] we've just let the show grow organically. After so many failed projects banking on people to be reliable, we finally just said "screw it" and started making content ourselves.
[CHASE & SHEP'S SUMMER CAMP OF HORRORS!] is a prime example of a lot of that. What began as us just wanting to make something cool and scripted grew into our first full-blown production and, at any given time, there's usually only one to three of us behind the camera! It's been a fun experience though and I've learned a lot. It's felt like filmmaking boot camp in a lot of ways and I'm excited to take all this knowledge and growth into our future projects.
CUBlog: So, even with the multiplicity of videos that fans can find at ChaseAndShep.com and the YouTube channel, you consider SUMMER CAMP your "first full-blown production"…
CT: I do. Technically, my short film A DISTINCT LACK OF HOLIDAY CHEER is officially my first production I did. And, EASTER SUNDAY was conceived, shot, and released in the span of a week, but this is the first time we've had a fully scripted series, shooting on location at Camp Drake, holding auditions, all that jazz. This is definitely the first time I've had something I've written truly come to life on screen, which has been an incredible experience.
The series itself will be eight episodes long, but the trailer [released on August 13] only contains footage from the first four [episodes] so there are plenty of surprises in store!
CUBlog: Ah, that was my next question. I wasn't sure if it was a single short or more. I see that at least one head will roll, given the kid in the group picture [shown above].
CT: Yes indeed. We have a lot more bloody goodness lined up. As creators, even, we've been kept on our toes with the story as we recently rewrote the entire back half of the show about a week ago. A lot of rolling with the punches but, thankfully, we're a comedy and that gives us a lot of flexibility when it comes to certain elements of the show – particularly, [the fact that we] never really [have] campers at our camp!
CUBlog: The closest I got to camp was when we were about done with eighth grade and our prize was basically going to camp for a weekend. They did their best to group kids who were already friends, and they paired girl teams with boy teams. We named our combined team "Teenage Wasteland."
CT: I went to 4-H camp the summer after fourth grade and it was everything the movies promised me it would be!
~~~~~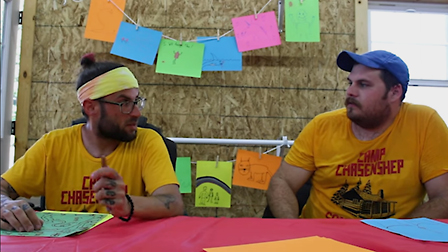 ~~~~~
CUBlog: Oh, there were movies about that? [laughs]
SUMMER CAMP is a work in progress, then. You'll start releasing episodes before you finish? How often will an episode come out?
CT: Yeah, we're currently still in production and will wrap [by] early September. We will release the first two episodes on Friday, September 17, and release an episode weekly from there. We will also do live shows after the premieres of each episode, sort of TALKING DEAD style, and a making-of documentary titled ONE HELL OF A SUMMER after the show has concluded.
[That's o]n top of a billion other things we're releasing in October.
CUBlog: October is the gateway for fun! I hope it all goes swimmingly at Camp Chasenshep. Why did you decide to make SUMMER CAMP?
CT: We decided to make SUMMER CAMP because we wanted to make something we'd like to see personally. I don't know of too many raunchy, R-rated horror comedies being made in the area and, as someone who has been in and been friends with members of CMM [Champaign Movie Makers] for so long and knowing the kind of movies and shows we like as fans, I was always surprised to see people never attempt to make something like this. Half surprised, I should say, because the other reason we decided to make this is to prove we could, to ourselves and the naysayers who have told me all the ways we couldn't do something rather than come up with a way we could.
CUBlog: How are you and Shep splitting duties on this project?
CT: I am the director, screenwriter, editor, producer, camera guy, etc., etc., etc., and Shep is the co-creator, co-producer, runs our social media, and serves as most other things behind the camera. When Shep and I are acting on screen, our friend EZ [Eric Zarnesky] is our third and final man working behind the scenes.
CUBlog: At the same time, how has filming gone with your adventurous cast, which includes Dylan Heck, Isabella Cooper, Jon McEwen, Katherine Bokenkamp, Natalie Wise, and Tony Garcia?
CT: The cast has been great to work with. Shep and I feel really lucky to have the cast we ended up getting and we're looking forward to working with them all again for future projects. It was a cool learning experience for all of us since we had a blend of stage actors who had never done film before, a few with some experience under their belt, and a few people who weren't even actors at all.
CUBlog: Can you tell us about the slasher and summer camp movies that you've been looking to for inspiration in making the show?
CT: Even though the trailer may make it seem otherwise, there is next to no slasher influence in the show. There is a very small recurring character who is an obvious riff on FRIDAY THE 13TH, but the show draws a lot more influence from the EVIL DEAD franchise and CABIN IN THE WOODS as far as the horror elements go.
We usually pitch the show as WET HOT AMERICAN SUMMER meets CABIN IN THE WOODS although, thinking on it now, WET HOT and ASH VS. EVIL DEAD is probably the more accurate description. And, nestled in the middle of all the R-rated horror-comedy craziness is a cliché coming-of-age teen romance. HEAVYWEIGHTS and FEAR STREET PART TWO: 1978 influenced elements of the show as well.
~~~~~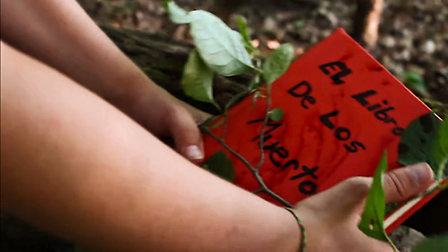 ~~~~~
CUBlog: Awesome. That totally explains the "Book of the Dead" inscribed in marker in the teaser. [laughs]
Did you realize that FINAL SUMMER was in the pipeline when you decided to do SUMMER CAMP?
CT: We were not aware of FINAL SUMMER until we looked into Camp Drake as our shooting location and found out there was another "summer camp" horror production going on there. I had grown up on the same road as Camp Drake [also known as Camp Robert Drake in Fairmount] and was surprised to hear it!
CUBlog: Who knew, right? [laughs]
CT: The guy who runs the camp asked me if we were "the U of I guys" when we were there [on one] Saturday, and I had to tell him, "Nope. We're the other guys with no money."
CUBlog: So, you chose somewhere else?
CT: Nope! We've been shooting at Camp Drake since the end of June and we'll be right back out there to shoot the finale once FINAL SUMMER has wrapped up!
In our show, there is a time warp in the middle of the forest and I desperately wanted to pitch to [FINAL SUMMER filmmaker John] Isberg a "Jay and Silent Bob in SCREAM" type cameo, but we do reference Camp Silverlake within our show. Every camp has their rivals across the lake. [laughs]
CUBlog: Clever. Are you going to go to events like the Dark History & Horror Con [coming to the I Hotel and Conference Center in Champaign in late October] to promote SUMMER CAMP when you're all done?
CT: We haven't really thought about doing anything like that, but probably not. The show will be available completely free on YouTube, a big factor into why the show is full of needle drops we can't afford, and we've got a lot of other projects lined up that we'll be ready to move on to.
Our number one goal above everything else with this show was to make something cool and fun and to take these experiences and apply them to future endeavors. We've talked about releasing a "Legalized Cut" where we replace all the music with original content, but it will just depend on the reception and where we're at with other things.
CUBlog: Sure. The projects worth the trouble will let you know. There has been much talk of achieving professionalism in various C-U film circles over the years, which is fine, yet it's also nice to just kick back and have fun with projects as the number one goal, isn't it?
CT: Very much so. We're not afraid of our show to look cheap because it is. It's just a matter of knowing how to lean into what you have to work with. Are we actual competition in the realm of Marvel Studios or James Gunn's musical taste [as expressed in GUARDIANS OF THE GALAXY]? No. But, I'll be goddamned if we won't pretend like we are anyway!
We may not have a budget or a crew or the bells and whistles of a FINAL SUMMER, but we will still approach our project like it's just as big. Even with the things we don't have, we still bring professionalism to the set that has started to garner us a reputation as good dudes to work with and we're both really proud of that. And, if you're not having fun making art, what's the point?
CUBlog: Great attitude. I hope it serves you both well.
CT: Thank you. I appreciate that.
CUBlog: Where do you both live now and what do you do when you're not media making?
CT: I live in Savoy and Shep is over in Villa Grove. I've taken the last year just to pursue media making. I've wanted to make movies and tell stories since I was four years old, so I finally just took a leap of faith. Shep works at Schnucks in Savoy as his day job – that's how we met a few years ago, he was originally my boss – and the rest of the time is spent as a musician and a father.
CUBlog: It always says something when you stick with the plan, even if it takes a while for it to play out.
I appreciate the time, glad I could chat with you for the first time in forever.
CT: It's been nice chatting with you as well! I really appreciate you reaching out and wanting to shine a light on our crazy production!
~~~~~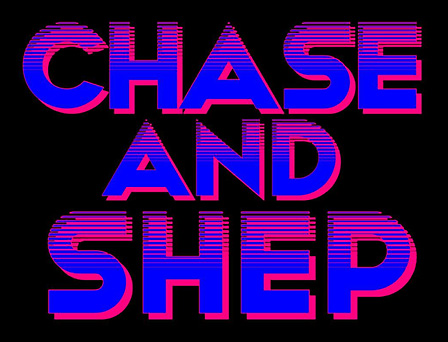 ~~~~~
Interview conducted August 9-30, 2021, via Facebook IM.
CUBlog Interview © 2021 Jason Pankoke