October 17th, 2021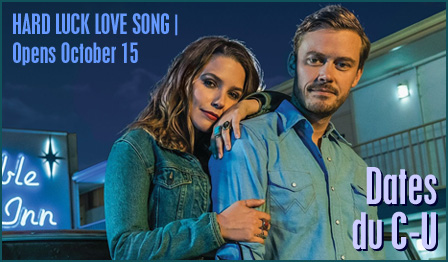 Our movie and media Calendar appears every Friday/Saturday on C-U Blogfidential and caters to the downstate region anchored by Champaign-Urbana, Illinois, USA.
~~~~~
MILESTONES | Happy Birthday to You!
10/18: Mike Everleth (publisher, Underground Film Journal, Los Angeles, CA)
10/20: Lana Wildman (staff, Route 66 Film Festival, Springfield, IL)
FIELD REPORT DU HQ | From Wherever It May Be Said
Indeed, Halloween-time is here and I'm trying again. Scary, right? I almost pulled off a pair of horror film posts this week instead of just the one appearing on Tuesday, so I'll knuckle down to finish it for the sharing this coming Tuesday. It will highlight a few projects that originate in cities well beyond Champaign-Urbana including Peoria, and today's Report consists of several timely tidbits that point right back to that well-known locale on the Illinois River. In fact, my inspiration is the overdue debut at 7 p.m. today, Friday, October 15, of the indie show PEORIA that we covered in a feature published last October; ambitious plans are now afoot for creator Michael Mcgruder and his collective at River City Productions to follow their 44-minute-long pilot with a 10-part miniseries and a 60-minute "Season 1" episode in 2022. This is not to be confused with PRINCE OF PEORIA, a Netflix children's program infused with a Disney Channel vibe that aired in 2018 and 2019.
Moving from the serialized to utmost seriousness, I've caught posts on various Facebook pages from filmmaker William Jacob, who has founded Mourning Dove Films in Peoria as an outlet to produce dramatic works aiming for high ideals and beauty. His first outing in this quest, A MOMENT IS ENOUGH, is a short filmed on Kodak 16mm stock that premiered on Thursday, September 23, in Peoria Heights and is an excerpt from a forthcoming feature-length effort, POET IN THE MODERN WORLD; those who have an affinity for European and Asian "art films" of the 1940s through 1960s will find Jacob's philosophies and goals, present all through his website, to be both quaint and admirable here in the 21st century.
To that end, the early 20th century still haunts and amazes us through the flammable vessel that is the nitrate film print; a Michael Phillips article run by the Chicago Tribune recounts the chain of events leading to a nominal five-reel melodrama, THE FIRST DEGREE (1923) starring Frank Mayo, being restored by Chicago Film Archives. Reintroduced to the world at the Gene Siskel Film Center with a live-score performance by Quasar Wut-Wut on Wednesday, September 29, DEGREE had been considered a lost film until it was identified in 2020; Archives obtained the print more than a decade ago as part of a collection rescued from "a storage closet in Peoria." Whew. I mean, whew.
LOCAL FILMS & EVENTS | Support Your Media Storytellers
@ online YouTube, etc.
PEORIA* pilot virtual premiere: 10/15, 7 p.m., Nationwide via YouTube/River City Productions, Peoria, IL
@ Gregory Hall, UIUC, Urbana, IL
Illini Film & Video* meeting, Room 100 (10/18, 7 p.m.)
NOW PLAYING | Champaign-Urbana Area
@ AMC Champaign 13, Champaign, IL
HALLOWEEN KILLS, THE LAST DUEL, MOST ELIGIBLE BACHELOR, THE ADDAMS FAMILY 2, FREE GUY, LAMB, NO TIME TO DIE, SHANG-CHI AND THE LEGEND OF THE TEN RINGS, VENOM: LET THERE BE CARNAGE (10/15 on), DUNE, RON'S GONE WRONG (10/21 on)
@ Illini Union, UIUC, Urbana, IL
Illini Union Board presents "Fall 2021 Weekend Films" feat. MONSTER HUNTER, Pine Lounge, 1st floor (10/15-10/16, 7 p.m.; free w/i-card)
@ Phoenix Savoy 16 + IMAX, Savoy, IL
HALLOWEEN KILLS, HARD LUCK LOVE SONG, THE ADDAMS FAMILY 2, CANDYMAN, LAMB, THE LAST DUEL, THE MANY SAINTS OF NEWARK, NO TIME TO DIE, SHANG-CHI AND THE LEGEND OF THE TEN RINGS, VENOM: LET THERE BE CARNAGE (10/15 on), SHAUN OF THE DEAD (10/16, 3 & 7 p.m.; 10/20, 7 p.m.), ENDS OF THE EARTH (documentary, 10/18, 10/21, 7 p.m.), Turner Classic Movies presents THE SILENCE OF THE LAMBS 30th anniversary (10/20, 7 p.m.), DUNE (10/15 on)
@ Redbox, Champaign-Urbana, IL
THE COLONY, THE GREEN KNIGHT, JOE BELL, NO MAN OF GOD, PIG, SURVIVE THE GAME, more! (10/12 on) Online rentals
@ The Virginia Theatre, Champaign, IL
Illini Radio Group presents "Rewind 92.5 Film Series" feat THE ROCKY HORROR PICTURE SHOW (1975) (10/21, 7 p.m.)
Events featuring locally produced movies are marked with an asterisk (*). Additional "Now Playing" and "Coming Soon" listings appear after the jump!
~~~~~