June 18th, 2021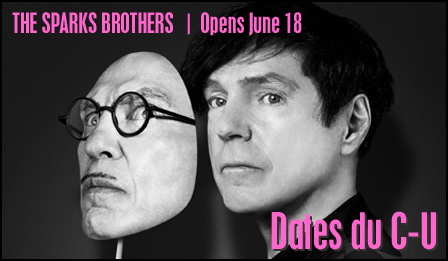 Our movie and media Calendar appears every Friday/Saturday on C-U Blogfidential and caters to the downstate region anchored by Champaign-Urbana, Illinois, USA.
~~~~~
MILESTONES | Happy Birthday to You!
6/18: Perry C. Morris (publisher, Champaign Urbana Theater History, Urbana, IL)
FIELD REPORT DU HQ | From Wherever It May Be Said
Since I had no reasonable time in the past week to write Confidentially, we'll have to make due with three more things in brief that I hope you'll investigate further. To start, the Champaign Park District finally announced a schedule for the Virginia Theatre, which will reopen to the public with a Gordon Lightfoot concert on Monday, August 16, and it includes retro film fare for both the mostly-pre-1960 crowd (The News-Gazette Film Series) and mostly post-1980 pack (The Rewind 92.5 Movie Series) along with Roger Ebert's Film Festival in September. Also, on deck for the weekend beginning today, Friday, June 18, is the first in-public Boneyard Arts Festival since 2019; organizer Kelly White and 40 North 88 West have provided a visual guide at their website that, just like their days of yore, has no local cinema attractions in store. We'll conclude with this recent article in the N-G about producer Robin Christian of Dreamscape Cinema, who began filming something called C.O.R.N. 3 in the area earlier this month; once it wraps, they'll have launched a whopping five features in the last five years: the three sci-fi (f)ears of C.O.R.N., the shark thriller BELOW, and the holiday dramedy A FARGO CHRISTMAS STORY. What pandemic?
CONFIDENTIAL ALMANAC | Dates in Film Culture History
25 Years Ago … June 14-27, 1996: After celebrating a grand opening in March and establishing a business model of serving alcohol and pizza with second-run Hollywood fare, the operators of the Brew & View at the Thunderbird team with The Octopus alternative weekly to develop signature events. Their inaugural show, "The 1st Annual Octopus Sci Fi Film Festival," presents several science fiction classics and favorites across a two-week summer stretch at Urbana's Thunderbird Theater, touted in its previous first-run era as having the largest movie screen in Champaign-Urbana. Selected by Octopus publisher Paul Young with assistance from his staff, including future New Art Film Festival program director Jason Pankoke, the marathon pairs episodes from the 1940 serial incarnation of pulp hero "The Shadow" with a choice roster: 2001: A SPACE ODYSSEY, ALIEN, BLADE RUNNER, THE DAY THE EARTH STOOD STILL (1951), DR. STRANGELOVE, INVADERS FROM MARS (1953), THE MAN WHO FELL TO EARTH, THE ROAD WARRIOR, THE TERMINATOR, and THE WAR OF THE WORLDS (1953). All films are projected from 35 and 16 mm prints rented through various agencies from all over the United States. Similar shows of a more esoteric bent would follow the well-received "Sci Fi" experience over the next year, ceasing in mid-1997 after the Brew & View's closure. [R]
NOW PLAYING | Champaign-Urbana Area
@ AMC Champaign 13, Champaign, IL
12 MIGHTY ORPHANS, THE HITMAN'S WIFE'S BODYGUARD, THE SPARKS BROTHERS, THE CONJURING: THE DEVIL MADE ME DO IT, CRUELLA, IN THE HEIGHTS, PETER RABBIT 2: THE RUNAWAY, A QUIET PLACE PART II, SPIRIT UNTAMED, WRATH OF MAN (6/18 on), MINIONS (6/18, 3:45 p.m.), SHREK FOREVER AFTER (6/18, 6:45 p.m.), JURASSIC WORLD (6/20, 4 p.m.), A QUIET PLACE double feature (6/23, 5 p.m.), F9: THE FAST SAGA (6/24 on)
@ Phoenix Savoy 16 + IMAX, Savoy, IL
THE HITMAN'S WIFE'S BODYGUARD, THE CONJURING: THE DEVIL MADE ME DO IT, CRUELLA, DREAM HORSE, IN THE HEIGHTS, PETER RABBIT 2: THE RUNAWAY, QUEEN BEES, A QUIET PLACE PART II, SPIRIT UNTAMED (6/18 on), INDIANA JONES AND THE LAST CRUSADE (6/20, 3 & 7 p.m.; 6/23, 7 p.m.), JERRY MAGUIRE 25th anniversary (6/20, 3 & 7 p.m.; 6/24, 7 p.m.), GOOSEBUMPS 2: HAUNTED HALLOWEEN, POKÉMON: DETECTIVE PIKACHU (6/22-6/24, 10 a.m.), OF ANIMALS AND MEN (6/22, 7 p.m.), F9: THE FAST SAGA (6/24 on)
@ Redbox, Champaign-Urbana, IL
FRENCH EXIT, GODZILLA VS. KONG, H.P. LOVECRAFT'S THE DEEP ONES, TIMECRAFTERS: THE TREASURE OF PIRATE'S COVE, VOYAGERS, more! (6/15 on) Online rentals
Events featuring locally produced movies are marked with an asterisk (*). Additional "Now Playing" and "Coming Soon" listings appear after the jump!
~~~~~