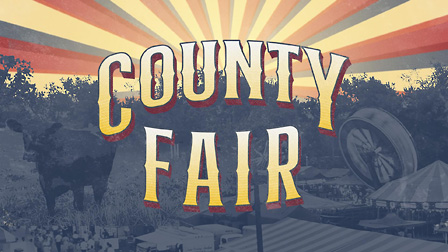 ~~~~~
Many of us had or still have the ritual every summer of flocking to the nearest county fair because it's the thing communities do during the warmer months, especially where farming and agriculture are integral to the way of life. Even if its allure has possibly waned with recent generations because of how industry has co-opted food production and distribution in the United States, the fair is a colorful and low-tech pageantry of education and rural concerns. There is something to be said and enjoyed about the hands-on nature of what they entail: filling meals and epic treats at the food trailers, addictive games and exciting rides on the midway, music concerts and sports contests in the grandstand, booths and pens filled with arts, crafts, textiles, produce, and livestock to be critiqued and awarded, and sightings in the crowd of faces you know or have seen 'round these parts before. The fair is sun-kissed, deep-rooted Americana.
Growing up in the southwest suburbs of Chicago, our family's destination of this sort was the Sandwich Fair in DeKalb County, one town over from where we lived. Organizers are readying for its 135th year in September after Labor Day and I find it pretty astounding to see how many of them are put on annually in the state, listed in this reference compiled by the Illinois Department of Agriculture, with one of the next on deck being our very own Champaign County Fair. That will occupy the event grounds in north Urbana starting today, Friday, July 22, and lasting through Saturday, July 30. You can view the schedule at the association's website to help you decide on which days to attend and, for a more personal look at what the fair means to its participants, you can watch the new WILL-TV documentary about them on YouTube and at the PBS online portal. Plain and simple, it's called COUNTY FAIR.
Premiering over the air at 8 p.m. on Monday, June 13, COUNTY FAIR spends its first half hour on five vignettes that introduce six folks who most likely couldn't imagine a year without the fair. Some live in the area such as teenage twins Mara and Meg Turner, who show heifers raised on their family's farm, special education teacher and grandmother Alison Rappleyea, who has sewn children's outfits for decades, and towing service entrepreneur Taylor Feldkamp, who decided to compete in a demolition derby after several years away from the track. Others travel the circuit for their livelihood including hard-working Jim Cullers, who manages a gourmet French fry stand founded by his late uncle, and entertainer Dan Luckett, whose misfortunes and strokes of luck have led to a magical career. They are neighborly as can be.
~~~~~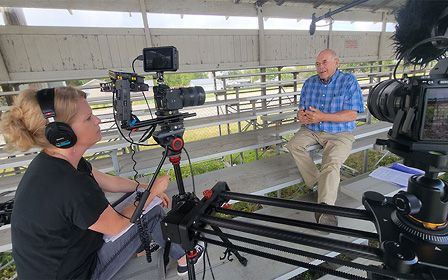 ~~~~~
The second half of the program follows the subjects of COUNTY FAIR as they compete, serve, and bring joy during the 2021 edition of Champaign County. Interspersed between the scenes are brief voiceovers that read vintage advertisements and newspaper coverage from the fair's earliest years, including a few moments of on-screen mugging by the great Grant Morenz as an announcer, along with historical points offered by Bill Fugate, a former president of the Illinois Association of Agricultural Fairs, about how such events developed into a widespread institution. Roving cameras and lively cuts give the film a sense of forward momentum as director and editor Sarah Edwards dramatizes how preparation is an active process for all these individuals who strive to best demonstrate their skills and talents at the fair.
In an interview with the hosts of "ciLiving" on WCIA-TV last month, Edwards talks about her own upbringing that fed into her appreciation for this country culture and ensuring the documentary did not become the typical "day at the event" fare. It is certainly a different confection than the WILL team's last long-form piece, the music documentary ILLINOIS COUNTRY, and the scope and variety work well within their constraints. COUNTY FAIR is co-produced by D.J. Roach and Edwards, photographed by Isaac Musgrave and crew, art directed by Kurt Bielema, and executive produced by Lillie Duncanson. It is a production of Illinois Public Media, the broadcasting service of the University of Illinois at Urbana-Champaign that recently celebrated its 100th anniversary; the flagship branch, WILL AM 580, went live on April 6, 1922. They have been sharing milestones in their history on their news feed.
~ Jason Pankoke
~~~~~