~~~~~
"Oh, right." My grassroots journalist's inner voice is croaking back to life as I move forward on creating a fresh flow of content for C-U Blogfidential. "Where there is post planning, there also is post shuffling when new information comes to light, man." I had our August articles lined up on the Calendar of my mind, but now I have to relocate a couple of them and allow for something else to be pondered on short notice. How does a first-time local film festival sound to you, dearest readers? Privately, I'd been wondering why it's taken the C-U so long to start filling its own void. "Ebertfest" covers only so much ground.
Since I don't walk the Champaign-Urbana beat on the regular anymore, it takes a host of fits, starts, tips, tricks, and intense internet click-a-thons to hunt down the news fit to post. Thanks to the good eggs like Confidential agent Game Piece, I'm often pointed in the right direction from afar. In turn, I'll point you to FilmFreeway so you can read over the instructions for submitting work to the inaugural CU International Film Festival (CUIFF), which is scheduled for Saturday, October 22, at the auditorium of the UI Spurlock Museum of World Cultures in Urbana. Its organizer(s) is aiming to "entertain, educate, and elevate" through their selections and are looking for works to satisfy three categories, "High School Student," "College Student," and "Short Film," with compelling content that doesn't push past the equivalence of the MPA "PG-13" rating or run longer than 30 minutes. Everything is spelled out for you at FilmFreeway, such as the fact that Monday, August 15, is the late (and final) deadline to enter. Get to it, friends.
~~~~~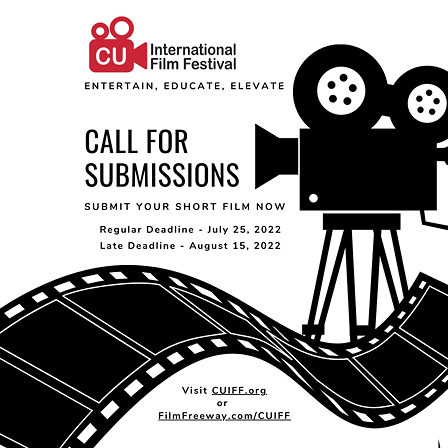 ~~~~~
Elsewhere, the official website for CUIFF – yes, the acronym and URL teeter a bit close to what has been used for so long by the Chicago Underground Film Festival, which wrapped for 2022 a few days ago – promises a full experience for creators and attendees that will include "panel discussions, award presentations, and a red-carpet gala." All elements of the tried-and-true film festival archetype, it's a description that can't help but call to mind the ceremonial aspects of Pens to Lens (P2L), a significant allusion for a couple of reasons. While the site boasts a respectable group of advisory board members and an array of local and national partners, there is no staff listed as of yet unless I missed it. Given that show time is less than three months away, I hope it's okay that we give some early credit to a behind-the-scenes ambassador of CUIFF, the young and prolific Max Libman, for stepping into a role here.
It's undeniable that Libman, who will soon begin his junior year at Academy High of Champaign, is pretty taken with the possibilities. Last year, he won a second-place award in the annual "Illinois Radon Video Contest" for students, sponsored in part by the American Lung Association, for his 30-second public service announcement (PSA) on how to detect the dangerous gas at home. Previously, he participated in the P2L screenwriting competition and his entry became EIN STERN (A STAR) in 2018; produced by Jon and Alison Lecouris, it retells in stark terms how Libman's great-grandmother, who lived in Poland as a Jewish teenager during the Nazi occupation, came to the United States. Another short that he produced on his own, ADVENTURES OF FILMMAKING, won a "Student Filmmaking Competition" award at P2L in 2017. He also hosted a community presentation on the Holocaust while in eighth grade at Countryside School in Champaign and it apparently attracted a packed house.
Sure, Libman is busy, and clearly, Libman has plenty of support and guidance from the adults and friends in his life, so it's nice to see Libman do his part to help fashion a vehicle for quality cinema that is also aiming to affect good change. The C-U doesn't have too much going on in the public space for specialty film other than Roger Ebert's Film Festival, the catalog titles booked by the Virginia Theatre, and Pens to Lens if Pens to Lens is going to continue. (After premiering their program on Facebook the last two years to work around COVID-19 concerns, P2L is been all but silent this year. See their outdated website and social media for evidence.) Our community is not completely stagnant on the film culture front, but it could use a few jolts of energy and new blood right about now. Good luck to whomever is behind this endeavor.
That said, keep an eye on the CU International Film Festival by liking their Facebook page and signing up to their e-mailing list at the website. They also have Instagram and YouTube presence, although there is very little to see at the moment. If you don't have current material to send their way for possible inclusion, making contact and offering a bit of valuable insight, resources, and volunteer action might be just as welcomed. As well, CUIFF is a 501 (c)(3) non-profit organization set up to accept donations, if that is the best method for you to contribute. We probably won't have a good idea about the event itself until October – it will be interesting to see how it all plays out – and CUBlog will share the details as they emerge.
~ Jason Pankoke
The Pens to Lens poster seen below for EIN STERN is illustrated by Elaine C. Oldham.
~~~~~