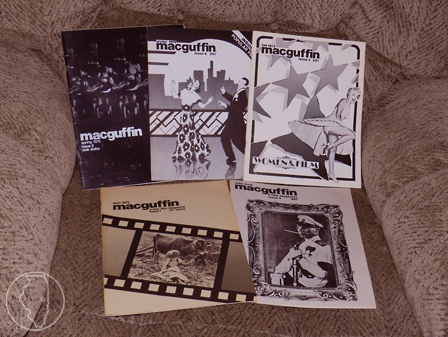 ~~~~~
Even though we shared our handy Confidential Almanac entries on these topics a few weeks ago, I decided to not let their milestones go by without a few fresh comments. Has any single day in recorded Champaign-Urbana history been more fortified with movie achievement than March 28, 1973, when different groups of University of Illinois students released the first issue of a cinema journal, MacGuffin, and premiered a feature-length action comedy, SHOT, in the space of less than twenty-four hours? I'd argue the one-two debut was probably the nascent beginning of homegrown creation in this realm that amounted to something, no matter what had been attempted or enjoyed in the C-U up until then.
Unfortunately, not much has been made of either since their creators slaved hard with limited means and production knowledge to put out the most readable/watchable media expression that they could. We gave MacGuffin a spotlight in C-U Confidential #10 thanks to the insight of then-UI undergraduate James Hall, and yours truly reviewed the Vinegar Syndrome re-release of SHOT on Blu-ray and DVD when it entered their catalog in mid-2018. To my knowledge, other than a public screening idea being contemplated behind the scenes by a good friend of CUBlog, there are no plans by any citizens du C-U to do anything for the occasion. I can't tell you how badly I feel my hands are tied in regards to these anniversaries and a few more significant dates in the near future, given that I don't have immediate plans to move back.
The best I can do through CUBlog is encourage you, you, and you to explore our world in film through stories, reprints, links, and whatever else can be shared virtually. It's up to my former neighbors to be hands on and make something of it for the community today. Nothing lasts forever, though, even when it's revived. During the week we ran the Almanacs, I confirmed with a contact at Vinegar Syndrome, which specializes in preserving obscure and cult cinema for multi-platform viewing, that their disc of SHOT will go out of print later in 2023; this should coincide with the film being dropped by the American Genre Film Archive for theatrical rentals and Tubi for ad-supported free streaming. Don't let the "pigs" Ross and Wilson get any more peeved by missing out on their exploits – take your SHOT today!
~~~~~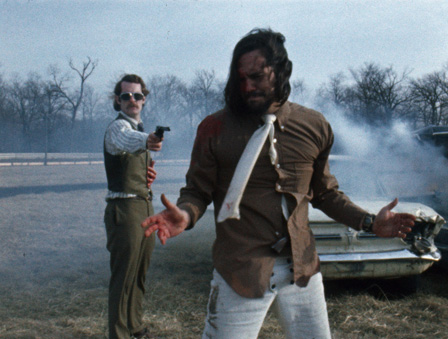 ~~~~~
A good number of student-made media from the SHOT era has probably not survived. In that respect, we should be fortunate the Student Life and Culture Archives and the Literature and Languages Library on the UIUC campus decided to retain copies of MacGuffin and related materials for their collection. It's discussed even less often than SHOT, which receives the occasional mention from producer Nate Kohn in interviews and garnered a handful of respectable critiques from online writers seeing it for the first time thanks to Vinegar Syndrome, and I have yet to find any sort of modern analysis or recollection outside of CUZine. Film societies and filmmaking groups have come and gone from the RSO roster since at least the 1940s, yet MacGuffin is easily the most distinct ephemera to show us in the present how young people at UI regarded the cinema during their formative years.
Without acting as flies on the walls of modern classrooms, how can we find out what film means in the formative years of today's collegiate learners? Tonight, Thursday, April 27, Illinois State University debuts the Foxtail Film Festival at the Normal Theater in downtown Normal starting at 7 p.m. by discussing the craft with ISU alums and professional filmmakers Doug Spilotro and Griffin Hammond; tomorrow's 7 p.m. show will present ISU student films and Saturday's 7 p.m. finale will be a competition program with work by students enrolled at ISU and elsewhere. In Urbana, the UI Spurlock Museum of World Cultures will host a pair of similar events one week apart, the annual UIUC Film Festival at 7 p.m. tomorrow, Friday, April 28, and the new MACS Student Showcase at 7 p.m. on Saturday, May 6, both organized through the College of Media. Consult the activity calendars of institutes near you for more opportunities.
Happily, my delay in posting this piece when it should have gone live on the 50th anniversary of SHOT and MacGuffin a month ago means that its appearance today is timely in a different way that still matters. We all follow various personalities in film, television, and media who've earned many credits but have deleted their earliest work from professional resumes for whatever reasons. In my less-humble-than-usual opinion, there is little harm in referencing your start as long as you're learning, achieving, sharing, and moving forward. Growth, for lack of a better word, is good.
~ Jason Pankoke
~~~~~