A year ago this week, Warner Bros.' THE INFORMANT! opened nationwide and did brisk business before finding its home video groove in February. C-U Blogfidential had intended to dissect the project, a real life Decatur-centric tale of corporate bungling filmed primarily in the Decatur area, a few posts further than we managed. One idea pursued and ultimately rendered moot by a lack of response involved interweaving anecdotes from people on the scene during production in the Soy Capital, although one hardy soul did manage to pull together some words for us – Decatur Herald & Review entertainment editor Tim Cain. Sorry it took us non-professionals so long, Tim, to pass this along to our dearest readers.
I first asked Cain about how the presence of Hollywood production possibly affected Decatur, central Illinois, and local businesses which could legitimately get in on the action. "I imagine some people benefitted, but I don't know that it was a large benefit," he told CUBlog last October. "The film [production] essentially did what I thought they'd do – come in, film for three weeks, and leave us all with stories to tell. That's plenty.
"Some people in town have been disappointed that their seconds on film didn't make the final cut," he continued. "I keep telling them to look on the DVD when that comes [available]. It is great to come across people who have seen themselves on-screen. They're so happy."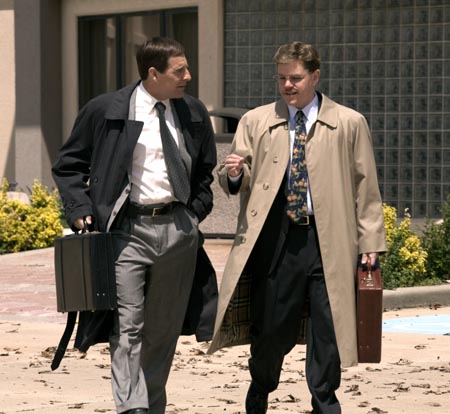 I then asked him what he thought about the final product, directed by the prolific Steven Soderbergh and starring Mark Damon as former Archer Daniels Midland executive Mark Whitacre. "I liked it, but I think the only Soderbergh film that I haven't liked was OCEAN'S TWELVE," said Cain, who admitted to not having seen the filmmaker's two-part epic CHE at the time. "Damon was great, but I thought [Scott] Bakula was fantastic. His performance was the heart of the movie.
"I thought there was some unneeded confusion at the end when they were tracking down the embezzled funds, but I think that's probably because of what needed to be cut to keep it moving," he reasoned, with hearsay timing an early cut at nearly three hours long. "But I still didn't think it was as long as it was. Soderbergh and [screenwriter Scott Z.] Burns did a good job telling a complex story and keeping the film entertaining."
The production had infiltrated Cain's consciousness for the several years leading up to its September 2009 release, starting with the rights purchase of the same-named Kurt Eichenwald book by Soderbergh and George Clooney's company, Section 8. Apart from filing regular progress reports and watching over a truth-and-rumors page hosted by the Herald & Review, Cain visited the set and appeared briefly as a beat reporter who questions Whitacre during a public press conference. (Cannily, Cain has interviewed Whitacre himself several times for the newspaper, starting in the mid-Nineties when the ADM fracas originally occurred.) I was curious as to what THE INFORMANT! meant to him personally.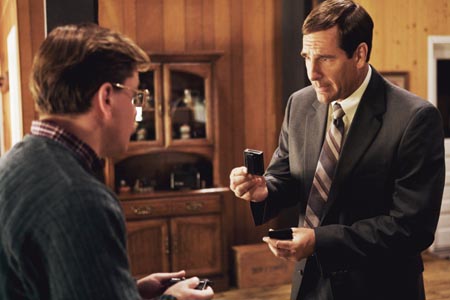 "My experience with the whole thing was bizarre," he replied frankly. "The strangest day was the Tuesday after it opened [in theaters]. I was going to take my wife so she could see it. We went to the Hickory Point Cinemas and sat in the theater where they filmed Damon's scene watching THE FIRM. Earlier that day, I'd talked to the real-life Brian Shepard (Scott Bakula's character), Dean Paisley (played by Allan Havey), and Whitacre on the phone. Then I see myself on screen. Odd.
"It was, all in all, a great experience for me," continued Cain. "After they were here for a couple of weeks filming, I got sick of 'friends' asking me where they were filming and some members of an on-line Scott Bakula fan club were sending me testy e-mails, accusing me and the paper of ignoring Bakula. But other than those bumps, it was a real kick.
"Being on the set for two days was an education I treasure," he also admitted. "I met so many people behind the scenes who seemed happy (or at least not irritated) to talk about their jobs. I learned more in two days there than I would have learned in a year of classes. It was a fascinating experience. And, I talked to Soderbergh briefly and didn't go all fanboy on him, so that was nice, too."
Cain continued to follow the life of THE INFORMANT! through the winter and concluded his remembrance for CUBlog by extending a cautiously optimistic olive branch to the business that we call show. "I'd welcome anybody back, as long as they only did it every other year or so," he said. "It got to the point where it felt like that was all I was writing about, and some people would say it was."
Many thanks to Tim Cain for sharing about the time Hollywood came knocking locally to film the intrigue and cornfields of Illinois.
~ Jason Pankoke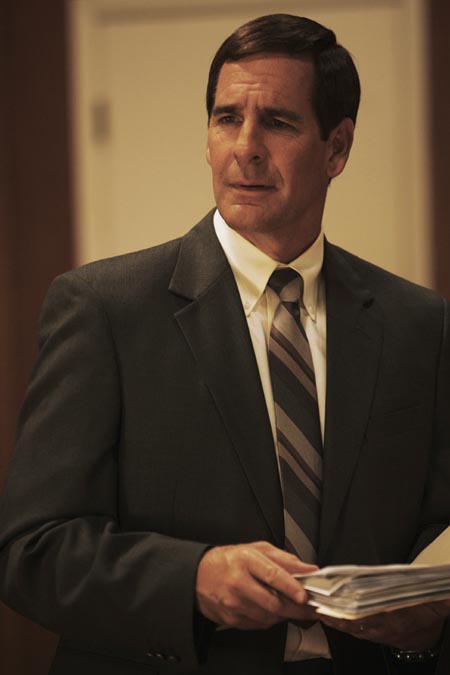 ~~~~~
All graphics © 2009-2010 Warner Bros. Entertainment Inc.
Courtesy Participant Media. All Rights Reserved.
~~~~~
p.s. Cain's observations on local and popular culture are always worth a read. Make sure to keep tabs on his Weblog and watch for additional editorials and articles in the Herald & Review.
p.s.2 Whoops! According to a post on Cain's Weblog dated Friday, September 24, he did not interview Whitacre in the Nineties; the job went primarily to Bill Ruminski, "a reporter whose shoes I am barely fit to lick," per Cain. Apologies.
[Updated 9/26/10, 1 p.m. CST]