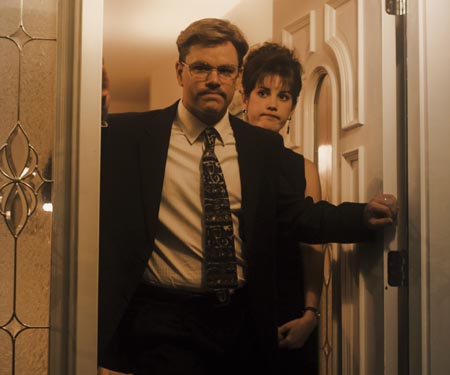 We fibbed a bit at the end of our last post about THE INFORMANT! (Just remember which movie we're talking about, folks.) With the video editions now available for home viewing, C-U Blogfidential dug up more statistics that might reinforce or implode our opinions about the overall performance of this Steven Soderbergh semi-experiment. Industry data supplier Rentrak, whose box office numbers we cited before, also issues weekly reports that track DVD, Blu-ray, and video-on-demand (VOD) releases. So, how in their estimation did the Mark Whitacre story hold up amidst the current crop?
THE INFORMANT! landed in third place on their DVD rental chart, after LAW ABIDING CITIZEN and COUPLES RETREAT, and fifth place on their DVD sales chart, also led by CITIZEN, during the disc's first week of availability ending last Sunday, February 28, per a March 4 press release. In a separate item issued on March 5, INFORMANT! placed third on their VOD sales chart after RETREAT and THE BOX for the same week. Lastly, rival data reporter Home Media Magazine notched INFORMANT! in 10th place on their Blu-ray sales chart, way behind CITIZEN and Disney's UP at the top.
We didn't expect THE INFORMANT! to cream the competition, of course, but how it ultimately fares in secondary channels will rely heavily on the appeal of star Matt Damon, who returns to the public eye later this week when the Paul Greengrass military action flick GREEN ZONE opens theatrically. In addition, INFORMANT! distributor Warner Bros. and co-producer Participant Media gave a highly-publicized "go" to the $60 million virus thriller CONTAGION – right before the former's DVD/Blu-ray release – that will team Soderbergh, Damon, and screenwriter Scott Z. Burns again while adding actors Kate Winslet, Marion Cotillard, Jude Law, and Gwyneth Paltrow to the mix. We guess a well-timed, Hollywood-sized vote of confidence is better than no confidence at all, so by that logic INFORMANT! has ultimately paid its dues.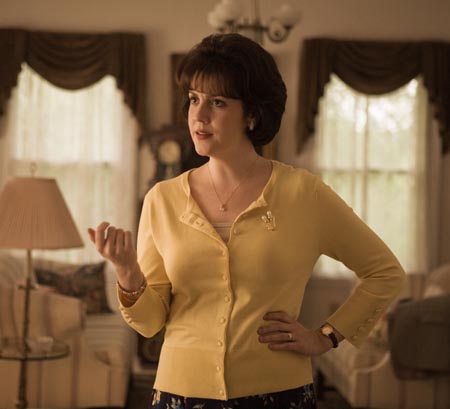 Since the film's business history is all but wrapped up except for the inevitable re-releases, CUBlog is game to wind down INFORMANT! coverage with a smattering of observations. One cast member we'd like to give a shout this outing, even though she doesn't appear often in the film, is New Zealand native Melanie Lynskey who plays Whitacre's wife, Ginger. She fits in gamely with Soderbergh's gamble to surround Damon with character actors that can reliably keep a straight face amidst the increasingly ridiculous situations. Usually seen in quirky roles that play upon her doe eyes, girl-next-door look, and distinct high-pitched voice, Lynskey effectively employs these qualities here as a compassionate housewife.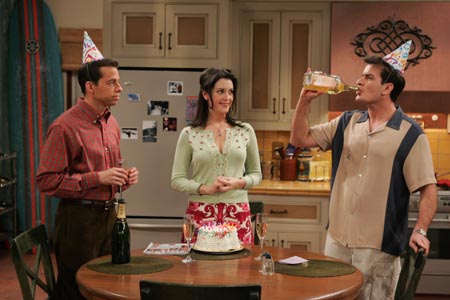 The actress' credentials are spiked with numerous critical and big-studio hits, including AWAY WE GO, FLAGS OF OUR FATHERS, SHATTERED GLASS, SWEET HOME ALABAMA, BUT I'M A CHEERLEADER, EVER AFTER, and HEAVENLY CREATURES, but we'd like to discuss how Lynskey is only a "Few Degrees of MICRO-FILM Country" based on curious circumstances. You know by now that the bulk of THE INFORMANT! was shot on location in Decatur, Illinois, and nearby towns in the summer of 2008, requiring her presence for obvious reasons. Many of you have also seen her in the lauded UP IN THE AIR, partially shot in the St. Louis area and starring INFORMANT! executive producer George Clooney. Association by mere geography and "the biz," we know, but we're not done yet…
Lynskey is arguably best known to United States audiences for her role as Rose, the sweet-if-über-possessive stalker of Charlie Harper (Charlie Sheen) in the CBS-TV situation comedy TWO AND A HALF MEN, created by writer and stand-up comic Mark Roberts who hails from nearby Tolono. Her indie cred also includes a pair of features from California graphic designer Mark Tapio Kines, one of the earliest friends of MICRO-FILM based on introductions in mid-1999 at the late Chicago.Alt Film Festival which played his first full-length, FOREIGN CORRESPONDENTS. This drama about long-distance relationships intertwining unexpectedly stars Lynskey, Corin Nemic, Yelena Danova, and Wil Wheaton; you can find a micro-picture of the future Mrs. Whitcare and former Mr. Crusher tucked away within the first issue of MICRO-FILM.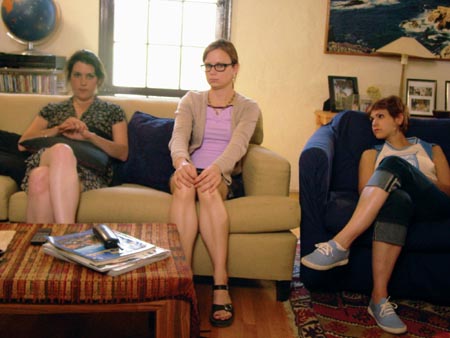 Kines used his talents to good effect by creating a Web presence that helped him raise $150,000 necessary to fund post-production work on FOREIGN CORRESPONDENTS, a novel scheme at the time. This apparently wasn't in the cards for CLAUSTROPHOBIA, a lower-budget follow-up financed out of the director's pocket that features Lynskey and fellow television regulars Sheeri Rappaport (CSI) and Mary Lynn Rajskub (24) as gal pals trapped in a house by a killer wielding a crossbow. Lionsgate's home video division released it domestically as SERIAL SLAYER at the end of 2004. Earlier, Kines' Cassava Films banner self-distributed FORCOR; copies can be purchased through Amazon.com via the Cassava site.
~ Jason Pankoke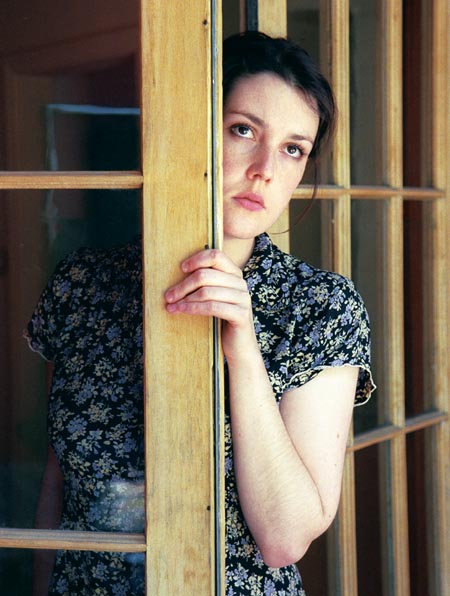 [Beauty! This is post #400 on CUBlog! Let's score 100 more, y'all!]