One thing we figured out early in the Age of MICRO-FILM is that it's often hard to accurately set up discussion for a movie we haven't seen yet, even more so when the outward appearances of something like FARM all but say, "The devil is in the details of this motion picture." Thanks to editor Andrew Gleason, whom we quoted yesterday in C-U Biz-en-scène, we've read through the FARM press notes in advance of writing about it. They're certainly specific enough about the core filmmakers' background and the movie's stressful two-year genesis yet, conveniently, the dramatic plot synopsis does little more than broadly draw the characters, the setting, and the fact that a form of Armageddon is upon them. Darn you, creative types! At least they're consistent, since the first full trailer hints at no more or less than the promo copy, while you seriously must dig on that gorgeous final shot:
You'll also find the official FARM Web site to be sparse in strange ways, especially since the filmmakers' identities are all but nonexistent here. (One wonders if they had faux vérité in mind at some point.) We do learn a bit about the principal actors: Missouri native Michael Hotop ("Charlie") has done construction and factory work but is gunning for full-time acting employment, Freddie Meyer ("Simon") comes from the Chicago suburbs and loves to play drums, and Ashley Salazar ("Sarah") lives in St. Louis and is a professional model and photographer. Her own Web site also details a million other things this ambitious 26-year-old is or was involved in, such as a six-year Air Force career and a budding sideline as an amateur MMA fighter. One hopes the latter came into play down on the FARM…
Below you can enjoy some behind-the-scenes pictures that show off the titular living quarters and feature actors Salazar (pictures 1, 4), Hotop (1, 4), and Meyer (5 left), co-directors Andrew M. Jackson (2, 3 center) and Hank Bausch (2 right, 3 left, 5 middle), cinematographer Evan Kimball Plochmann (2 left, 4 right, 5 right), and key grip Nathan Ackerman (3 right).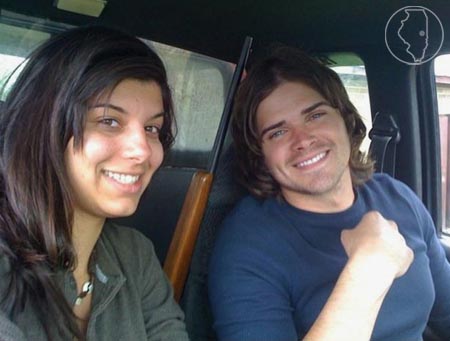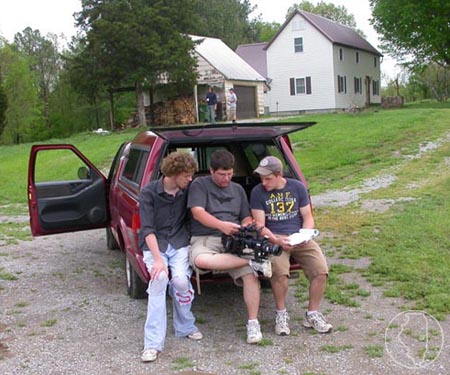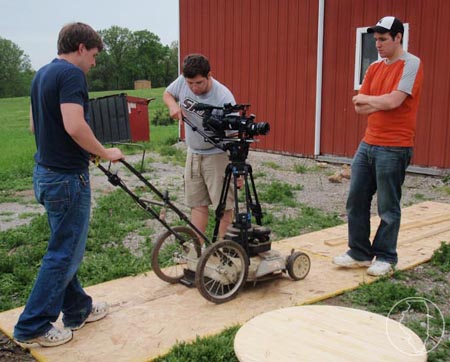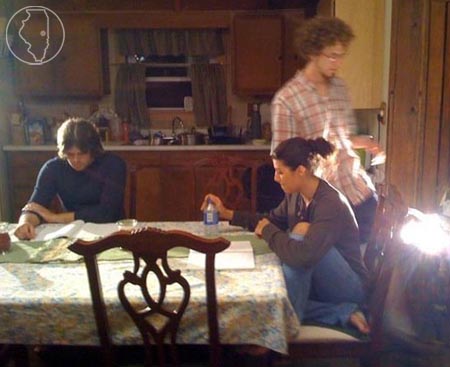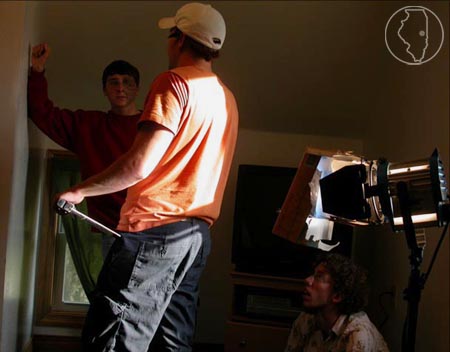 And, yes, you're not seeing things – and neither is the Simon character, apparently – for actor Meyer is wearing a make-up appliance over his left eye, which is also evident in the trailer although the filmmakers do a good job of downplaying the deformity except for one brazen close-up. Presumably this resulted from a prior run-in with the undead and hints at Simon's ultimate fate.
~ Jason Pankoke