"A Knife in a Gun Fight": Al Jarnow Masters Space and Time
Numero Group makes documentaries … without always using cameras
by Michelle Kaffko
~~~~~
"A Knife in a Gun Fight" chronicles filmmaker Michelle Kaffko's journey as she probes the Chicago-area independent scene for indie movie news, releases, and other relevant dirt.
The third film on the compilation, CELESTIAL NAVIGATIONS: THE SHORT FILMS OF AL JARNOW, is the one-minute-and-five-second SESAME STREET staple from 1970, "Yak." When I watched it, I suddenly became a five-year-old girl with unruly, curly hair and glasses with the thickest lenses on the block (possibly the whole town) sitting on dark brown carpeting in the family room of my childhood home with my neck craned to the top shelf of the TV cabinet.
"This is the letter Y. It is the first letter in the word … YAK!" I haven't seen this animation since I was five or even thought once about that friendly yak who so dexterously explained the letter "y" to me, but watching it again twentysomething years later (now with unruly, curly hair and contact lenses) I suddenly remembered being that little girl, watching those curtains open with great fanfare and meeting the yak for the first time. I then arrived at a conclusion about "Yak" animator Al Jarnow: he has the magical powers to transform space and time, and not just because some of his films spent decades via SESAME STREET entertaining children.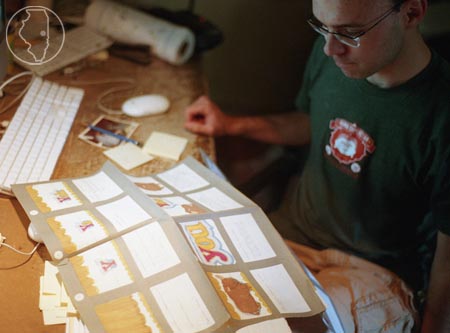 Chicago-based label Numero Group has done an amazing job collecting, restoring, and presenting select Jarnow films in their DVD anthology, released in February 2010. A trained painter, Jarnow turned to the medium of film animation in the Seventies and created great experimental masterpieces of time-lapse photography, found object animation, and single frame animation drawn on index cards and photographed with a movie camera in a flip book style, much of this before he ever worked with a computer.
Watching CELESTIAL NAVIGATIONS is a little like reading the journal of some creative master who uses art to explain to himself his own meandering philosophical thoughts on time, space, and memory. Some characters in the films are mere drawings of three-dimensional squares constantly spinning, turning, multiplying, growing, and shrinking. Maybe there is music, maybe there isn't. Halfway through the collection, you may start to feel like you're the one turning these objects in your mind, trying desperately to understand spatial dimensions.
Many years after Jarnow's earliest experimental films screened in tiny rooms during poetry readings and meetings of obscure art film societies, and several years after the he last made shorts for public television, Chicagoan Michael Slaboch of Numero Group chose 45 Jarnow titles to restore and re-master in High Definition. He and a small crew drove 16 hours from Chicago to Long Island, New York, then camped out in Jarnow's house for several days while gathering artifacts for the DVD release and interviewing the animator for an accompanying 30-minute documentary, ASYMMETRIC CYCLES: THE WORK OF AL JARNOW, during which he describes the intent and meaning that went into his films. Jarnow is a born storyteller with a demeanor that is friendly yet mixed with a slight Andy Warhol-esque elusiveness, while generous enough to create new animations with Slaboch and friends for the opening sequence to the documentary.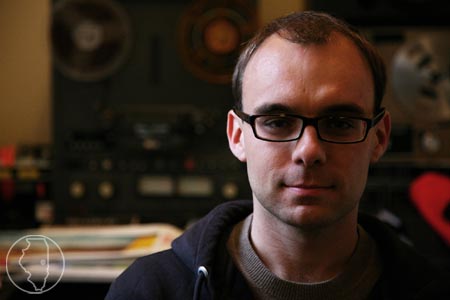 Although this is the first video collection Slaboch and Numero have undertaken, and Slaboch himself will not call himself a filmmaker, they have gone through this painstaking process many times before. The Numero Group is a six-year-old archival record label which releases new vinyl and CD collections of re-mastered music produced by obscure (and usually short-lived) recording studios that they believe shouldn't disappear and be forgotten. But, this is not just a rescue or salvage operation; it's much more intense.
The Numero folks are avid documentarians and make documentary films, without always using film as a medium. Their CDs and LPs feature historical booklets with liner notes, archival photography, interviews with the artists, and more. For instance, their July release Local Customs: Lone Star Lowlands features rock artists recorded in a long-gone garage recording studio in Beaumont, Texas. Those musicians created and dissolved bands so many times that the album comes with a giant 12 x 12 inch, fold out "family tree" charting the inbred musical history of the town.
Slaboch exclaims, "Because the music is amazing!" when I ask him why the hell anyone should care about these extinct, random, small-town Texas bands. "Fans are going to love it. I hear this and want to open up the throttle on a boat and start a barbecue … It takes you on a journey of Beaumont, Texas, in the Seventies." Their fans do love the label; subscribers pay to have very Numero release sent to them immediately because they know whatever arrives in their mailbox – soul, folk, jazz, gospel, even Eighties pop – is not just a collection of music but a well-documented journey to a niche neighborhood in the music world they otherwise never would have known existed.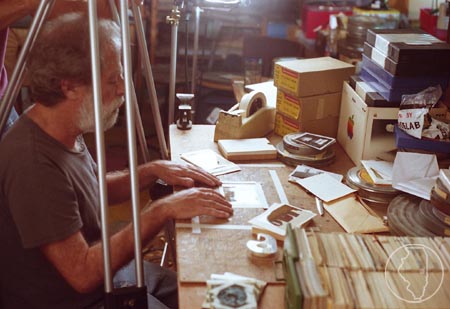 So, even though ASYMMETRIC CYCLES is technically their first documentary film and the CELESTIAL NAVIGATIONS collection is technically their first original DVD release, Numero has been operating as a highly skilled documentary group for years.
Slaboch shrugs his shoulders in regards to the jump from musicians to filmmakers as subject matter and from LPs to DVDs as the medium. "For us, it's just sharing cool stuff with people, that's really all it is," he says. The Numero Group's passion is telling the story of the artists and the mediums are just tools to get the information to their listeners/viewers. "I used to make mix tapes for people in my bedroom," Slaboch considers, "and this is just a much better and cooler-looking version of that. It's way more elaborate and much more beautiful. I'm in awe that I get to make this, show this to people, and meet those people."
Numero has been screening the documentary along with several Jarnow shorts at theaters and festivals around the country.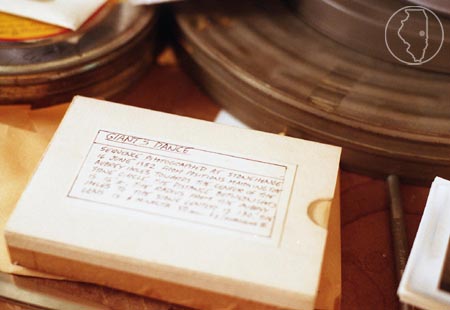 ~~~~~
CELESTIAL NAVIGATIONS: THE SHORT FILMS OF AL JARNOW is a release of The Numero Group produced by Tom Lunt, Rob Sevier, Ken Shipley, and Michael Slaboch. 2010, HD and 16mm, Color/B&W, appx. 110 minutes.
~~~~~
Prior "Knife" | Next "Knife"
~~~~~
Michelle Kaffko is a Chicago resident and life-long Midwesterner with a B.S. in Cinema Studies and film theory. She is an independent filmmaker and photographer. She can be reached at michelle [at] findmichelle [dot] com.
"A Knife in a Gun Fight" no. 4 © 2010 Michelle Kaffko.
Michael Slaboch photo @ Slaboch's office
© 2010 Michelle Kaffko.
Used with permission.
CUBlog edit © 2010 Jason Pankoke
CELESTIAL NAVIGATIONS graphics © The Numero Group
Click to visit the official site!