On C-U Blogfidential and the MICRO-FILM News Blog, you will inevitably come across passages that bemoan the elongated time it takes to put together visual media, often draining the participants who will hopefully reap satisfaction or reward from the results. We know damn well that this isn't merely en vogue carping from filmmakers, because "the lag" battles artisans of all walks every day.
That said, the hiatus that has quieted my virtual home-away-from-home, Eye Trauma Comix, is about to end when the 176-page hardcover graphic novel, The Hole: Consumer Culture, becomes available through Chicago-based Front Forty Press in April. Written and lettered by MICRO-FILM contributor Damian Duffy and illustrated by University of Illinois design instructor John Jennings, this dark and ultra-stylized satire involves a man whose demonic abdominal orifice sucks down a host of metaphorical foibles and vices as his urban world of high rises and ghettoes – along with the integrity of African-American culture – faces a crossroads. Here's your first look: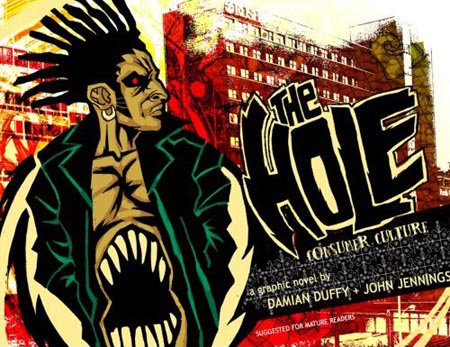 A sneak preview of the first 10 pages will give you an idea of what to expect from the collected work, which has occupied Jennings and Duffy's so-called free time for nearly two years straight. In this corner, we have a prior Hole story called Parts of a Hole, while the entire Eye Trauma menagerie can be accessed right here. With any luck, as the authors continue elaborating upon their cultural discourse in the guise of graphic novels, curated shows, and academic presentations, the rest of our comix collective will revive like a gaggle of rabid Sea Monkeys to draw anew and solidify the Trauma's second coming.
Readers who want to nab The Hole: Consumer Culture can pre-order the book through Front Forty Press (if you're appreciative of the effort and independent publishing) or Amazon.com (if you're, well, cheap).
~ Jason Pankoke