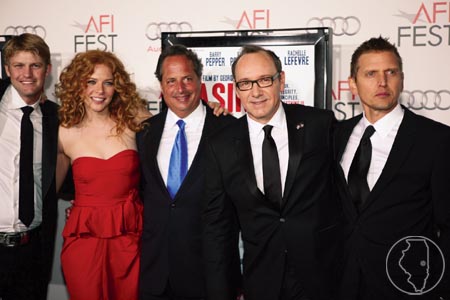 "AFM, AFI Highlight Financing, Marketing, Filmmaking Biz"
by Robin Christian
~~~~~
The first week of November 2010, I was lucky to attend both the American Film Market (AFM) in Santa Monica, CA, and the AFI Film Festival in Hollywood. These popular events complement each other nicely, as AFM is a major sales market for indie movies to worldwide buyers and AFI a splendid showcase with a fine slate of indie films.
Even with an upswing in sales activity and increased attendance, several concerns abounded at AFM which took place November 2-9. For instance, a panelist at a seminar stated off the record that small American films have lost some of their appeal to overseas audiences as filmmakers in small countries can make their own films and use local talent and music. Their quality level isn't always as high as movies they import from the United States, but at least their domestic viewers don't have to read the subtitles of English-language films. Despite the red flags, I heard a lot of good advice for filmmakers during the wall-to-wall packed seminars at AFM.
The publicist Sheri Candler, who spends an incredible 18 hours a day on the Internet, explained during "Film Marketing & New Social Media – Maximizing Exposure in the Internet Era" (programmed by BAFTA Los Angeles) that your audience is not "everybody." She suggested thinking of three key components to your story, determining who would want to see it based on those components, and then building a fan page on the Web as well as a Facebook page that can "involve them." She warned against just "selling" your movie. Candler uses a few tricks, including FBML code on her Facebook pages and asking visitors for their e-mail so she can involve them further. She stated several examples of people who use the Internet and social media to its fullest, citing the director and actor Edward Burns who built an indie empire outside the studio system with works like THE BROTHERS MCMULLEN and SIDEWALKS OF NEW YORK.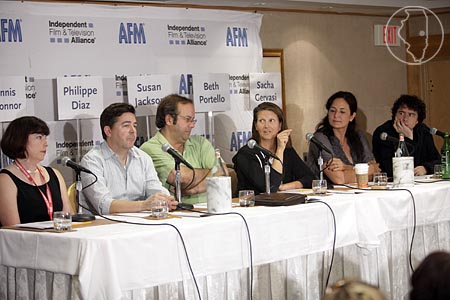 Filmmaker Phillipe Diaz of Cinema Libre Studio (SOUTH OF THE BORDER, THE END OF POVERTY?) attributed some of his success to creating his own "mini-studio" rather than relying on Hollywood to complete his film. When he needed post-production help for a film, he went out and bought a post-production facility. By "doing it yourself," which he calls the magic word, Diaz believes filmmakers stand a better chance of success. One important tool for every movie he does is "four-walling," beginning with theatrical runs in Los Angeles and New York City. He says that critics will only review a movie they see in a theater and these two cities offer the best chance to attract notice from a critic that is "quotable." Overall, this tactic helps generate reviews for promotional use during home video or television release.
Writer and producer Sacha Gervasi said he's become enlightened by working on both ends of the spectrum. After finding success writing blockbusters like THE TERMINAL, he claimed to have spent a thousand hours pushing his small movie about an unknown Canadian rock band, ANVIL! THE STORY OF ANVIL. The group's following was very small and made it difficult for the documentary, which follows the lead singer and guitarist's delusional efforts to land a record deal three decades after flirting with the big time, to find an audience. Through Gervasi's hard work, the movie found "fame" which ironically led to some belated fame for Anvil itself. A run on VH1 after very limited theatrical play led to Emmy and Independent Spirit Awards wins. Gervasi said he would do it again but next time try to find a rich person to help so he could budget more half-page ads in Variety, which he said is a sure way to create a buzz. He reiterated his wish for "a rich person to help" which prompted laughter.
Freestyle Releasing president and film producer Susan Jackson (CABIN FEVER) had succinct advice for filmmakers, including making sure that actors sign up to promote their movie at festivals and on television, showing trailers of their movie for weeks before it plays at a theater for a ready and captive audience, and pushing Facebook rather than a Web site for the movie. Jackson received many nods of agreement when she stated that film festivals make lots of money on the backs of filmmakers, who don't benefit from the entry fees.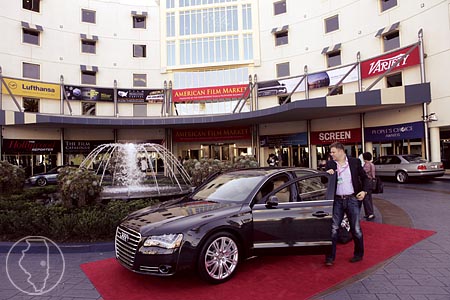 The frequent conversation piece at both AFM and AFI concerned a lack of money to make movies. This was also evident with the capacity crowds at seminars about movie financing. Ron Hohauser, chief financial officer of Summit Entertainment, explained during "Studio Finance and Distribution" (programmed by ScreenPlayLab) that his company has strict guidelines for making movies but hasn't seen a slowdown in Hollywood movies finding the money if everything is "checked off."
Steve Bersch, president of Sony Pictures Worldwide Acquisitions Group, got a few laughs when he stated that Hollywood considers anyone more than 15 years old part of an "older" audience. He also said that mentality divides the marketing characteristics of a movie into two distinct categories and agreed with Hohauser's assertion that there is an arbitrary check-off list that movies must meet before they can find financing.
Jimmy Horowitz, president of Universal Pictures, claimed that his studio bets every single movie it releases will work, whereas in the past it was okay for one or two to fail while they waited for the third to recoup all investment. Universal does everything they can to maximize their "system," including adding components at the outset such as a pay television deal. Horowitz continued that even a small domestic box office doesn't automatically mean a film is a flop these days, using KNIGHT AND DAY with Tom Cruise and Cameron Diaz as an example. It earned only $76 million in the United States, less than its production cost, but also made $260 million overseas. To help his indie producers, Horowitz explained they offered a "backstop PA" deal, whereby if the producer didn't recoup the P&A (prints and advertising) budget, then they would simply get a check. The alternative is that his studio may front the P&A cost to ensure good promotion but then ask for that to be repaid first out of a film's initial earnings.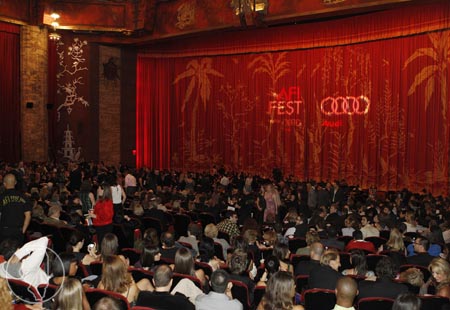 Over in historic Hollywood, AFI Fest held several very special screenings and after parties from November 4-11. Huge stars filled the red carpet in front of the famous Grauman's Chinese Theatre on Hollywood Boulevard including Halle Berry, George Clooney, Colin Firth, Geoffrey Rush, Dustin Hoffman, and Kevin Costner. The closing night gala, a screening of Darren Aronofsky's BLACK SWAN, is considered a career triumph for star Natalie Portman. She had waited years to play a ballerina in a movie and worked to the point of exhaustion while making the critically acclaimed film.
The most poignant moment for me came at the after party for CASINO JACK. Featuring an all-star cast including Kevin Spacey, Barry Pepper, Kelly Preston, and Jon Lovitz, CASINO JACK was the final movie for its director, George Hickenlooper (FACTORY GIRL), who died in October at age 47 and was buried the same morning as his film's AFI screening. It was a heartwarming experience for all, perhaps even a wake-up call for those who haven't yet "found themselves." For many of us, being in the movie industry is the pursuit of a dream and losing a great director so young hits very close to home. For Midwesterners pursuing a movie dream job, Hickenlooper's is a classic story of perseverance.
I was standing by a beautiful woman at the party; leaning against her were several CASINO JACK posters. As I viewed the poster for the first time, she saw the need to defend having taken so many souvenirs. "George was my brother-in-law," she said while smiling broadly as a single tear streamed down her face. I'm certain I wasn't alone in wishing I could give her anything in the world if it might somehow ease her pain. I remembered that Hickenlooper hailed from the Midwest and, in the next few moments, I had a wonderful conversation with his whole family as we discovered together that we all grew up within a mile of each other in St. Louis.
Thank you, George Hickenlooper, for having pursued your dreams to make great movies. You make all of us in the Midwest very proud.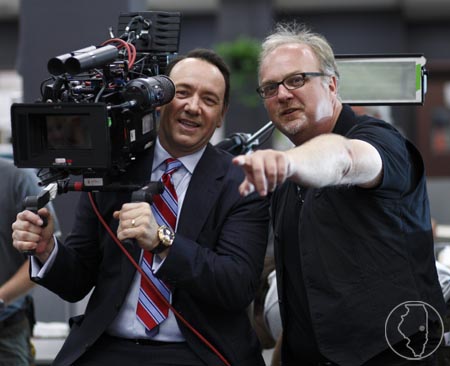 ~~~~~
Robin Christian is an Illinois resident who travels between his offices in Champaign, IL, and Hollywood, CA. He is an award-winning independent filmmaker and can be reached at robin [at] dreamscape [dot] bz.
Article © 2011 Robin Christian. Used with permission.
CUBlog edit © 2011 Jason Pankoke
AFM graphics: Thos Robinson/Getty Images for AFM
AFI graphics: Courtesy of AFI FEST presented by Audi
CASINO graphic: © 2010 ATO Pictures/Courtesy of AFI FEST presented by Audi