"Spreading Their Wings, Accidentally"
An interview with Joe Stoltz of MISTER UNDERSTANDING
by Jason Pankoke
As happens in these parts, creative individuals will take flight without warning and C-U Blogfidential is occasionally not swift enough to catch them in their central Illinois prime. A case in point is the duo of Joe Stoltz and Owen Brazas, who combined their energies with friends and fellow students while living in Bloomington and/or Normal to make movies under the aegis Accident Films. Unlike the more lighthearted output from other departed B-N collectives, such as Ten Wing Films (LATE AFTERNOON OF THE LIVING DEAD) and Statuezilla (COMIC BOOK ISSUES), movies made by Accident tend to be dramatic and somewhat dark. Their recent full-length efforts, A BLOODY MESS and ARTS & SCIENCE, exemplify this.
In the spring, Accident Films finished what would be their downstate swan song, an offbeat featurette called MISTER UNDERSTANDING originally filmed under the title, AS MERCY DOES. Its story drops us in the middle of an estranged family situation involving wheelchair-bound Andrew (played by director/co-producer Stoltz) and his cult-worshipping girlfriend Ashley (Melissa del Rio), as well as Ashley's alcoholic mother (Ann Suits) and controlling stepfather Rick (Clark Abraham). Flashbacks and asides reveal how volatile bonds resulted in the functional loss of Andrew's lower body, but what sounds melodramatic in print is treated with sarcasm and mild surrealism on the screen that help comment on these damaged relationships.
Since MISTER UNDERSTANDING is not readily available for viewing, CUBlog looked up Peoria native Stoltz in the Windy City to find out what's in store for this short subject and Accident Films as a whole.
Read on, Mister MacDuff…
Jason Pankoke: Joe, we're grateful that you took some time out of your schedule for this second-ever "EXTRA!" interview for C-U Blogfidential. I've known Owen Brazas for a couple of years, but you and I haven't had a good chance to chat film until now. How long have you been interested in movies and the process by which they're created, and what fuels your current pursuit of the art form as a student and independent filmmaker?
Joe Stoltz: I actually started in the theater. I met Owen my junior year of college in the theater department of Illinois State University (ISU). He handed me the script for his first feature, A BLOODY MESS, and I decided to hop on. The more I worked with independent film, the more I realized this is what I wanted to do. (Thanks Owen.) So, the theater was a great starting point for me. It taught me the fundamentals and history of quality storytelling.
The advent of digital technology made this media accessible to people like myself and Owen for the first time in history, and it only seemed natural for me to take the next step and learn the technology at DePaul University [in Chicago]. Then, I will be able to comfortably continue my digital career at a professional level.
JP: That being said, how did your most recent short, MISTER UNDERSTANDING, come about?
JS: The idea for MISTER UNDERSTANDING [started] when I saw the first of those DATELINE NBC specials, "To Catch a Predator." I found it interesting how the hunter became the hunted, so you could imagine my surprise when HARD CANDY came out and beat me to the punch. It turns out [those filmmakers watched] the same special and had the same inspiration.
I still wanted to work with that role reversal and passed the idea along to a writer friend of mine, Jonathan Stagg, and this [movie] is what we came up with. Jonathan is a school psychologist and I thought he did a great job of manufacturing this theme emotionally. His choice to go with little-to-no violence was cool and we ran with it.
JP: Several idiosyncratic touches help to give the drama in MISTER UNDERSTANDING an unorthodox feel. I'd like to discuss why these elements were added to the script, such as the wing imagery…
JS: For me, the [wheel] chair turning into a pair of wings showed their struggles put into perspective. Did this accident ruin their lives? Is it possible that it made him stronger? Would they have confronted the issues with their relationship and family if not for this life-changing event? The accident certainly set them back, but essentially raised them up.
JP: What about the ritual? That certainly must come as a surprise to the audience; we're left wondering if it's a dream or just a dubious interest on Ashley's part to escape dealing with reality…
JS: I thought the opening scene [of the blood ceremony] showed a last resort to a problem the audience hadn't even been introduced to yet. I always think it is fun to lay a bunch of puzzle pieces out for the audience at the start and then slowly put them together throughout the film. Later we find out that Ashley and Andrew have tried everything – physical therapy, emotional therapy, etc. – and this ceremony showed Ashley going above and beyond the call of duty to try and help Andrew in her own way.
JP: I found the "spider in the shoe" story, delivered by Andrew to Rick when they're struggling at the doorstep near the film's end, akin to certain passages in ARTS & SCIENCE that wring metaphor out of dialog that starts out sounding deceptively ordinary…
JS: There is sort of a universal reaction people have to spiders which is mostly driven by fear. Spiders can be dangerous creatures and what makes them so insidious is that they can lurk anywhere. People go through life avoiding all kinds of hidden dangers, and the possibility that things could go wrong at any moment, like Andrew's injury, makes us vulnerable. So, people respond to and process these dangers in very different ways.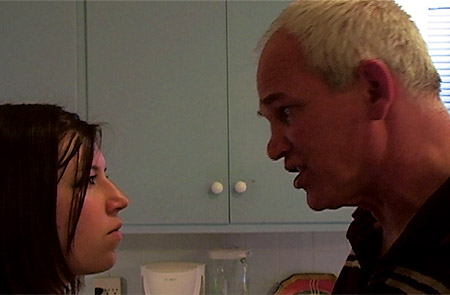 Obviously, Andrew reacts with depression and later a sense of strength. Ashley reacts with spite and helplessness. Rick tries to avoid this vulnerability by controlling and dominating others. But, we see that even Rick is susceptible to these hidden dangers when Andrew confronts him.
Andrew tells Rick about "shaking his shoes," a sort of superstitious habit to ward off evil and have a sense of control over one's fate. But, no one ever has that. These dangers are not controllable or preventable. With this analogy, Andrew wanted to illustrate to Rick that he is not truly in control of others and it is dangerous to presume he is.
JP: Where and for how long did the project shoot?
JS: After my undergrad [work at ISU] I was looking for a project to keep me busy, so we ended up shooting MISTER UNDERSTANDING in Bloomington-Normal – with a few establishing shots done in Decatur – in that year-after-college phase [in mid-2007]. We then moved to Chicago and put all the pieces together. This was a little hectic because there was no possibility for re-shoots.
Pre-production was around four months, shooting took another four months, and then post took about five months. We were working with an extremely limited budget and decided to loop all of the audio because we couldn't afford the appropriate field-recording gear for audio. This task at least doubled our production time and, in hindsight, I probably should have found a way to get the proper recording equipment. But, you live and learn.
JP: What base equipment and software did you use during production?
JS: We used a Canon MiniDV GL2 camera, Lowell lights, Adobe Premiere Pro editing software, Toshiba computers, Cobra cranes, Bogen tripods, Sticky Pod products, Cakewalk Sonar PE 5.0, AKG microphones, and a home-made dolly named Salvador.
JP: During the commentary included on the MISTER UNDERSTANDING screener DVD, you discuss the casting of Clark Abraham at your Coffee House auditions and working with him on the film, but not very much about Melissa del Rio. How did you find her? She brings a lot of spark and vulnerability to her role as Ashley.
JS: Melissa played "Claire" in a version of David Auburn's Proof that [Jonathan and I] directed. We knew she still lived in the area and asked her to come to auditions. She did, and we loved her from the start. Not only did she look the part, but we were aware of her talents and work habits. It was a perfect match.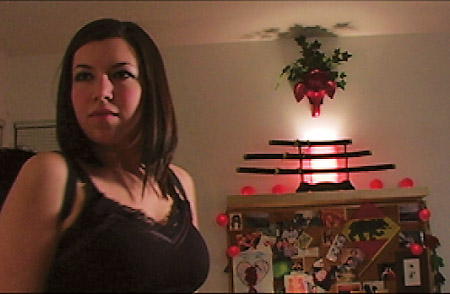 JP: In an on-line introduction to the stage version of Arts & Science, playwright David Roby talks about how his work often deals with issues relating to the human body. I noticed that such issues also pertain to MISTER UNDERSTANDING, where Andrew and Ashley's lives alter dramatically by his body being changed. Was it a conscious decision to explore Andrew in this manner, despite the vastly different ramifications explored in ARTS & SCIENCE where fit lead character Dammond (Jay Worthington) yearns heavily for a "perfect body" as a placebo to cure his inner turmoil?
JS: This was actually a complete coincidence. Arts & Science was the brainchild of David. Owen and I acted as cinematographers and editors, but had nothing to do with the writing, casting, or staging. I was just coming off directing the stage version of Woody Allen's Play it Again, Sam for ISU when A&S came to the table. I wasn't very involved from the start but helped out as much as I could with storyboards, shooting, and editing. It was fun making that adaptation from the stage to the screen, but it was a very different beast than MISTER UNDERSTANDING.
JP: When was the film completed and first shown to an audience?
JS: MISTER UNDERSTANDING premiered at an art gallery here in Chicago on May 18. We have been doing fundraising with DVD sales [since then] to enter it in a few film festivals. It's funny, though. After spending that much time on a project, I tend to lose sight of its worth. I couldn't decide if MISTER was my best work or just utter crap. So, I sat on it and decided not to enter it into any festivals or screen it anymore until I could get a fresh perspective. A few weeks ago, I watched it again and decided, "What the hell?" [and began submitting it].
JP: Is it available for streaming or purchase?
JS: I have several copies on hand for our festival travels. I've tried to keep up a Web site for a while, but it's down as of late. If anyone actually wanted a copy, I would happily oblige. People could contact us through the Accident Films MySpace page and I would gladly mail a copy or stream it if they prefer.
JP: Beyond MISTER UNDERSTANDING, what is the purpose of Accident Films?
JS: Accident Films has always been a creative escape for myself and Owen. We try not to take ourselves too seriously and just have fun making things with friends – hence, the "Accident" part. We've shot a few shorts, a few features, a few music videos, and even a few commercials for not-for-profit friends. I guess work just kind of finds us. If it doesn't, then we put forward the initiative to make MISTER UNDERSTANDINGs. I don't see us making millions or even hundreds off of this project, but that's not the point.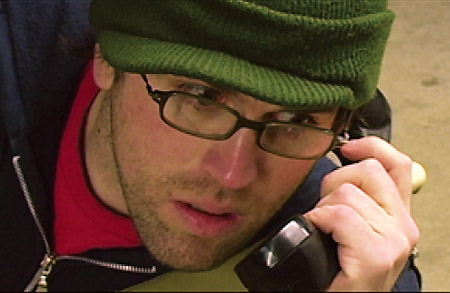 JP: Who have been the main Accident Films players in recent years other than yourself and Owen?
JS: Mike Baffes and Jonathan Stagg are two irreplaceable members of Accident Films. Mike first joined us by bringing David's [original play] Arts & Science to the table. Not only did he produce [the movie version], he recorded and mixed all the sound and catered food for the cast and crew. That kind of versatility is a must for our little no-budget company.
Jonathan is an old friend of mine. He and I did a lot of stage work co-directing plays at Woodruff High School [in Peoria]. It was only natural for me to ask him to help with MISTER UNDERSTANDING; he jumped on as writer, producer, assistant director, and handy man. He also has a collection of short stories and poetry that are quite good if you're lucky enough to get your hands on a copy.
JP: I also had no clue that Accident Films dates back more than a decade, according to MySpace.
JS: Owen actually founded Accident Films his freshman year of collage in 1998 when his short, THIEF STEAL ME A PEACH, won for Best Cinematography at Columbia College in Chicago. He felt as though he won the award by "accident" because it was his first amateur attempt at filmmaking. He likes the idea that in film, you accidentally stumble upon the finished project after much trial and error.
The first official use of [the name] Accident Films was for the short films THE LETTER and KILL! KILL! KILL!, made in 2003. I joined up with Owen in 2005 when he was shooting his first feature, A BLOODY MESS, and ARTS & SCIENCE [in 2006] was our first attempt at transferring a project from the stage to the screen. MISTER UNDERSTANDING might be some of our best, non-rushed work to date using all the key members of the company.
JP: Now that you and Owen have relocated to Chicago, where does Accident Films go from here?
JS: We're making new friends and looking for new projects. We've already shot a music video for a Chicago band, Unicycle Loves You. In the meantime, I will be attending DePaul's masters program for Digital Cinema. I look forward to learning the technology that I've faked my way through for all these years. Perhaps after graduate school, we'll put forth the effort to become a full-service production house. We have had our eyes on doing a comedy for some time; perhaps that will come to fruition in the near future.
JP: On a side note, how hard is Benelli rocking these days?
JS: Hard, with a capital "H." Now that we're in Chicago, we've added noise artist and rock god Jeff Hall to the line-up. We're working on a new demo now and occasionally play out.
JP: Awesome. Can you tell us about the band and where its name came from?
JS: Benelli is named after Dana Benelli, our favorite film professor at ISU. It actually started when Owen and I threw a New Year's Eve party and a friend noticed the music equipment in our house. We weren't a band at the time, we just liked to play. So, this friend – Champaign's own Dan Stimeling of Bellcaster – asked if we'd like to fill their bill and play Mike n' Molly's in four days. We said "sure" and when he asked our band name, I just pulled "Benelli" out of my ass.
He didn't know we weren't actually a band or that we were completely unprepared, but Owen and I put together a quick improv-based set and had a great time that night. We ended our set playing with a few guys from Bellcaster and I'd say it was a great success.
Oh, I should probably also mention that this is how we met The Midwest Hackers, whose music is featured in MISTER UNDERSTANDING. Benelli played a house show in Normal with the Hackers and their front man, Danny Hynds. Danny happened to move to Chicago the same time we did.
JP: Finally, bringing the local music tangent to a close, what was it like working with the groove machine that is Nate Jones? I had no idea the man had acting in his blood until I saw him play a therapist in the film as well as do improvisational comedy with The Abe Froman Project here in Champaign within the same few weeks…
JS: Nate Jones is like the Chuck Norris of funk. He destroys everything in his path with soul, authority, and magnetism. Nate Jones could have played every part in this movie, then edit and promote it – all in one afternoon.
He seriously is an awesome guy with many talents. I think I even mentioned him in the MISTER UNDERSTANDING commentary. I said I was upset that we never got to hang out with Nate off the set. Next time I'm in Champaign, I'll be sure to check out his band [Brother Embassy] and/or give him three jumping high-fives at random.
Interview conducted November-December 2008 via e-mail.
All photos courtesy of Joe Stoltz/Accident Films.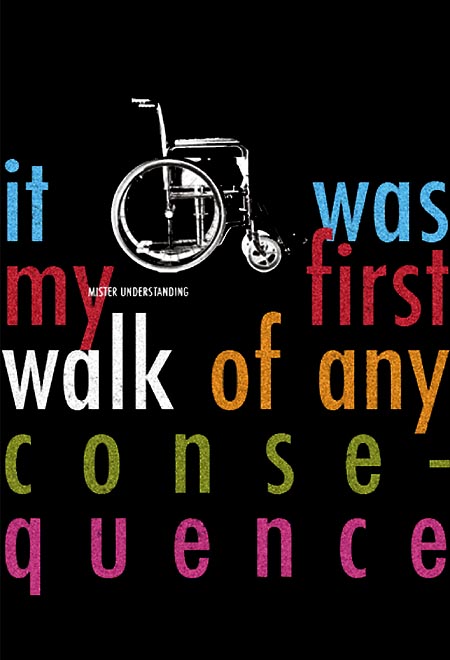 MISTER UNDERSTANDING is a production of Accident Films. It was directed by Joe Stoltz, produced by Michael Baffes, Owen Brazas, Jonathan Stagg, and Joe Stoltz, and written by Jonathan Stagg, and stars Melissa del Rio, Joe Stoltz, Clark Abraham, Ann Suits, Jason Vales, Nate Jones, Rhys Lovell, Amelia Stagg, and C.J. Tuor. Running time is 36 minutes.
CUBlog EXTRA! Interview No.2 © 2008 Jason Pankoke
Back to the fore, Mister MacDuff…