"All About Ebertfest 2001"
Watching Movies and Other Nonesuch
at the 2001 Overlooked Film Festival
by Jason Pankoke
The following was condensed for inclusion in issue 13, Summer 2002, of Cashers du Cinemart film magazine published by Mike White of ImpossibleFunky.com.
~~~~~
April 26, 2001 – Thursday
12 p.m. – STANLEY KUBRICK: A LIFE IN PICTURES
(2001, 141 min., UK, released by Warner Home Video)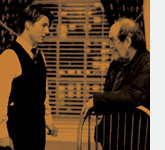 Unfortunately, I was not able to sit in on the American premiere of this documentary because of day job duty. Directed and produced by Jan Harlan, it's a genuine coup for anyone interested in the ultra-reclusive Stanley Kubrick, who passed away three years ago. Hearsay from exiting patrons was that STANLEY KUBRICK: A LIFE IN PICTURES takes a relatively insightful, if overlong, look at the filmmaking legend, featuring ample footage from his features and the family archives. It was released on video last summer as part of a revamped "Stanley Kubrick Collection" boxed set.
UIUC professor Jay Rosenstein's short film ERASED (2000), about his mother's battle with memory loss, was shown prior to KUBRICK. It had been screened at Sundance and South by Southwest early last year, and Roger Ebert's Overlooked Film Festival marked the short's first high-profile public viewing in C-U. It will be part of a touring film package later in 2002, sponsored by the Ann Arbor Film Festival, and can be seen currently on the Independent Film Channel.
~~~~~
4 p.m. – MARYAM
(2000, 87 min., USA, released by Streetlight Films)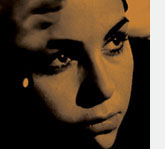 After several people hovered around my table, telling me how much they liked KUBRICK and wondering why I didn't sit in for it (well, I don't know guys, some of us still had to work…), I finally snatched myself a balcony seat for MARYAM, which Roger Ebert originally viewed at a film festival in Hawaii. (Check the first edition of Chris Gore's The Ultimate Film Festival Survival Guide for a look at Ebert's snappy palm-print threads!)
MARYAM is a low-key drama about an Iranian-American family living in the U.S. during the time of the 1979 Iran Hostage Crisis. As archetypal New Jersey teenager Mary Armin (Mariam Parris) fails to fathom the religious and political reasons for the strife overseas, her father and mother, Darius and Homa (Shaun Toub and Shohreh Aghdashloo) welcome Mary's cousin Ali (David Ackert) into their home. In a series of nicely defined character moments, Ali slowly warms to Mary's charming vivaciousness as he tries to acclimate to American university life. Conversely, Mary (shortened from "Maryam," hence the film's title) realizes how deeply Ali's heart and beliefs are affected by the crisis, and tries to comprehend a brimming distrust between Ali and her father concerning the death of her uncle. The family also sees growing distrust in the eyes of Caucasian classmates, neighbors, and strangers, and it nearly comes to a head when Ali attempts a half-backed assassination attempt of the Shah, in exile in New York City after being chased out of Iran by the Ayatollah Khomeini and his Muslim-loving supporters.
Nicely acted by the cast, and sharply written by director Ramin Serry, MARYAM treats the issues of culture clash with gentle intelligence. Jumbly melodrama infiltrates the proceedings a bit towards the climax, but otherwise MARYAM credibly portrays a family unit that sticks together through the tough spots. A sprightly Q&A followed the screening with Serry and producer Shauna Lyon, both of whom grew up in Illinois and attended UIUC.
~~~~~
7 p.m. – SUCH A LONG JOURNEY
(2000, 113 min., UK/Canada, released by The Shooting Gallery)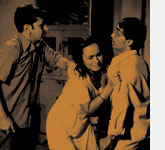 I believe that my only wasted stretch during "Ebertfest" came during this time slot, as I was more interested in getting something to eat and checking in at the office than watching this British-Canadian production set in the streets of Bombay during the India-Pakistani war of the early seventies. A good-hearted laborer named Gustad Noble (Roshan Seth) acts as unofficial mayor of his massive apartment complex. The movie revolves around the trials faced by he, his wife (Soni Razdan), his older son (Vrajesh Hirjee), and his little daughter (Shazneed Damania), as well as the other colorful characters living in the complex. The word in the aisles about this film, directed by festival guest Sturla Gunnarsson, was absolutely positive. Written by Sooni Taraporevala, whose other films include the acclaimed MISSISSIPPI MASALA (1991) and SALAAM BOMBAY (1988).
At this point of the program, the inevitable inquiries about Mark Borchardt started seeking me out. For those living under a rock, Borchardt is the lanky, Wisconsin-bred filmmaker whose exploits formed the basis for Chris Smith's documentary AMERICAN MOVIE (1999), which was a hit at Overlooked 2000. People asked me if Borchardt had finally embarked on his dream project, NORTHWESTERN, the budget of which was to be amassed by selling video copies of his short film COVEN, as documented in AMERICAN MOVIE.
Borchardt's a unique character, and even though he only lives a state line away, he also seems to function in a world all his own sometimes; I hadn't been checking in with baited breath. I knew that Smith had woven together a new production, HOME MOVIE, which will finally be released by Cowboy Pictures in the fall of 2002, but had no line on Borchardt himself.
That would soon change. Sort of.
~~~~~
10 p.m. – SONGS FROM THE SECOND FLOOR
(2000, 98 min., Sweden/Denmark, released by New Yorker Films)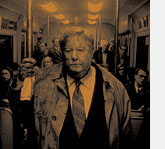 I'm not really sure what I expected out of SONGS FROM THE SECOND FLOOR, directed by Dane auteur Roy Andersson, but this bold outing of surrealist black comedy made for one hell of a mental trip to sleep on that night. In a series of protracted vignettes split up between various characters hanging at the ends of their ropes – I think SONGS actor Stefan Larsson mentioned during the post-film discussion with Ebert and fellow actor Lars Nordh that the director used a frugal 60 edits throughout the entire movie – Andersson creates an extremely offbeat universe of a dreamy city-state collapsing upon itself.
Central to the film is furniture salesman Kalle (Nordh), a rotund sad sack that unwittingly sets fire to his store. He has a detached relationship with his wife and two sons, one a taxi driver named Stefan (Larsson) and the other, Tomas (Peter Roth), confined to an asylum because of writing poetry! As Kalle explains his woes to everyone within earshot, Andersson employs visual sleight-of-hand to address what's going on, often confined to the background. For instance, as Kalle attempts to explain his rationale to insurance brokers as he sweeps the soot in his burnt-out showroom – without having bothered to clean himself off –a pack of business stiffs slowly makes its way down the street, stopping every few paces to flog each other. Many would consider this in the vein of the late Luis Buñuel (THE DISCREET CHARM OF THE BOURGEOISIE).
Other characters, such as washed-up business executives Lennart (Bengt C.W. Carlson) and Pelle (Torbjörn Fahlström), a magician (Lucio Vucino) and his injured audience participant (Per Jörnelius), a doctor (Jan Steen) and his nurse/lover (Siv Wagenius), and numerous elders who dispense their wisdom on Stefan, are worked in to provide some lighter, if no less exasperating, passages. SONGS FROM THE SECOND FLOOR requires much patience on the viewer's part, for it seems to do very little during its 98 minutes, and yet it does loads. Favorite passages include Kalle's trip to meet his son at a corner diner where a traffic jam hasn't moved for several hours, and Kalle's run in with a "Christ on a Cross" novelty salesman as he tosses his wares from a pickup truck to a pile of garbage, while the ghosts of Kalle's psyche approach ever so slowly from the distant fields.
~~~~~
Article © 2001 Jason Pankoke. Used with permission.
Cover Graphic: © Roger Ebert's Film Festival/Daily Illini
EYES WIDE SHUT graphic:
© 1999 Warner Bros. Entertainment Inc.
MARYAM graphic:
© 2000 Streetlight Films/DVD OOP
SUCH A LONG JOURNEY graphic:
© 2000 The Shooting Gallery/DVD OOP
SONGS FROM THE SECOND FLOOR graphic:
© 2000 New Yorker Films/DVD OOP