"All About Ebertfest 2001"
Watching Movies and Other Nonesuch
at the 2001 Overlooked Film Festival
by Jason Pankoke
The following was condensed for inclusion in issue 13, Summer 2002, of Cashers du Cinemart film magazine published by Mike White of ImpossibleFunky.com.
~~~~~
April 27, 2001 – Friday
1 p.m. – PANIC
(2000, 88 min., USA, released by Roxie Releasing)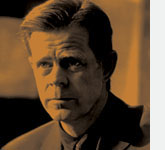 As I went into day three of Roger Ebert's Overlooked Film Festival 2001, I knew this would be the day I camped inside the Virginia for the duration. Other than having convenient concessions on both floors and a food tent outside on Park Street, I was content to spend the day inside a darkened theater.
First up came PANIC, the debut feature from television veteran Henry Bromell (CHICAGO HOPE, NORTHERN EXPOSURE). In both introducing the movie and discussing it with UIUC professors afterwards, Roger Ebert remarked that the most amazing thing to him about the film was that nothing should have caused it to be "overlooked" in any sense of the word. Slick production values, a tight script, a cute and articulate kid, and several bankable stars … and the film barely got a theatrical release after being stonewalled by its original distributor, Artisan, although that company did distribute the film on home video.
PANIC illustrates the twin pangs of middle age and an unlawful secret that haunt Alex (William H. Macy), who begins seeing a psychiatrist, Dr. Josh Parks (John Ritter) on his doctor's advice. We discover that, despite having a loving wife, Martha (Tracy Ullman), a rather bright 6-year old, Sammy (David Dorfman), and a solid mail-order business run out of their modest home, something's bothering Alex big time. Has he grown wary of his other paying job, as a hitman for hire carrying on the family business with his father, Michael (Donald Sutherland), or does he have buried desires suddenly unearthed by hip urban twentysomething Sarah (Neve Campbell), whom he meets in Dr. Parks' waiting room? Or, both?
Alex is a devoted man facing moral dilemmas about his place in life, and PANIC does a rather sweet job of depicting how his decisions affect those near and dear to him. The movie sports spot-on dialogue, clean and colorful photography by Jeffrey Jur, and one of the best minimalist soundtracks I've heard in some time, composed by Brian Tyler. Bromell consistently takes subtle left turns that point the film into the bittersweet territories of damaged family ties and inner reconciliation. Even the tense climax, driven by the discovery that grandpa Michael has begun inducting Sammy into the business behind Alex's back, seems an obvious wrap-up until Bromell rolls out a wry denouement that speaks volumes. In the greater scheme of things, we're reminded, life simply goes on no matter how good or bad it treats you.
~~~~~
4 p.m. – GIRL ON THE BRIDGE
(2000, France, 92 min., released by Paramount Classics)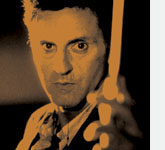 The joke had been drifting around town that this edition of the Overlooked Film Festival featured some of the least overlooked films yet. That may be true, but give credit to Ebert and his staff for also bringing back some efforts that recently played in the area but otherwise barely registered in the public eye.
Such is the case with GIRL ON THE BRIDGE, a razzle-dazzle fit of whimsy from French filmmaker Patrice Leconte, whose other works include RIDICULE (1996) and THE WIDOW OF SAINT-PIERRE (2001). Photographed in crisp black-and-white by Jean-Marie Dreujou, the film opens on its only misstep as a young woman named Adele (Vanessa Paradis), tells a jury (for reasons never explained) about her unending series of short-lived trysts with men. It's a rather amusing monologue that sets up her character well, but simply seems detached from the rest of the film. The movie soon springs to life as we find the waifish Adele straddling steel as she overlooks the river Seine in Paris and contemplates jumping. Suddenly, gravel-faced Gabor (Daniel Auteuil) is standing alongside her, trying to convince her to forget suicide. Confused, Adele jumps anyway, and Gabor dives in after her.
What ensues is a rush of high-energy set pieces as Gabor and Adele, so winningly portrayed by Auteuil and Paradis, travel through Europe earning money as a knife-throwing act in carnivals and on ocean liners. The trust that develops between them extends beyond their routine as director Leconte allows Gabor to exhibit elements of "magic realism," for the veteran shyster believes Adele to be a cipher of good luck. Adele concurrently experiences a friendship with this man unlike any of the failed conquests of her past. Wonderful bits, such as Gabor and Adele talking to each other off-screen while stranded in completely different parts of Athens, Greece, seem quite acceptable in screenwriter Serge Frydman's scenario. They don't even have sex during the entire movie! That's balls on Leconte's part (pun intended), for such an unspoken tension simply keeps the audience involved. It's ultimately the film's unique meshing of the characters' sensibilities, quirks, and acceptance of each other that make GIRL ON THE BRIDGE a refreshingly romantic trip.
~~~~~
7 p.m. – NOSFERATU: A SYMPHONY OF TERROR
(1922, 94 min., Germany)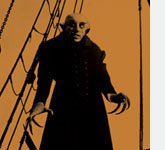 The more I watch older movies, the more I get absorbed into the conscious styling of the sets, the costuming, and the lighting, especially with black-and-white features. There's something distinctly "other" about monochromatic cinema that automatically transports us to a world not quite our own. One of the strongest bodies of work, of course, came from German Expressionism of the twenties, a shadowy chiaroscuro that transcended genre and defined an art form. From G.W. Pabst's high society melodrama PANDORA'S BOX (1928) to Fritz Lang's futuristic METROPOLIS (1926) to F.W. Murnau's mythic FAUST (1926), the Germans reached far and wide to dramatize epic stories of the human condition with a visual panache and scope that modern so-called "event films" rarely achieve.
Would NOSFERATU, the classic Murnau production that introduced the concept of the vampire to motion pictures, measure up to the grandeur of the director's own FAUST, or even his "populist" fable, THE LAST LAUGH (1924)? Also, would the three-man musical accompaniment, the Alloy Orchestra, manage to compliment the film and engage modern moviegoers? Indeed, NOSFERATU rose from the grave in triumphant form. This fresh print, color-tinted to reflect different moods as was commonly done for many silents back in the day, demonstrated how well the 80-year-old film has held up.
As plagues ravage the European countryside, real estate agent Hutter (Gustav von Wangenheim) travels from Germany to Transylvania to seal a contract with the skeletal Count Orlock (Max Schreck). Once Hutter is duped by the count, whom he realizes has been snacking off his jugular in the dead of night, it's a race back to the homeland to keep Orlock from spreading pestilence and vampirism abroad, let alone rescuing his beloved Ellen (Greta Schröder).
Apart from many memorable set pieces, such as Orlock materializing from the shadows of his castle courtyard the first time we lay eyes upon him, I was actually surprised at how visually lean NOSFERATU is when compared to the other aforementioned films. I also found amusing the rickety attempts at stop-motion animation demonstrating Orlock's mastery over matter, such as climbing into his own coffin next to his horses and coach, only to have the coffin climb itself up the side and settle on a stack of other crates! Regardless, it's an arresting visual that must have been rather freaky for the time.
Refraining from copious tricks and sound effects, the Alloy Orchestra concentrated on creating full-bodied themes for the main characters and sweeping the audience with many dramatic flourishes, only stalling when particular "shock moments" sat like dead weights over intertitles. Maybe that's a petty observance for something unavoidable – silent films were never really silent anyway, observed Ebert in his introduction.
Preceding NOSFERATU was the black-and-white, 10-minute short, DRAGONFLIES, THE BABY CRIES (2000) by filmmaker Jane Gillooly, a fantasy about several children who play dress-up and mix together a strange brew with mortar and pestle before Mother Nature chases them back home with wind and howls. Light-hearted and whimsical, this film was also accompanied by the Alloy Orchestra.
~~~~~
10 p.m. – 3 WOMEN
(1977, 125 min., USA, released by 20th Century Fox)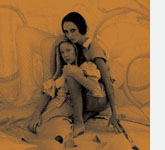 Chuck Koplinski, a friend and local film critic, wanted to know what films I planned on seeing. One of them was Robert Altman's 3 WOMEN, an earlier theatrical effort from the maverick behind SHORT CUTS (1994), THE PLAYER (1992), and last winter's GOSFORD PARK that had been out of circulation for some time, although it does air on occasion on cable station TNT. Koplinski looked at me and basically said, "I've never understood why Altman's such a big deal." Personally, I haven't gone out of my way to check out the man's work (although, while a kid, POPEYE played on HBO way more than was humanly healthy), but this production seemed curious enough, and not quite in tune with Altman's characteristic multi-character casts and interweaving story lines.
Sporting reddish Pippi Longstocking locks and impish freckled face, Texas-born Pinky Rose (Sissy Spacek) lands a job at a southern California old folks' spa alongside self-proclaimed socialite Millie Lammoreaux (Shelley Duvall). While the characters seem vastly different, they seem equally ignored by and distanced from their co-workers and other social acquaintances. Pinky eventually moves into Millie's perfect-as-punch apartment, and the two enact an uneasy friendship that includes frequent treks to a dilapidated Western bar near the desert run by ex-stunt man Edgar Hart (Robert Fortier) and his wife Willie (Janice Rule). In the latter stages of pregnancy, Willie is a slightly older woman who doesn't speak and spends her time painting labyrinthine murals of serpent-skinned deities at the bottom of pools. Out back, manly men ride dirt bikes in eternal circles while others practice at the shooting range.
Eventually, Millie and Pinky rub each other the wrong way, as Pinky integrates into Millie's private life with rather disconcerting results. In a fit of despair, Pinky crashes into the pool outside the apartment and falls into a coma. Unlike the rest of the dullards living in the complex, Willie emerges from the shadows to pull Pinky out. This catastrophe sets off a series of life- and personality-changing events for all three women, as they seemingly transfer elements of character amongst themselves as if embodying the entire essence of what it is to be female.
Purposely abstract while driven forward by sterling performances from the leads, 3 WOMEN is literally a dream come to life. According to Ebert, Altman had stated in the past that he envisioned the entire movie in a dream one night. To explain the movie further would require a completely separate article. Let's say that cinema analysts, philosophy and psychology majors, anthropologists and feminists would all have a field day dissecting this one. I found 3 WOMEN oddly challenging and affecting, although it definitely will not be everyone's cup of tea.
Ebert followed the screening with a round-robin discussion featuring MARYAM producer Shauna Lyon, JESUS' SON director Alison McLean, Warner Brothers publicist Pamela Godfrey, and Shooting Gallery veep Holly Sorenson. Although it was interesting to hear what women in the film industry thought of this rarely-seen movie, given the criticisms leveled against Altman over the years for being tough on his female characters – such as with DR. T & THE WOMEN (2000) – I was only paying so-so attention. Slumberland began calling me away from my movie haven.
~~~~~
Article © 2001 Jason Pankoke. Used with permission.
Cover Graphic: © Roger Ebert's Film Festival/Daily Illini
PANIC graphic:
© 2001 Roxie Releasing/Available on Lionsgate DVD
GIRL ON THE BRIDGE graphic:
© 2000 Paramount Pictures/Available on Legend Films DVD
NOSFERATU graphic:
Courtesy Kino/Available on Kino on Video DVD
3 WOMEN graphic:
© 1977 20th Century Fox/Available on Criterion Collection DVD