"All About Ebertfest 2001"
Watching Movies and Other Nonesuch
at the 2001 Overlooked Film Festival
by Jason Pankoke
The following was condensed for inclusion in issue 13, Summer 2002, of Cashers du Cinemart film magazine published by Mike White of ImpossibleFunky.com.
~~~~~
April 28, 2001 – Saturday
1 p.m. – THE KING OF MASKS
(1999, 101 min., China, released by Samuel Goldwyn Films)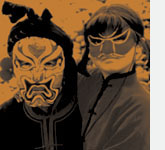 One of the few things crossing my mind on Friday when I wasn't going full-force movies was how to increase attention to MICRO-FILM, still stranded upstairs where hardly anybody took notice. I had already gone from discouragement to almost-acceptance of the situation, but had an epiphany right before hitting the sack.
If you sit outside, they will come.
Okay, I'm not quite Kevin Costner – and I'll take the Cubs over the White Sox any day – but if the people don't come to you, take it to the people. So, in essence, I became the first street vendor (apart from the park district's grub tents) of Roger Ebert's Overlooked Film Festival as I commandeered the end of the picnic bench situated closest to the Virginia Theater marquee. I then decided to sit out Wu TianMing's THE KING OF MASKS and bask in Mama Nature's plentiful rays. Hey, I had to get my first sunburn of 2001 at some point.
Not to slight the film one bit, by the way. THE KING OF MASKS, set in the 1930s in China, concerns an elder street performer named Bian Lian Wang (Zhu Xu) whose performance secrets have been passed down through several generations. Alas, Wang has no male heir, and soon resigns to purchasing a child nicknamed Doggie (Chao Yim Yin) on the streets, an unfortunate yet common practice at the time. He soon realizes that Doggie is actually a girl, and thus begins a story of bonding and survival. Roger Ebert presented THE KING OF MASKS as a free children's matinee, and taking a cue from past Overlookeds, he and wife Chaz welcomed a dozen or so youngsters up on stage to ask questions of festival guest TianMing, speaking through a translator.
~~~~~
4 p.m. – ON THE ROPES
(1999, 90 min., USA, released by WinStar Cinema)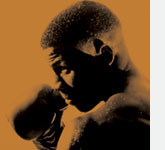 Boxing is a sport that I have little tolerance for – I'm more interested in team effort events rather than sheer tests of endurance – and the overt glitz associated with professional fights is pure bunk in my book. But ON THE ROPES tells a compelling story about young people trying to turn it around; they are uncorrupted by media, living in a run-down world of crime and drugs (but not necessarily living as participants of it), and they seem so genuinely real in this film.
Harry Keitt is a man who grew up in the Bedford-Stuyvesant area of New York, running drugs, fucking up, and even killing a man in a deserted apartment complex. Although it took forever, he straightened himself out and opened the New Bed-Stuy Gym as a place for amateur boxers to train and, hopefully, go places with Keitt as their manager. Nanette Burstein and Brett Morgen's film, shot with a Sony camcorder and transferred to film, follows Keitt's evolving relationships with three kids who might have what it takes. George Walton, a burly young African-American with a Mike Tyson-ish grin and sheer talent in the ring, Noel Santiago, a fresh-faced Hispanic kid with some moves but not necessarily the determination, and Tyrene Manson, an African-American woman who defines what it means to stand tall in the face of adversity, all train under Keitt.
We watch as Walton is fast-talked by Vegas-style impresario Mickey Marcello into training out West and eventually releasing Keitt as his manager. We shake our heads knowing that Santiago seems to be going through the paces of losing, rather than putting up a fight and trying to win. We grip our seats when Manson gets busted for drug possession by association, as she lives in a house with drug-addict Uncle Randy, and her court appearances effectively derail her from competing in a high-profile NY amateur boxing tournament.
Had ON THE ROPES sported lush production values and been more manipulated to heighten the drama of these kids' travails, it would not have one-tenth the impact that it does. I'm not so sure that I was saddened by their stories as I was miffed at how their life situations simply don't give them the outside support network they so truly need, apart from believing in themselves. Their tenacity and stamina under pressure is something to admire, even when the outcome isn't exactly the greatest. Burstein and Morgen wisely let the proceedings speak for themselves. An on-stage discussion featuring Morgen and Walton followed the movie.
~~~~~
7 p.m. – JESUS' SON
(2000, 110 min., USA/Canada, released by Lions Gate Films)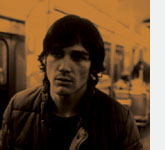 As I sat outside on my trusty park bench waiting for the long, snaky line that would eventually form for JESUS' SON, my first divergence not only came into my sights, but walked right up to me and sat down at the bench with three of his friends – Mark Borchardt!
Mr. Coe-ven himself, his even lankier brother, and two buds from Rockford, Illinois had come the distance for the Overlooked, although one would hardly know it from listening to Borchardt talk of sneaking White Russians and other libations into the Virginia. I asked him cryptically how things were going up in Wisconsin, hoping to find out where the guy stood on NORTHWESTERN. His answer? And I paraphrase, "Well, sometimes life deals you good hands, and sometimes it deals you bad." I guessed that he had just told me to not ask.
After the tail end of the line slipped underneath the marquee, some members of the Illini Film & Video student club stepped outside and asked if I wanted to get a bite to eat. I said OK. On site to videotape Ebert's intros and extros for the College of Communications, this fun group came into being three years ago thanks to Michael Stone and Andrew McAllister, two engineering stud boys stoked on the possibilities offered by Digital Video and computer production. Besides, with Mike, Sara, and Erin wearing their cool yet imposing black-and-white IFV "Crew" t-shirts with arms defiantly crossed, I'm not really sure that I had a choice in the matter. Unlike most other people who live in C-U, I inhabit what might be termed a parallel film universe.
Based on the novel by Denis Johnson, JESUS' SON is the fragmented tale of seventies drug user "Fuckhead" (Billy Crudup) in and around Iowa City, Iowa. The film also stars Samantha Morton (SWEET AND LOWDOWN), Denis Leary (THE JOB), Jack Black (HIGH FIDELITY), and Will Patton (REMEMBER THE TITANS). I wasn't around to check out the post-film discussion, featuring Crudup, director Alison Maclean, and screenwriters Elizabeth Cuthrell and David Urrutia, which made JESUS' SON the best-represented film of the festival.
~~~~~
10 p.m. – A SIMPLE PLAN
(1998, 123 min., USA, released by Paramount Pictures)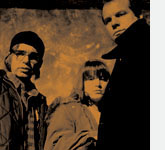 It wasn't long after we returned to the Virginia that the audience let out, and it was interesting to sit outside in the cool air and watch Overlooked staffers do the back-door celebrity shuffle. Of course, as JESUS' SON got underway, festival director Nate Kohn walked up the block with A SIMPLE PLAN star Bill Paxton, who was quickly whisked away into a side office for a video interview with Overlooked sponsor Northwestern Airlines for their on-board programming. I sat on my park bench and watched in bemusement as very few people in the street picked up on "that guy" being the one and only Paxton. Chet from WEIRD SCIENCE! Hudson from ALIENS! Severen from NEAR DARK! Yeah, that guy.
I really wanted to watch A SIMPLE PLAN, arguably the best-known entry at the Overlooked, but I had a standing invite from another UIUC student that I decided to honor instead. Not too coincidentally, young master thespian Christopher Denham arranged to stage a two-act play that weekend entitled In Film that he wrote and directed, and I was curious to see it. Having befriended Denham a few years back, I knew he had genuine interest in the medium and that it wasn't there just as a convenient plot point.
The play concerns a struggling screenwriter named Patrick Lenegen (Mick Hilgers) who had the studio offer of a lifetime in his younger years, and has yet to truly reconcile turning it down. In the basement of his West Orange, New Jersey digs lives promising film student Gerry Strohm (Andy Gershenzon), who is Patrick's lover. Gerry also happens to be so absorbed in rejecting any sort of potential accolades (or commercial success) that might come his way, that he becomes dumbfounded when a bright peppy blonde in his class, Claire Lauckner (Kelly LaMont), turns in a film he finds unbelievably good.
What follows is a very strange relationship triangle. Gerry finds himself turned on by Claire, but wallows in such self-loathing for his own potential career that he arranges to have both their films screened at New York's famed Angelika Film Center with studio execs in attendance. He hopes that her film will become the talk and that his film – and by extension, himself – gets overshadowed completely, therefore proving without a doubt that he's doomed to be an "artistic type" forever shunned by the masses.
Although the three actors managed to pull off some rather tricky interplay, I became extremely confused by these characters' motivations with the exception of Claire's simplistic (yet not self-derogatory) "I like to make movies" outlook. Especially with Gerry, the dialogue seemed bent more on making points about how an artist coexists with society when one's art is something broad-based like film, rather than progressing the characters towards some qualitative end. The spirit of a smart drama lurks within this play; Denham needs to lift some of the weight from Gerry's shoulders, refocus the characters and then refine their personal modi operandi. I'll be fair and admit that I missed most of Act 1 that night, but hopefully, the playwright has worked it good over the last year, and a more refined draft will be on display when In Film makes its off-Broadway debut in late May 2002.
I rushed back to the Virginia just in time for A SIMPLE PLAN to roll the very end of its last reel. This "Midwest noir" deals with brothers Jacob (Billy Bob Thornton) and Hank Mitchell (Paxton) and buddy Lou Chambers (Brent Briscoe), who find an airplane downed in their Minnesota neck of the woods one winter, and discover a satchel containing $4 million of drug money near the wreck. How will these three flawed human beings, along with Hank's wife Sarah (Bridget Fonda), deal with this discovery, and will it eventually corrupt their very lives? Of course it will, and critics lauded the subtle, deft ways director Sam Raimi allowed the twisting tale to unfold, especially in light of his prior EVIL DEAD/DARKMAN days of rock'em, sock'em genre cinema.
Afterwards, Ebert appeared on stage with Paxton and PANIC composer Brian Tyler, who happened to be working on the final sound mix of the actor's directorial debut, FRAILTY, co-starring Matthew McConaughey and Powers Boothe. Paxton made an endearing impression as the type of actor who's a regular Joe beneath it all that just happens to make movies for a living. From openly dedicating the film to his father (who sent him the original novel A SIMPLE PLAN was based upon) and his brother (who eerily resembled Thornton's character, a mentally slow, blue collar man) to describing how in awe he felt working alongside Thornton, I think the audience came to appreciate Paxton's heart-felt sincerity and good humor.
Yeah, that guy.
~~~~~
Article © 2001 Jason Pankoke. Used with permission.
Cover Graphic: © Roger Ebert's Film Festival/Daily Illini
THE KING OF MASKS graphic:
© 1999 Samuel Goldwyn Films/Sony DVD OOP
ON THE ROPES graphic:
© 1999 WinStar Cinema/DVD OOP
JESUS' SON graphic:
© 2000 Lionsgate
A SIMPLE PLAN graphic:
© 1998 Paramount Pictures/DVD OOP