"All About Ebertfest 2001"
Watching Movies and Other Nonesuch
at the 2001 Overlooked Film Festival
by Jason Pankoke
The following was condensed for inclusion in issue 13, Summer 2002, of Cashers du Cinemart film magazine published by Mike White of ImpossibleFunky.com.
~~~~~
April 29, 2001 – Sunday
1 p.m. – EVERYONE SAYS I LOVE YOU
(1996, 101 min., USA, released by Miramax Films)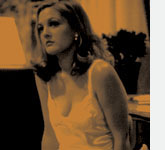 I was dragging by the time we had reached showtime for this film, Woody Allen's attempt at a contemporary musical and the Overlooked Film Festival's final movie. I had already plotted that, as soon as Roger Ebert walked on stage and got things underway, I would back my car into the enclosed street and load up my belongings, distribute them, and return in time for the audience to let out.
One of the curiosities of Overlooked 2001 that I haven't mentioned yet, although I was quite aware of it from square one, sat upstairs near my original table. It's little more than an odd juxtaposition, really, but fathom the implications for a moment. In an obvious move to involve UIUC departments other than the College of Communications, the Overlooked allowed for the display of four scale models designed and built by architecture students, depicting how a giant multiplex might be construed in downtown Champaign. I'm certain that the project's premise was purely theoretical, but didn't anybody consider that their very presence might just undermine the reasons why the Overlooked is hosted in a glorious, old-fashioned movie theater, the type which has been driven to near-extinction by real-life multiplexes over the last 20 years? Duh. End of token rant. Thank you, thank you.
While everybody sat in on the Wood-man's lively comedy starring Goldie Hawn, Alan Alda, Drew Barrymore, Edward Norton, Juila Roberts, Tim Roth, Natalie Portman, and kick-ass (but trouble-prone) Natasha Lyonne from BUT I'M A CHEERLEADER, my friend Dann "O'War" Tincher of the C-U art zine The Ides of March helped me load all my crap into my car. We returned to Park Street just after the first round of movie-only ticket buyers had left, and after Tincher took his own leave I sat at my own private bleacher to soak in the last moments of Overlooked 2001. The crowd poured out soon after the post-film discussion with veteran Allen producer Jean Doumanian concluded, and eventually the Eberts came to offer their goodbyes to the main festival staff.
Even though the Overlooked had officially wrapped, I wasn't done with movies yet. Not by a long shot!
~~~~~
4:30 p.m. – CHEMISTRY 101
(2001, 120 min., USA, in post-production)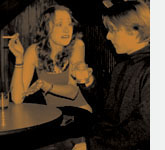 Whatsa matter, kids, can't find this flick on the Internet Movie Database? Well, that's because CHEMISTRY 101 is a student production made by three UIUC undergrads and oodles of their friends from the Theatre, Art, and Engineering schools. Despite the fact that it is a Big Ten school with clout, UIUC has never had a formal film school. Some cinema studies classes, some cinematography classes (which recently switched from teaching 16mm to Digital Video), but nothing comprehensive to take students from the beginning to the end of producing a movie. Lately, that hasn't stopped ambitious kids from making things happen on the sidelines.
Anthony Fiorentino wrote the CHEMISTRY 101 script and auditioned actors. Abby Emmett helped direct the film with Fiorentino and kept watch over continuity. Jennifer Kreiseder took control of the technical aspects as lead cinematographer and editor. It's a college-set comedy of errors as seniors Stan (Matt Mueller) and Joe (Nick Ferrin) concoct a hare-brained final project for their psychology class in order to pass. Unlike Bill & Ted's jaunt through time, these guys pick a subject matter more in the here and now – women. In particular for Stan, gorgeous brunette Chris (Cara Regina Mantella), whose best friends Jesse (Nanette Hennig) and Amy (Elizabeth Biondi) watch in utter amazement as the duo's "experiment" plays out.
The CHEMISTRY 101 gang allowed me to come on set several times and participate. And, not unlike Chris Denham with his play, the scheduled screening of their rough edit this particular weekend was no accident. It was fun to see where they had gotten since they started shooting. I also desperately wanted to see myself as a background extra in the bar scene, downing glasses of fake booze all the while. Well, it was soda pop until our waitress, played by the fabulous Ms. Emmett, decided to go for rum.
Abby, Abby, Abby. Tsk tsk.
We'll save a final verdict on CHEMISTRY 101 until after Kreiseder, Emmett, and Fiorentino finish the show.
~~~~~
7 p.m. – SHOT!
(1973, 102 min., USA, released by Sony Video)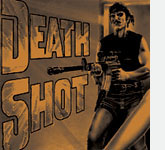 Once I had checked out CHEMISTRY 101, I went home and popped into the video deck a tape handed over by Overlooked director Nate Kohn. It contained a film I had wanted to see for some time, an even more ambitious UIUC student production dating back to the early 1970s. Directed and produced by then-graduate students Kohn and Mitch Brown, SHOT is a conscious rip-off of FRENCH CONNECTION-style hardboiled thrillers. You know the deal – flawed cops versus legions of drug-runners, jive-talkin', fast-walkin', shooting and running and jumping and helicopters and car chases and hookers and checkered threads, oh my!
The duo had started CinemaGuild back in 1970, a distant forerunner to the current Illini Film & Video, as a means to raise money through on-campus screenings to fund their own movies. After nine months' hard work, costing $15 thousand (a hefty sum back then for a student film), the 16mm SHOT premiered locally in March 1973, the day after THE GODFATHER swept the Academy Awards. A two-page ad in the Daily Illini that week even proclaimed SHOT to be the "Best Picture of 1973!" Needless to say, the film sank into obscurity after Kohn and Brown graduated. Although this video dub was hardly mint condition, it was great to see what ruckus these guys caused way back when. A heavily self-depreciative sense of humor runs throughout the flick, letting us know the filmmakers were in it for the fun.
Trivia cheat sheet: One of the hippies shot during the blown drug deal at the beginning of the film was played by Fred Rubin, who has since maintained a steady career as a producer and writer on television sitcoms including ARCHIE BUNKER'S PLACE, MAMA'S FAMILY, and the immortal NIGHT COURT. The sound recordist on SHOT was Tomlinson Holman, known in the industry as "Mr. THX" as he was the main engineer responsible for developing George Lucas' groundbreaking sound system. While living in Europe, Kohn co-produced the African tribal war epic ZULU DAWN for director Douglas Hickox. The other officer, Wilson, was played by Chuck Russell, director of numerous Hollywood films including A NIGHTMARE ON ELM STREET 3, THE BLOB, THE MASK, ERASER, and the just-released MUMMY prequel THE SCORPION KING starring WWF's Dwayne "The Rock" Johnson and THE GREEN MILE's Michael Clarke Duncan.
~~~~~
10 p.m. – SHADOW OF THE VAMPIRE
(2000, 88 min., USA/UK/Germany, released by Lions Gate Films)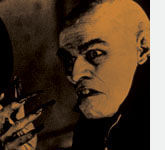 In a nice gesture of cross-promotion, the College of Communications included downtown Champaign's other active movie house, the New Art Theater, in the festivities by helping them book two high-profile movies, Cameron Crowe's ALMOST FAMOUS, which stars JESUS' SON's Billy Crudup, and E. Elias Merhige's SHADOW OF THE VAMPIRE, which depicts the making of NOSFERATU as a dark seriocomic fantasy. I did not have a chance to watch ALMOST FAMOUS, but I capped my weekend by sitting in on the latter.
Taking a cue from the real-life mystery surrounding Max Schreck – very little is known about him apart from the dozen or so German films he acted in prior to his death in 1936 – screenwriter Steven Katz postulates that F.W. Murnau (John Malkovich) actually recruited a real-life vampire named Schreck (Willem DaFoe) to star in his movie. Everyone from the loyal producer Albin Grau (Udo Kier) to the skeptical scriptwriter Henrick Galeen (Aden Gillett) to the fussy actor portraying Hutter, Gustav Von Wangenheim (Eddie Izzard), is taken aback by Orlock's first appearance as they shoot on Transylvanian soil, but Murnau verbally dismisses it as a case of "method acting" on Schreck's part. Eventually, as they near the death-bed sequence with prima donna Greta Schröder (Catherine McCormack) playing Ellen, Schreck loses control over his bloodlust and starts picking off secondary crew members en route to getting his ratty hands on the ultimate prize – Greta's jugular.
This is a classic case of a well-meaning production running out of steam. I have to admire how Merhige and company take SHADOW OF THE VAMPIRE moderately seriously and never pull any punches on Schreck's vampirism. The production design is stylish yet reserved, and the acting good with the exception of Malkovich's patented blow-his-lid-off rants as he chews out Schreck for misbehaving. But for every homage to NOSFERATU itself, or fun jab at moviemaking, there are stretches so conventional as to test our patience. Sadly, interest loses out to boredom, as the film becomes a race-to-the-death cliché when Murnau tries to prolong the filming of the bedroom scene until the sun can rise and destroy Schreck. I enjoyed SHADOW for its audacious concept, but its net merit has yet to reveal itself to me.
Trivia Cheat Sheet, pt. 2: Follow this string: SHADOW OF THE VAMPIRE is the first effort from Saturn Films, whose production personnel include actor Nicholas Cage, star of the black comedy VAMPIRE'S KISS (1988) among many other, better known Hollywood movies. Cage's brother, Christopher Coppola, made his directorial debut with DRACULA'S WIDOW (1988) starring Sylvia Kristel. Cage's famous uncle, Francis Ford Coppola, directed BRAM STOKER'S DRACULA (1992). Cary Elwes, who plays the cinematographer Fritz Arno Wagner in SHADOW, also played the yank Lord Arthur Holmood in Coppola's DRACULA. Udo Kier went down in the history books many moons ago by playing the title role in Paul Morrissey's BLOOD FOR DRACULA (1974), a 3-D sleaze epic championed by Andy Warhol. Willem DaFoe's other vampire movie credit was that of "Youth in Phone Booth #2" in Tony Scott's THE HUNGER (1983) with David Bowie and Catherine Deneuve. And, both DaFoe and John Malkovich were born and raised in the Midwest – DaFoe in Wisconsin, Malkovich in Illinois – so there's proof that some of the best film-related talent emerges from the heartland!
~~~~~
Epilogue
I think I've said so much that any sort of proper closing paragraph would sound forced by comparison. I'll at least take a moment to thank festival director Nate Kohn, producer Nancy Casey, former assistant director Melissa McKillip, and everybody else involved with the Overlooked Film Festival for putting on a fine show. You can find more details at www.ebertfest.com about this and other editions of the event.
And, whatever your opinion about Roger Ebert's opinions on film, you can't go particularly wrong at the Overlooked. With the industry element all but removed, the Overlooked is about watching movies. The presentations are spotless. The talks are engaging and amusing. The Virginia Theatre is a work of art. The concessions are damn cheap. The volunteers are darn friendly. And at what other national showcase for cinema will you be guaranteed to run into the editor of MICRO-FILM? I rest my case.
And that, my friends, is all about Ebertfest 2001.
~~~~~
Article © 2001 Jason Pankoke. Used with permission.
Cover Graphic: © Roger Ebert's Film Festival/Daily Illini
EVERYONE SAYS I LOVE YOU graphic:
© 1995 Miramax Films/Available on Disney DVD
CHEMISTRY 101 photo:
Jason Pankoke
DEATH SHOT artwork:
© 1987 Sony Video/OOP
SHADOW OF THE VAMPIRE artwork:
© 2000 Lionsgate