C-U Blogfidential has never been taken off-line for maintenance, so we have to fit in the back-end chores when time allows during our weekly madness. Currently, we're cleaning up our desktops at the Secret MICRO-FILM Headquarters which includes reorganization of electronic files pertaining to the movies of Champaign, Urbana, and the cities beyond. Filtering through these assets, we couldn't help but set a few aside to share with our dearest readers!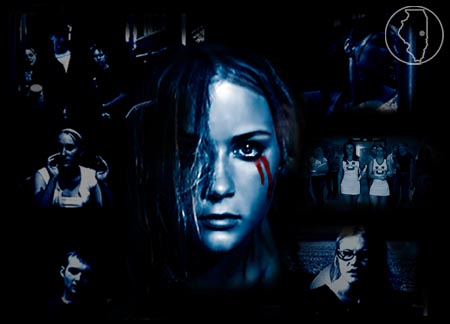 For the next three "Images of the Week" postings, we'll present images that have never appeared before on CUBlog or in C-U Confidential, starting with this "all student" grouping! We begin with promotional artwork for the unfinished slasher flick FACES IN THE MIRROR, directed by Chicago videographer Brian Patrick while a senior at University High School in Urbana. Streaming clips tucked away on Patrick's portfolio Web site under the "Watch" tab imply he's worked on it since the Uni High premiere in 2006. Apart from being a product of ambitious high school students, FACES gained notoriety when rumors flew that local businessmen invested $30,000 worth of money, equipment, and software into the project.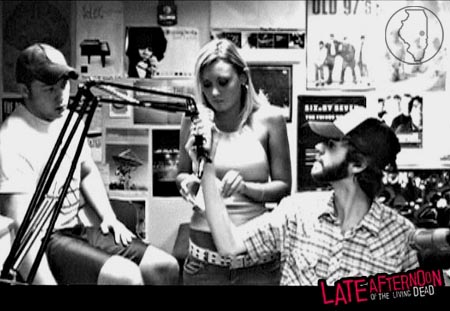 Above is a screen grab lifted from the defunct Web site for LATE AFTERNOON OF THE LIVING DEAD, a low-budget comedy action feature made by Illinois State University graduates Jason Huls and Paul Brooks in Bloomington-Normal and Decatur a few years ago. We snagged this shot for sentimental reasons; the basement studio in which actors Travis Huls, Ashley O'Neil, and Brooks hole up during AFTERNOON is WESN 88.1 FM, the low-power radio station of Illinois Wesleyan University where your humble alumnus editor co-hosted "The RadioActive Doghouse" show in the early Nineties. Brooks and Huls have reinvigorated their label Ten Wing Films in Chicago with new projects including an almost-completed short called THE DRONE and the more elaborate CITIZEN IN THE TEMPLE, which Huls will submit as his thesis film in DePaul University's Digital Cinema program.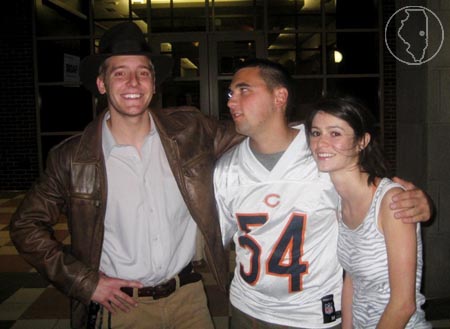 Beyond the overt "Indiana Jones" costume reference, a gag CUBlog is hardly immune to, we simply like this candid set photo from Premonition Pictures' ONE FINE DAY!, which we've covered previously. In the first season's Episode 3, "Mental Ability," college friends and fellow resident assistants Steven (Kevin Zaideman) and Mitch (Daniel Papas) drag along Alexis (Brittney Refakes) on a campus scavenger hunt during Halloween. Since creators Marc Morin, Jr., and Derek Klein filmed the complete series at their alma mater, the University of Illinois, OFD! marathons frequently pop up on student lab station UI-7.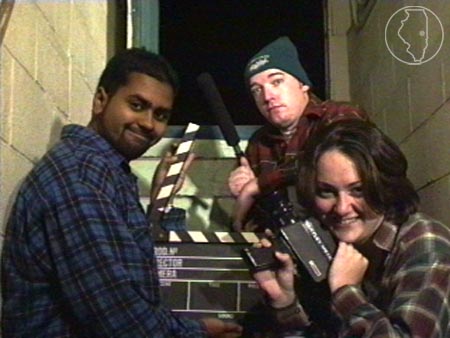 We're often asked which movies are pictured on the cover of CUZine, to which we slyly reveal the mystery scenes are staged exclusively for the magazine. This scheme is not without precedence here at MFHQ, for way back in 1999 we taped more than an hour of "fake video" spoofing THE BLAIR WITCH PROJECT from which to grab images for the cover of that year's Freaky Film Festival program. One screen capture never before seen is this smiley group shot of then-UI students Bilal Dardai of Chicago, Christopher Lavery of Tinley Park, and Danielle Cloutier of Los Angeles, who employed pure improvisation in their on-camera search for nothing particularly important. However, they did find themselves a cornfield despite an inept sense of direction. Take that Heather, Josh, and Mike!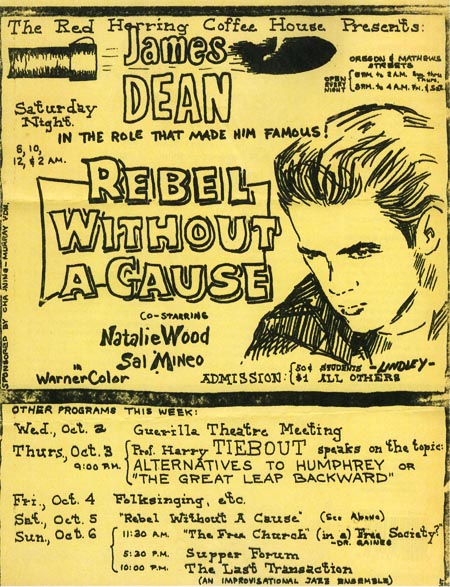 Concluding this round is a rare UI campus flier from the early Seventies promoting screenings of REBEL WITHOUT A CAUSE along with other activities and actions at the Red Herring Coffee House in Urbana. The graphic comes to us from the personal collection of CUBlog friend and former UI student Leith Adams, now the senior archivist at Warner Bros. Studios in Burbank, CA. We're pretty certain the presence of a WB picture on the flier is sheer coincidence. Or, is it foreshadowing? Hmmmmm.
~ Jason Pankoke