"The Double Life of a Cinéaste"
Festival Schmestival
Our columnist reflects on suspect occurrences while traversing the circuit
by Tyler Tharpe
~~~~~
"The Double Life of a Cinéaste" follows contributor Tyler Tharpe as he balances the business of running a drive-in theater in the Midwest with the long and arduous process of filmmaking.
I feel like blowing off a little steam right now, maybe due to sitting out here at the drive-in for five nights in a row weathering 90-plus degree temperatures and entertaining the Harry Potter fans while otherwise trying to keep my cool. I do have A/C in the projection booth but if I leave the concession stand for even two seconds, that whole corner of the Centerbrook turns to shambles. (More about that mystery at another time…)
In between the on-screen flashes of Harry's magic wand and Lord Voldemort's nose-less face, I've been doing some pondering while sweating it out from the heat and think I've concluded that I quite simply do not like film festivals. I hope to not sound non-appreciative about some of the film festivals my work has played in, but I just haven't had a great experience yet. In fact, I feel like my festival experiences as a whole could be collectively titled "The Omen." I'm not sure what the core of the problem is for it seems like film festivals should be one of the main fruits to be enjoyed at the end of the long, laborious filmmaking process. Could it simply be that I find it annoying to stand on stage and talk about films?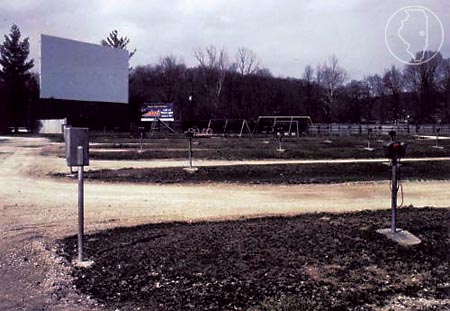 Back in 2001, I was invited to be part of a filmmakers' panel at the Temecula Valley International Film & Music Festival in California to talk about that arduous process. When I left the theater, located about an hour outside of Los Angeles, I heard one of the audience members mention to another in the hallway, "These filmmakers are really annoying." What about filmmakers is so annoying? Being near L.A., the name-dropping at the fest did get quite annoying – "Spielberg? Yeah, I know Stevie. He's a good friend of mine." – so I can understand in part where this attendee was coming from.
But, what's at the heart of it? Why do I dislike film festivals so much? The only thing I can do is go through a quick recap of experiences I've had with my first two films, FREAK and RETURN IN RED, and maybe we'll be able to dig out an answer to that question.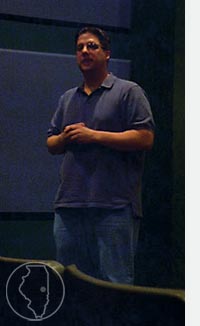 My first film festival wasn't so bad. FREAK was selected to play a film festival in England in 1998. Never having been off the North American continent at the time, I had to go! I was pumped up and excited but, of course, this was my first film festival with many disappointments yet to come. The first thing I noticed was how few people actually attended the festival. On the seven-hour plane ride over, I dreamed of a house packed with newly-found fans shouting and applauding at the end of my film. Once there, I learned the festival had not booked a big theater or auditorium at all, but a downtown hotel in Manchester, England. In the small room where we had my screening, I think I had about 30 people in attendance which, I guess, wasn't too bad. I met some very nice people there but it was still quite the letdown overall.
My second festival experience was a lot worse, taking place in a little bar in upstate New York and attracting only a handful of people. But, I did meet a few fellow filmmakers who I am still friends with today including Michael Schneider, with whom I collaborated on my latest horror project, DOUBLE DOSE OF TERROR!!
There seemed to be more promise for RETURN IN RED. It made the cut in a few bigger festivals including Montreal's Fantasia International Film Festival, which to me was the Holy Grail of horror film festivals. They asked me to come up and speak before the film and actually offered to pay for my hotel room. Wow! Things were actually looking up for once. So, on an early July day in 2007, I departed the plane in Montreal and the festival sent a driver who gave me a ride to the hotel. Talking with the driver, I was extra excited to hear he had seen and liked FREAK – what a great way to start the day!
After arriving at the hotel, he gave me a festival pass so I could catch any film that I pleased so, that night, I went to see Adam Green introduce HATCHET. The entire screening was a riot, quite a blast! Green is a good pitch man and knows how to sell his film and get the audience pumped up. "Now, if I could only come off half as likable as Adam Green," I thought, "I'd have it made in the shade." The next day, I stepped out onto the stage to introduce RETURN IN RED and … holy … shit. I couldn't have sounded worse as my nerves got the best of me and I acted like a bumbling idiot. What may have saved me was the fact that most of the audience did not speak English.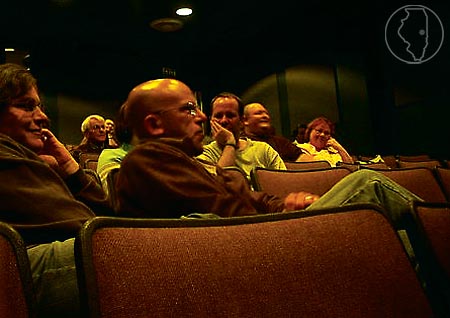 I ran into festival director Mitch Davis on my way back to the hotel after the screening. He asked if I wanted to join him and some other filmmakers for a late lunch, but I had a splitting migraine and passed. "This is not a good move, shunning the festival director," I thought. I tried to shake off the bad experience by watching a few more Fantasia selections but couldn't find enjoyment in any of them. Next thing you know, I was on a plane heading back home. Getting on that plane turned out to be an adventure all its own; the festival forgot to send me a driver so I had to call my own taxi. The cabbie drove 85 miles-per-hour to get me to the airport on time after which I barely made my flight, with the hour-long security check and whatnot before I was allowed to board.
Having had enough of the film festival experience by then, organizers of the Amsterdam Fantastic Film Festival came knocking in 2008 after seeing RETURN IN RED at Fantasia. I thought, "What the hell," and sent them a screener, not expecting much out of it. But then, lo and behold, they loved the film! Not only did they want to feature it front and center as part of their "American Low Budget Horror" program, their national magazine Schokkend Nieuws – the Fangoria of Holland – was going to interview me for a feature story on RETURN and picture it on the cover!
"Now we're talking," I fantasized. "I can finally have a good festival experience, right? I might even go to Amsterdam! I'm not into the weed subculture but at the least, if my film bombed, I could go into a nearby café and load up." Things were actually looking up, but, alas…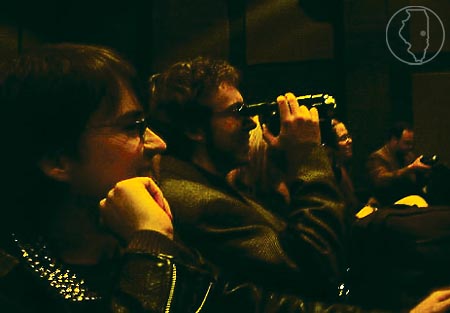 A few weeks before the festival, I sent them the Beta SP PAL transfer they requested for use as a screening copy. An assistant had the tape amidst a stack of movies being transported to their screening room via elevator for testing when there was an elevator "mishap" which crushed the pile, including my copy. They called and asked if I could send them another screener; keep in mind, a Beta SP PAL dub costs a couple hundred dollars to make. I asked if I could send a DVD and they said they really wanted to screen it off Beta SP. Long story short, a day later they told me they had fixed my original tape so I didn't have to spring for another copy.
At the screening, which I wasn't able to fly over for because I had just bought the Centerbrook and the festival coincided with the beginning of the drive-in season, a pretty good-sized crowd showed up to see RETURN IN RED … but the tape didn't work properly and they weren't able to make out much in the way of an image on the screen. In fact, a short post-festival write-up from a Dutch Web site said, "What I found was a pity that also RETURN IN RED scored the worst. When you see the movie in good quality it's a really creepy movie and the film has a weird atmosphere, but unfortunately when we received the tape, the cover of the tape was broken. Unfortunately we were not able to repair it."
If you had asked me a few years ago, I would've told you that I will never again attend a film festival, even if I was asked to sit on a panel with John Carpenter. (Well … in that case, I'd have to make an exception.) Looking back now, I think the problem was I set my expectations too high, like with anything, only setting myself up for disappointment. For all the film festivals in my future, I'm going to set my expectations so goddamned rock bottom low that there's no way I'll not be coming out of the experience with at least one good thing to say about it.
For now … festival, schmestival.
~~~~~
Prior "Cinéaste" | Next "Cinéaste"
~~~~~
Tyler Tharpe is an Indianapolis resident who has a B.A. in Telecommunications with an emphasis on film from Ball State University. He is currently an independent filmmaker and drive-in theater owner/operator who can be reached at tylertharpe [at] yahoo [dot] com.
"The Double Life of a Cinéaste" no. 3 © 2011 Tyler Tharpe.
Photographs courtesy of and © 2011 Tyler Tharpe
CUBlog edit © 2011 Jason Pankoke
Click to follow the making of PHANTOM COMPANION on Facebook!
Click to see what's playing at the Centerbrook Drive-in!