"The Double Life of a Cinéaste"
Thinking Over a Spooky Reality
Our columnist mulls projection options for the drive-in and the state of a supposedly beloved genre
by Tyler Tharpe
~~~~~
"The Double Life of a Cinéaste" follows contributor Tyler Tharpe as he balances the business of running a drive-in theater in the Midwest with the long and arduous process of filmmaking.
As I gear up for my fourth year of "October Frights" at the Centerbrook Drive-in, I'm left with the desire to play some old horror classics. Wouldn't the originals – and, it irks me that we have to preface a mention of every horror classic these days by stating, "the original" – of HALLOWEEN, THE TEXAS CHAIN SAW MASSACRE, and THE EVIL DEAD make for a great line-up?
The main problem is it's just too expensive to run these movies, but it seems the customers in my market actually don't care much about the classics. Last year, I attempted to run the original (dammit!) NIGHT OF THE LIVING DEAD on Halloween weekend. I rented it from a local collector who had just purchased an original 35mm print through Ebay. It arrived the day before I wanted to run it and he didn't have time to check it over. So I picked it up, hoping the print was good enough to run, and drove it down to the theater the next day.
As it turned out, the print was in such bad shape I couldn't run it. With so many tears and splices, attempting to run it could have cost me a film wrap and a stripped projector gear as well as free passes at the gate to disappointed customers on the way out. The only people who seemed to care that night were a nice couple who drove all the way up from Kentucky to see it. I felt horrible, of course, so I gave them some free popcorn and drinks. Luckily, a local film collector happened to be in the audience and he brought along a 20 minute reel of classic horror movie trailers, so I ran that after my line-up of current horror releases PARANORMAL ACTIVITY 2 and Wes Craven's MY SOUL TO TAKE. Everyone seemed pretty happy.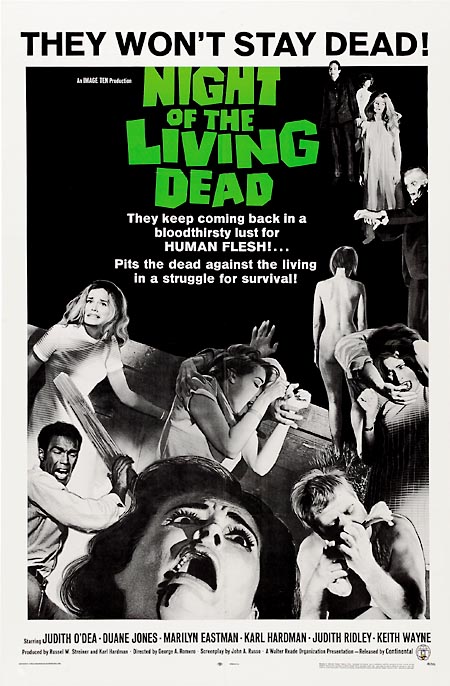 Why doesn't my central Indiana market care about the horror classics? The Centerbrook is about 20 minutes from Indianapolis. I get some customers from Indy, but the bulk of my audience comes from the rural areas around the drive-in. Basically, if they haven't heard of the film, they aren't coming, so the bigger the marketing campaign behind a certain film, the better it will play in my market.
That's obviously true for almost all markets, but some smaller markets can get away with running more obscure films – heavily artistic communities like Austin, TX, with the Alamo Drafthouse, and Albuquerque, NM, with the Guild Cinema, as well as large markets like Los Angeles, New York, and even Chicago with its Music Box Theatre. Sure, everyone's heard of NIGHT OF THE LIVING DEAD, but … I don't know.
I think there's also a stigma attached to horror films in these parts. Not everyone likes horror; recently, a customer waiting in line at the concession stand addressed this very thing with his wife by saying, "Sure, you and I like horror, but not everyone does." I've played current horror movies here before, even in the middle of my busy summer months – THE RUINS, DRAG ME TO HELL, and INSIDIOUS, to name a few – but I always run the horror film last.
This year, I did attempt to open a brand-new horror film, Craven's SCREAM 4, and it grossed very dismal numbers. Given that the weather wasn't spectacular, distributor The Weinstein Company didn't even make back the cost of the print (about $1,500) with their 50% take of the film's two-week run. Ouch. I always feel bad when that happens. They were nice enough to give me a chance to run SCREAM 4 and it bombed. From that moment on I decided, "No more openings of horror films." I need to stick with Pixar, Marvel Studios, and anything starring Robert Downey, Jr., or Johnny Depp.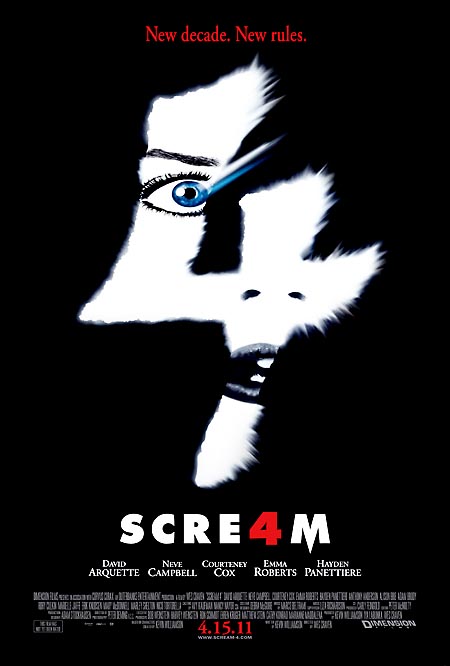 Back to the expense problem with running horror classics from 35mm prints, most studios charge a flat fee of $250 to $350 to play them and shipping per title costs $150 or more. That could mean a total cost up to $500 for running each classic. And it sucks if it rains; I'm out all that money. On a new release film, the studio picks up the majority of the shipping cost and I pay them a percentage of ticket sales. If it rains, I'm not out the cost of shipping and flat rental fees as with the classics.
Also, it can prove to be quite hard to track down the current copyright holder of a certain film, even a major classic like HALLOWEEN. One year, my booker looked specifically for that and gave up without success.
When I (reluctantly) convert to digital projection in a few years, the cost of running a classic will come down dramatically. The studios will allow you to run movies from a Blu-ray disc, so there will be little to no shipping cost on an item that weighs just a few pounds. The flat rental fee will still be intact but I have a feeling you can negotiate most of these fees down a bit.
I also will be in a position to run my own films, finally. Everyone always comments to me, "Hey, you're a filmmaker who owns a drive-in. You can run your own films!" The main problem is that I don't have 35mm release prints, since I finished them on video even though I shot both features on film. So, yes, I can start running them when I'm equipped with a digital projector.
But it all goes back to the idea, "Has my market heard of these films?" Most people who are not horror film fanatics will not have heard of FREAK or RETURN IN RED, so I probably have to play these last. Plus, I'm too modest to step up and say, "Hey, check out these horror films made by the drive-in owner himself!" I couldn't live up to that announcement. If and when I do run my own movies, I will run them as I do any other movie I pick up. I'll just throw it on the schedule and hope for the best.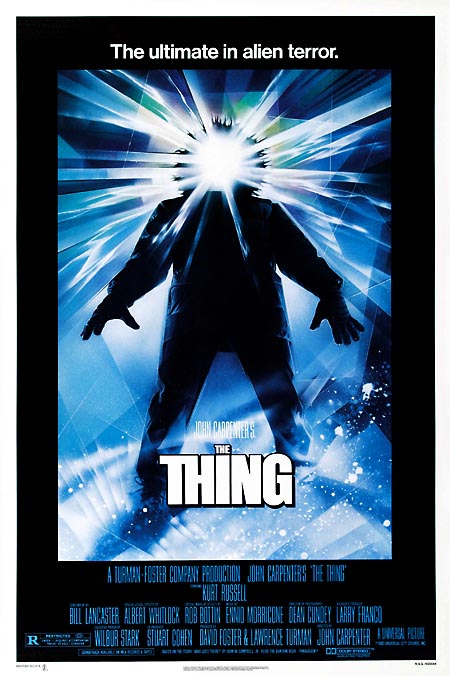 So … In the next few years, I'll finally be equipped with digital projection that gives me the freedom to run more obscure films during "October Frights." My first film in this case will probably be ERASERHEAD.
Personally, the problem for me then will be running films from Blu-ray. I can't bring myself to pay money to see a film projected off a Blu-ray. I can watch a Blu-ray at home. I want to see the highest quality version of something if I'm going to pay for it, and that would be 35mm film. I'm certain the Alamo Drafthouse doesn't try to pull the old Blu-ray switcheroo. An Austin audience wouldn't have it.
The Landmark here in Indianapolis is showing "midnight" movies this month and they happen to be running John Carpenter's THE THING. I've never seen that on the big screen. I was planning on ducking out of the drive-in early that Saturday night to check it out, but I called ahead and found out they were running it from Blu-ray. No thanks!
I think I'd better hold on to my old 35mm projector, even when it becomes obsolete, because I may have to start collecting 35mm prints of my favorite films. That way I'll have something optimal to offer in the way of the viewing experience that hardcore film fanatics like me demand.
~~~~~
Prior "Cinéaste" | Next "Cinéaste"
~~~~~
Tyler Tharpe is an Indianapolis resident who has a B.A. in Telecommunications with an emphasis on film from Ball State University. He is currently an independent filmmaker and drive-in theater owner/operator who can be reached at tylertharpe [at] yahoo [dot] com.
"The Double Life of a Cinéaste" no. 4 © 2011 Tyler Tharpe.
NIGHT OF THE LIVING DEAD artwork © Continental Releasing
SCREAM 4 artwork © Dimension Films
THE THING artwork © Universal Pictures

CUBlog edit © 2011 Jason Pankoke
Click to follow the making of PHANTOM COMPANION on Facebook!
Click to see what's playing at the Centerbrook Drive-in!