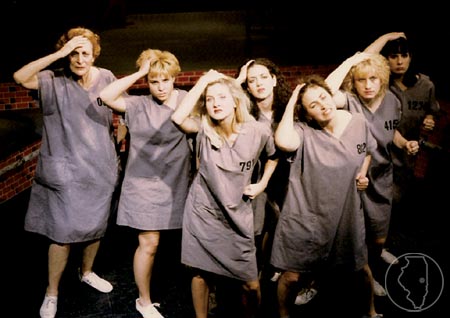 "Uncaging Trippiedi," Round 1
A lost interview with Mike Trippiedi on Caged Vixens
and movie-making
by Jason Pankoke
Sometimes the best of intentions do not pan out. A case in point is last spring's C-U Confidential issue, in which we had to compromise the amount of coverage we could give to several key projects. One production that fell victim to our last-minute consolidation, AMBER ROSE, is the return to feature filmmaking by our long-time supporter Mike Trippiedi. Unfortunately, this is not the first time we've failed to award him more expansive props than we ultimately could muster.
We're lucky to have kept up the archives here at the Secret MICRO-FILM Headquarters since they'll help us remedy past transgressions. Not only did Trippiedi participate in one of the inaugural interviews conducted for MICRO-FILM in 1999, but he also agreed to the very first interview we ever arranged with a filmmaker, let alone one who shared the same county residency and telephone prefix. Taking place almost three years before MF came to fruition, this milestone discussion was offered to other pop culture periodicals but never accepted for publication. As of now, it's their loss!
In the immediate wake of his current successes – the dramatic feature AMBER ROSE, now traversing the festival circuit, and Way Off Broadway, which enjoyed its world premiere in November at Urbana's Station Theatre – the 1997 interview offers a coincidental parallel as the Trippiedi projects of the time were Caged Vixens, a B-movie style jaunt staged during the Station's 25th anniversary season and the writer/director's first produced play, and DOGS IN QUICKSAND, a dark comedy film that doubled as his first feature-length effort.
We credit Caged Vixens for drawing your humble editor's attention to the Champaign native's output, for I attended the closing night performance on November 23, 1996, on a whim. Trippiedi and I met a few weeks later over hot coffee and within inches of a microcassette recorder at the Cinema Café in downtown Urbana – where Carolyn Baxley's Cinema Gallery now resides – to analyze his endearing ode to cult cinema, debate the state of Hollywood, and contemplate living the life of an independent filmmaker in Champaign-Urbana, Illinois.
For that very last reason, if nothing else, we present to you one of the most significant interviews we've ever conducted. Fifteen years later is a better time than never to share a little something "EXTRA" … yes?
Read on, "Moms" MacDuff…
Jason Pankoke: How did you come up with Caged Vixens, a "drive-in movie disguised as a play," as your first original show?
Mike Trippiedi: Having been at the Station Theatre for years, they always ask me to direct something and I just hadn't found anything that I've wanted to direct. For some reason, I don't know why, I had it in my head that I wanted to do something with B-movies, [specifically] women-in-prison. I thought that would be fun, so they found me this script called Women Behind Bars and I hated it. I thought it was one of the worst things I'd ever read and I said to myself, "I can write something better than this."
JP: What was it about that one you didn't like?
MT: I didn't think it was funny.
JP: Was it supposed to be a comedy?
MT: Yes. It was trying to shock and offend with no humor, and it did nothing for me.
JP: Has the current slate of cult films on stage, such as Co-Ed Prison Sluts, Plan Nine From Outer Space, and John Waters' Female Trouble – all performed in Chicago – been a deciding factor?
MT: No. I have always sought out the offbeat.
JP: Before Caged Vixens, had you thought about doing that sort of translation before?
MT: Yes, actually. About 20 years ago, I thought about writing a play called B Theatre and it was going to be hosted by some sleazy guy in a vampire cape. I was going to do two one-acts, one a biker thing and the other some zombie thing, but it's an idea that never happened.
JP: The review I read in the Chicago Sun-Times a couple of weeks ago for Co-Ed Prison Sluts mentioned that it's a lurid affair, probably more so than Caged Vixens in which a lot of the "lurid" material is told about rather than shown. Presumably, Vixens is also tame compared to the parade of women-in-prison (WIP) films of the Seventies and Eighties, staged deliberately as a comedy. Why?
MT: [Laughs] I wanted Caged Vixens "tame" for a reason. I'm certainly not a prude, but I think it takes a certain talent to write four-letter words. Quentin Tarantino can do it. David Mamet can do it. Most people can't. To me, if I was to throw in a bunch of four-letter words, it would have taken away from the comedy, and I wanted to focus on that more. There are a lot of sexual innuendoes but they were played for laughs.
JP: It's not like you're trying to become the next John Waters.
MT: Right! I'm not! I just wanted to concentrate on the humor and the plot, and I thought everything else would get in the way. Most audiences going into [Caged Vixens] knew I was poking fun at this genre, so I didn't really need to have people running around topless.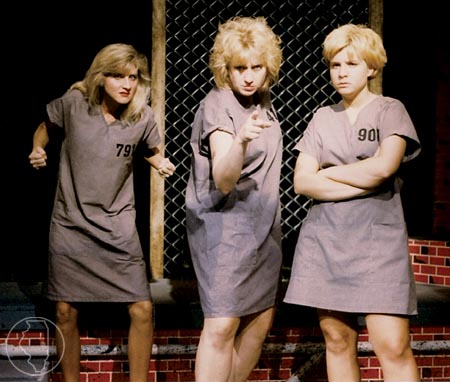 JP: Given the types of things you do derive humor from in Caged Vixens – the cute political barbs like with the Richard Nixon portrait [in the warden's office], the brassy Barbara Walters type reporter, the out-of-nowhere Dr. Seuss-ish Siamese twins connected at the scalp – you're obviously not going the direct homage route on this.
MT: No. We wanted to take this setting that we expect [from the genre] and I just brought my own style to it. I don't know if you remember the scene where they're all choking each other…
JP: The "choke train."
MT: That was my salute to John Woo because, in all his movies, everyone's pointing guns at everyone else and so we thought, "Let's do something different, let's grab each other around the neck instead!"
The genre was basically just an outline. In a sense, a lot of these "good bad" movies – most bad movies are just bad – but the few that are actually good bad movies are movies that take a chance, they get a little bizarre. It's like, "Women with bad attitudes, let's see just how far out I can get with this!"
JP: [The cast and crew] gave Caged Vixens a slight edge of its own, a character of its own, and it worked. The audience certainly enjoyed the play.
Your blurb in the program says you've been doing shows at the Station for more than 20 years, as both a director and actor. What has been your favorite production?
MT: As a director, probably either Tony n' Tina's Wedding or Caged Vixens because they are so different [from one another]. I guess, Caged Vixens. The neat thing about it is the difference between it and anything else that I've done. It was all [orchestrated by] me and, so, everything was on the line.
You direct someone else's play, and you get actors that have certain ideas on how a role should be played. Lots of times, they'll argue with you and think, "Well, your concept is wrong! I'm right!" With this, when the cast read the script, they all liked it, they all believed in it, and they were all excited about it. They knew this was the very first production [of Caged Vixens] and there was just an energy and excitement with the whole cast and crew. They did everything they could to make it work, especially the actresses.
You couldn't really tell, but every night they had to put make-up on their legs because they were just black-and-blue from all the bruises. They were very proud of who had the most bruises.
JP: You mentioned John Woo earlier. The fights [in the play] are stylistic and definitely choreographed as opposed to [having the actors] merely throwing mock punches. It's almost as if they danced their fights instead of fighting their fights.
MT: We wanted it somewhat theatrical, a combination of dance and fights, some of it was more dance and some of it was more fights.
I had a dance choreographer and a fight choreographer, and I really couldn't have done it without them. Richard Barrows is a theater professor at the Krannert Center for the Performing Arts [at the University of Illinois]. His wife Heather played "Marie." I was going to do the fights myself and she said, "You know, my husband does this for a living. Would you like him to do it?" I said, "Sure!" We hit it off immediately and I knew it was going to be fine.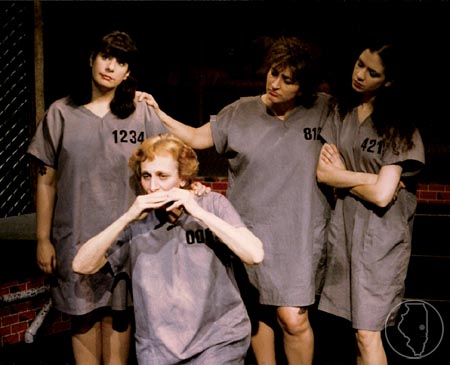 JP: I loved when [the inmates] came out and did their pseudo-burlesque thing for the audience. Of course, "Moms" [played by Janice Rothbaum] brought the house down.
MT: She's 72 years old.
JP: Really!
MT: Yeah, she was great.
JP: There was a lot of physical motion [such as having] characters chase each other on and off the stage. I think that gave Caged Vixens a cinematic sweep. Even though it was a full house [when I attended] you didn't have that many people present on the whole, it was more intimate. And, because you're closer [when sitting in the audience] to the stage, every action seemed more amplified and forceful.
MT: That's the neat thing about the Station. I was in a show called Candide. We had five different stages and the audience was between the stages. To get from stage to stage, we swung on ropes over the audience's heads! It was fun, the audience loved it.
JP: I'm not familiar with Candide.
MT: It's a spoof of operas. So, everybody gets killed.
JP: Just like in this one, an opera in its own right.
MT: Yeah. [Laughs]
JP: The Station Theatre is basically a "volunteer operated, community supported" theater. As evidenced from the bios of the cast and crew in the program, there are many walks of life represented. Assistant director David McDaniel is a graphic designer and radio personality, two of the "vixens" are school teachers…
MT: Another one is a lawyer! [Points to picture of Traci Nally as "Sheila," leader of the Brunettes prison gang.]
JP: How did this varied mix of backgrounds factor into the show?
MT: I think sometimes people come tired or in bad moods because of work. One actor had to fire a person [in real life] on our opening night because the person was being sent to a women's prison. True story! She had lied on her application.
Most of this cast, I had worked with before in Tony n' Tina's Wedding. They all auditioned for me and I liked working with them and they fit the parts. I wanted a lot of age [range]. A lot of people who auditioned were 17, 18…
JP: I think the overall maturity [of the actors] helped. They're more real.
MT: Yeah. No matter how good you are, you need that age and experience to bring to a role. That's kind of where I stayed away from parody because, in a real B-movie, all the girls would be [young and] gorgeous.
JP: It's like you could walk by them on the street. That makes it all the more believable, as believable as something like this could be.
MT: I wanted the audience to just have fun, and I think I achieved that.
JP: Will we be seeing a Caged Vixens II in the near future?
MT: I don't think so, just because I don't like sequels. Although, I already know what it would be if there was a sequel. Marie is now a cripple and she becomes the warden. The prison is going to be shut down and they put on a show to raise money. Caged Vixens II: Babes on Parade!
But, that's not going to happen because I don't like sequels. I should never say never, but that's the sequel. If there is one. But, probably not. I loved doing this and I loved working with everyone and I'd love to do it again, but…
JP: By day, you work at a video production company. How do the things you do in the studio differ from the things you do live on stage, and do you prefer one over the other?
MT: Well, the things I do at work are industrial, and it's boring. There's not a lot of excitement. You do what the client wants and the client's always right, even when they're always wrong.
I don't know which I like better. There's something about being live on stage that you can't duplicate, unless you've been there before. On the other hand, if something's on film, you can go back and enjoy it time and again but, on stage, it's gone [once the performance is over]. You can videotape a stage performance but it doesn't look good. It's flat. They're just two different things.
I wanted to do a film version of Caged Vixens but in order to get a real prison feel, one, I need a location, and two, I would need extras because you can't just have eight prisoners [like in the play]! But I didn't have any money or budget for that. The script is available if anybody wants to make a film out of it!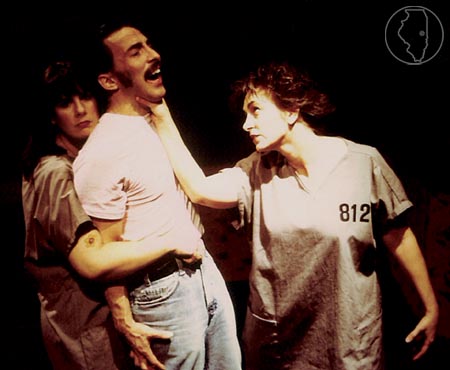 JP: Tell us about the film project that you are currently working on.
MT: Caged Vixens proved to me I could write something full-length, so my goal is to write a full-length movie, shoot it on video with professional equipment, raise enough money to transfer it to film, and then enter it in the big contests like Sundance. HOOP DREAMS and SEX, LIES, AND VIDEOTAPE were shot on video and then transferred to film, so I know I can do that.
The movie I'm working on is called DOGS IN QUICKSAND. I don't want to say a whole lot about it because I'm not real sure where it's going, to be honest with you! It's basically about a small town and what happens to the small town when there's a murder, and it's a comedy. It's not real wild like Caged Vixens.
JP: Is it entering FARGO territory, perhaps?
MT: Yes, but if you look at movies I have made, every other one is wild like Caged Vixens, and every other one is dark like FARGO, and it's time for me to be dark right now. When that's done, I'll go back and do something like [Vixens].
Getting back to the script [for DOGS IN QUICKSAND], it's taking me a while [to finish]. I'm running into a lot of holes, so my goal is to film it this summer but I'm not doing anything until I like the script. We'll see what happens, but it will happen!
JP: There has been a trend in recent years, especially with the proliferation of video, to make what are called micro-budget productions. We're talking $5,000 to $10,000, not even near the $140,000 that the original NIGHT OF THE LIVING DEAD cost [in the late Sixties], for example. Do you see yourself as a budding micro-budget auteur that stays local or eventually seeking professional means for your projects?
MT: I've been doing this since I was 12 with my dad's 8-millimeter camera. I would like to further myself. Each movie I've made has gotten some national recognition but has never gotten me a job. Well, my current job, but I mean…
JP: Something in the [entertainment] field.
MT: Yeah. My goal is to get better and better, and get publicity. Hopefully somebody will see I'm capable of doing this stuff.
I made this one video – I don't like to call them "films" – called THE STORY OF MOMMY AND DADDY in 1993, and I sent it to a contest sponsored by the American Film Institute. It was one of the runners-up. Francis Ford Coppola was one of the judges. Tim Allen was a former winner and he was also a judge. I got picked, went out to California, and from that moment on I started getting calls. I got a call from Oliver Stone's production company because he wanted to buy all my feature-length scripts. Of course, I didn't have any, and then they just kind of blew me off.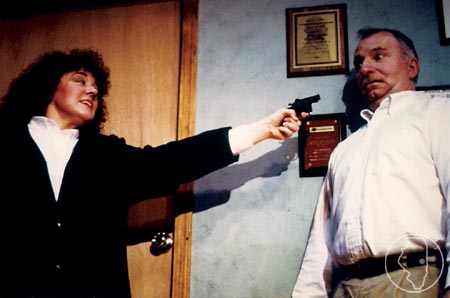 JP: Speaking of Hollywood, will you take what might come your way? Do you want to keep control over the type of stuff you want to do, versus just performing work-for-hire?
MT: I was an actor in New York City for three years and I just got so fed up with it, the whole business. When I came back, that's when I started making my videos, and I'm just making my own thing. I don't care how low-budget it is as long as I'm happy with it. Control would be great, but I'm not there yet so I can't say what I would do. I might take the money and run, who knows?
JP: Unfortunately, running might be the better of your two options.
MT: [Laughs] Really, I can't think about that. I can only think about what I'm doing right now.
JP: Everybody gets asked this one. What are your influences?
MT: There are a lot of things I like, but I don't know if they influence me. I like things that are offbeat, things that are not quite normal, but then again if it's good, I like it. It doesn't matter if it's a horror film or love story or science fiction. I like the good movies, but I also like the bad movies that are good.
I look at something like SCHINDLER'S LIST, which I thought was brilliant, but I couldn't do something like that. I look at something I think I could do, you know, which is why I probably look more towards the low-budget end of things. [Movies that] I've liked or been involved in are usually lighter, they're more fun. To be funny is easier for me [to perform or write] than to be serious.
JP: Tarantino has publicly acknowledged that he draws from the movies [themselves], not necessarily from real life, such as the Hong Kong film CITY ON FIRE for RESERVOIR DOGS. I had a chance to see [FIRE] here in town [at the Brew 'n View at the Thunderbird Theatre in Urbana], but I haven't seen RESERVOIR DOGS.
MT: I didn't like RESERVOIR DOGS. I didn't see CITY ON FIRE, so I don't know.
JP: It's a decent movie. [At the same time] Robert Rodriguez makes EL MARIACHI for $7,000 [and becomes famous for it] and he gets $20 million to basically remake it…
MT: …as DESPERADO.
JP: Even the young guns of cinema are starting to repeat themselves right off the bat.
MT: But [Sam] Raimi did the same thing. EVIL DEAD 2: DEAD BY DAWN was basically THE EVIL DEAD.
JP: I think it's Gene Siskel who says the last great era of filmmaking was in the Seventies, when people still took chances.
MT: I actually tend to agree with that.
JP: Do you think there is a problem with American cinema in general, whether or not it's low budget?
MT: I think the problem is we're recycling too much [and Hollywood is] spending way too much money on these movies that aren't any good. All they care about is the box office on the first weekend. I will not see a sequel and I will not see a television show made into a movie.
I think it's great that SCREAM is making money. Have you seen it?
JP: I want to.
MT: I've seen it twice, and I'm going back. I think it's one of the best movies of the year. [Wes Craven] took a lot of chances. The premise is neat, and to me that's what made it work.
I read yesterday that, because of SCREAM, "Oh, this is the trend; we're making horror movies now!" That's not the point. The point is SCREAM is making money because it's good. People are going to it because of word of mouth.
MISSION: IMPOSSIBLE opened great and then it collapsed. There's a reason why. The movie sucked! Hollywood doesn't understand that.
• Favorite plays acted in, written, and/or directed:
Art (a)
Caged Vixens (w/d)
Couples Counseling Killed Katie (a)
Glengarry Glen Ross (d)
Little Shop of Horrors (a)
Noises Off (a)
Things You Shouldn't Say Past Midnight (d)
Tony n' Tina's Wedding (d)
Way Off Broadway (w/d)
Welcome to Tolono (a)
:: Part 2 ::
~~~~~
Interview conducted January 12, 1997, at the Cinema Café, Urbana, IL.
All photos by Amy George/courtesy Mike Trippiedi.
Caged Vixens poster designed by David McDaniel.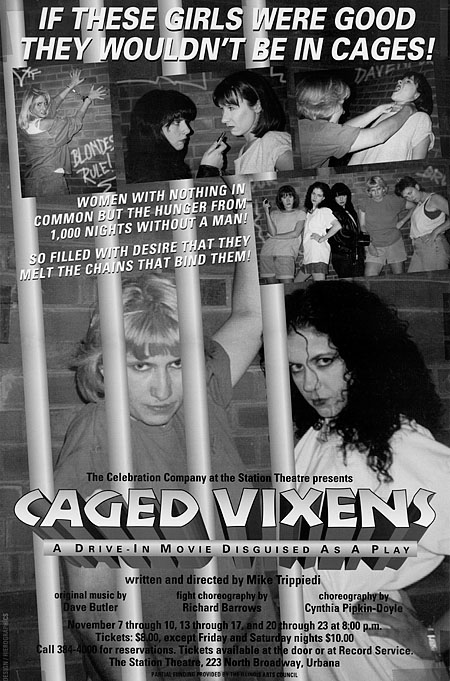 Caged Vixens: A Drive-In Movie Disguised as a Play is a production of the Celebration Company at the Station Theatre, Urbana, IL. It was written and directed by Mike Trippiedi and starred Heather M. Barrows, Maggie McAvoy, Sue Trippiedi, Angela Tyler, Traci Nally, Mina F. Willis, Mindy Manolakes, Janice Rothbaum, Barb Teterycz, Jennifer Twells Schultz, John Tilford, Floyd Bundy, and Cynthia Pipkin-Doyle. Assistant Director: David McDaniel; Original Music: David Butler; Fight Choreography: Richard Barrows; Set & Lighting Design: Bill Yauch; Choreography: Cynthia Pipkin-Doyle; Costumes: Molly Murphy; Caged Vixens Theme Vocal: Kay Holley. Originally staged November 7-10, 13-17, and 20-23, 1996.
CUBlog EXTRA! Interview No.4 © 1997/2012 Jason Pankoke
Back to the fore, "Moms" MacDuff…