"The Double Life of a Cinéaste"
Long Live … Film?
Our columnist flip-flops his convictions on whether to shoot his upcoming feature with film
by Tyler Tharpe
~~~~~
"The Double Life of a Cinéaste" follows contributor Tyler Tharpe as he balances the business of running a drive-in theater in the Midwest with the long and arduous process of filmmaking.
For any filmmaker who still embraces film as their shooting medium of choice, the last few years have been a real roller coaster ride, to say the least. Take this article, for instance. When I first started writing it a month ago, I was ready to abandon film altogether … but, more on that later.
As I gear up to make my third feature, PHANTOM COMPANION, later this year, I initially planned to shoot it on 16mm film, which has been my format of choice from the beginning. About a month ago I called Tony Hettinger, the director of photography for my first two features FREAK (1999) and RETURN IN RED (2007), to discuss my plans for shooting in the fall. As always, we talk over format options and, as always, we settle on 16mm stock.
Tony owns a very nice Arriflex SR-I which we used on the prior features. He also has a ton of nice lenses as well as an Arriflex 35BL, the same camera he used to shoot the Sundance hit IN THE COMPANY OF MEN (1997). I've always flirted with shooting 35mm. Tony claims to have about an hour and a half of short ends that he would donate to the project if I chose to shoot on 35. That's always tempting for me, but the exorbitant costs of just developing 35 always put the kibosh on this idea since I finance my own films.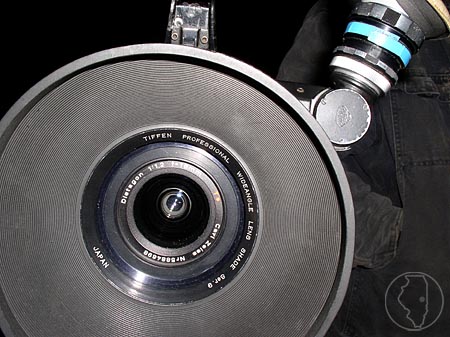 Deciding on 16mm yet again, I called the same lab that processed and transferred to digital the 16mm footage for my previous film seven years ago, asking them to give me a quote for my next project. I figured it couldn't have gone up that much but the quote I received was pretty high, mainly due to my request for a transfer to High Definition this time. (I had FREAK transferred to Beta SP in 1994. RETURN was transferred to DV-CAM in 2005.) Also, they've upgraded equipment since I last used their services. They're processing and transferring some pretty high-profile jobs, in fact, such as AMC's Super 16mm production THE WALKING DEAD.
I consider myself a film diehard, but this quote made me wonder if it's even worthwhile to shoot 16 for PHANTOM. At that moment, I started to look for a different option.
In college, we shot on video – S-VHS, to be exact – and I remember how much I hated the look of it. We all desperately tried to tweak it, doing anything to get rid of that video look such as adding a slower frame rate, but nothing ever worked. That's why I chose to take the plunge and shoot FREAK on film. Nothing in the video arena even came close to the look of 16mm.
Jump forward to the present, and I'll admit the Canon 5D Mark II comes pretty damn close.
Introduced in 2009, the 5D is quickly becoming the camera of choice for many independent filmmakers. It's basically a DSLR still-shot camera that happens to take outstanding HD video – so much so, the producers of FOX network's HOUSE M.D. taped a recent season finale with it exclusively – selling for a body-only retail price of just $1,500. That revelation was enough to wake me up to the possibility.
I decided to look up on Netflix some films shot exclusively with the 5D. The first one I watched was RUBBER (2011), a horror-comedy set in a remote desert. That seemed just up my alley.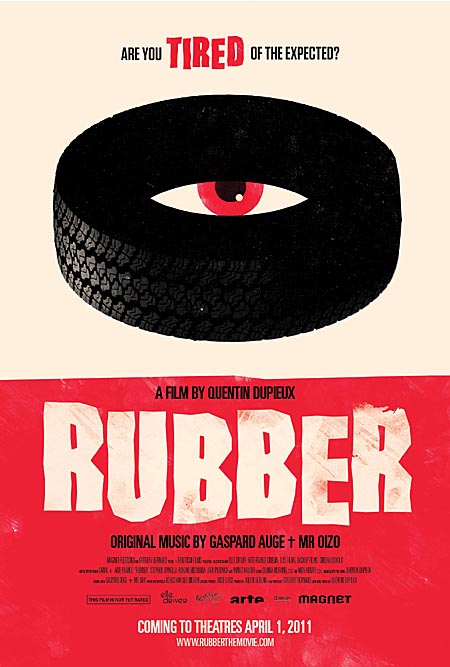 Some shots in RUBBER look downright fantastic. At first, some appeared to look even sharper than what we've tried to pull off on 16. One of my initial nitpicks with other shots involve whites that are mostly blown out, ultimately revealing "that video look." I figured Tony and I could work around this problem for our film.
I viewed other Netflix selections shot exclusively with the 5D, a couple of low-budget horror films, but these looked pretty awful. The images were poorly lit, and the sound quality lacked as well, which brings up a major point. You can have the best camera in the world but you still need to hire someone who knows how to use it, specifically, someone who knows how to light a scene. Even with the point-and-shoot ease of the 5D, I am still going to pay a DP to use it. I know Tony could at least make 5D cinematography look the best that it can.
So, I guess I had witnessed enough to make me want to finally switch over from film. I dreaded calling up Tony and telling him the news; he's even more of a film diehard than myself and doesn't like shooting HD, even with the RED ONE camera which he has used before.
Almost ready to roll with HD, I wanted to be one hundred percent sure so I watched one more film, a big-budget Hollywood production shot exclusively with the 5D. While watching it, something struck me. There seemed to be very few good-looking shots in it. Most looked washed out, colorless, and lifeless … very much like video. And, it was shot by a reputable cinematographer.
I revisited RUBBER with more scrutiny and started to see what I saw in the other film. "That's it," I thought. "I can't shoot on this stuff." I was now back to square one. Quite simply, I realized that I love too much the art and craft of shooting on film, and the extra cost is well worth it to me.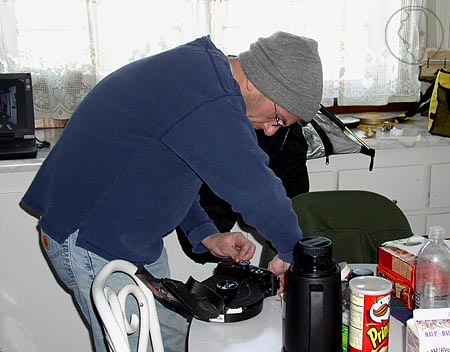 This issue is not unique to how a film looks on the small screen. Boxoffice Magazine senior film critic Tim Cogshell commented during the January 20 episode of NPR's FilmWeek podcast that recent big-budget release UNDERWORLD: AWAKENING ultimately "looks like video," having been shot with the RED EPIC digital camera. He watched UNDERWORLD in an IMAX theater with digital projection. I notice the same thing as he whenever I view something shot and projected on digital. Therefore, I seek out and frequent theaters in my area that only project from 35mm.
Distribution of 35mm prints is probably going to end in the next five years, as we all know. Even when I switch over to digital at the drive-in, which I talked about in my prior column, I'm keeping my traditional 35mm set-up and starting a 35mm print collection of my favorite films.
As for the PHANTOM conundrum, I checked out the price of film stock and it is not much more than in 2003. I know Kodak recently filed for bankruptcy, but there is strong hope they'll manufacture film for quite a while, albeit on a much smaller scale. A 400 foot roll of Kodak 16mm cost me about $125 back then. Now, it costs $168.Fuji's current price on 400 feet of 16mm is $144. I previously used Fuji to shoot FREAK and we'll probably go back to this, since both Tony and I love its blacks and PHANTOM COMPANION takes place at night.
To save even more money, I plan to shoot as little film as possible and aim for a crazy shooting ratio of 1.5 to 1. This is exactly what I did as a kid; a three-and-a-half minute roll of Super 8 would become the entire film since I shot my early films in sequence, having yet to acquire any editing skills. Why not? It's kind of exciting to limit yourself. I know the actors will go crazy with this, but I'm going to shoot for mostly single takes.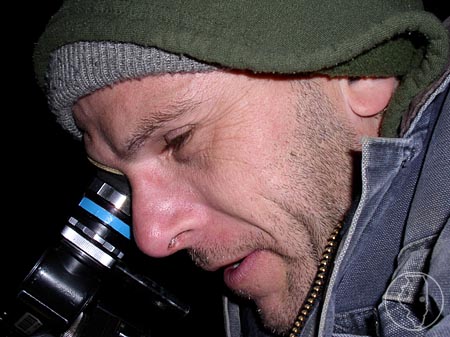 What it boils down to for me are a few things. I love the "look" and "feel" of something shot on film, and I always will. It's not exciting for me to shoot on video and, every time I decide I want to abandon film, I lose entire interest in the project. At first, the Canon 5D Mark II almost fooled me into wanting to abandon film, but I would miss the whir of the camera, the sense of urgency when film rolls through those camera gates, and the 10 minutes of mandatory down time needed to load that next 400-foot reel, let alone the complete mystery surrounding the magic of shooting on film.
I felt it way back when shooting Super 8 in my childhood. "What's the image going to look like? Did it turn out like I wanted it to and envisioned it?" Nothing has been more exciting than getting back from the lab that roll of Super 8, or the video transfers on my features as an adult, and taking a first look to see how the footage turned out.
Man, I sure would miss all that.
Long live film.
~~~~~
Prior "Cinéaste" | Next "Cinéaste"
~~~~~
Tyler Tharpe is an Indianapolis resident who has a B.A. in Telecommunications with an emphasis on film from Ball State University. He is currently an independent filmmaker and drive-in theater owner/operator who can be reached at tylertharpe [at] yahoo [dot] com.
"The Double Life of a Cinéaste" no. 5 © 2012 Tyler Tharpe.
Photographs courtesy of and © 2012 Tyler Tharpe
RUBBER artwork © Magnet Releasing
CUBlog edit © 2012 Jason Pankoke
Click to follow the making of PHANTOM COMPANION on Facebook!
Click to see what's playing at the Centerbrook Drive-in!