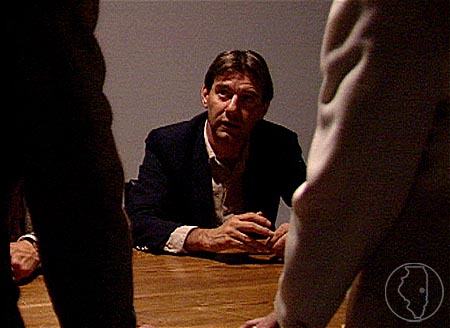 "Uncaging Trippiedi," Round 2
The original interview with Mike Trippiedi on DOGS IN QUICKSAND
by Jason Pankoke
Our interview series covering the artistic pursuits of Champaign, Illinois filmmaker and theater veteran Mike Trippiedi began with Caged Vixens, his affectionate spoof of "women-in-prison" exploitation cinema originally staged November 1996 by the Celebration Company at the Station Theatre in twin city Urbana. When that conversation took place in January 1997, your humble editor learned Trippiedi had been pressing to commence principal photography on his first low-budget, feature-length movie DOGS IN QUICKSAND that summer. It took place without fail and a final cut emerged roughly one year later.
Sometime in between private cast-and-crew parties and public presentations, such as opening night of the 1999 Freaky Film Festival at the New Art Theater, Trippiedi graciously lent me a DOGS IN QUICKSAND screener to witness the fruits of his cast and crew's labor. Watching a cohesive product adorned by familiar faces and places in the television wing of the Secret MICRO-FILM Headquarters proved to be a genuinely exciting phenomenon, one of my first exposures to legitimate movie-making activity taking place in my community-wide backyard. Of course, all I could think was "Oh, the possibilities!"
DOGS IN QUICKSAND and other filmic evidence concocted by those neighbors hardy enough to partake in the art, such as Jay Rosenstein, Jason Butler, and John May, simply fueled The Dream that one could live a healthy movie life wherever one might reside. This idealistic thesis inspired the "C-U Confidential" section which appeared in every issue of MICRO-FILM, trumpeting localized stories as sheer proof to our readers that one's home can be one's Hollywood. I conducted a fresh Trippiedi interview addressing his DOGS IN QUICKSAND experience and a self-published magazine, Backyard Cinema, for we couldn't go to press without him.
Having been out of circulation for the past several years after a handful of low-profile VHS and DVD releases, DOGS IN QUICKSAND is not an easy film to see. Therefore, we've resurrected that second interview from March 1999 to provide an impression of the finished product as well as Trippiedi's thoughts on coordinating a large-scale project, well before making AMBER ROSE in 2010. The original question-and-answer session has never been published before now, although our DOGS article in MF 1 quotes directly from it. Enjoy this "EXTRA" bonus!
Read on, MacMurph…
Jason Pankoke: You've come a long way from your earlier "videos" to create DOGS IN QUICKSAND, an offbeat small town murder mystery that revolves around your character, Mitch Schuster, as he attempts to juggle his ultra-jealous wife Lisa (played by Anne Shapland Kearns), a hooker-come-birthday present named Monique (Mina Willis), and the murder of his oversexed secretary Darla (Susan Muirhead). When did you develop the idea for this film, and why did you choose to make this your first full-length feature?
Mike Trippiedi: Before DOGS, I had only done shorts. I wanted to do a feature but wasn't sure if I could pull it off. After the success of my stage play Caged Vixens, I knew I could keep a story going for 90 minutes. The original plot was nothing like the finished version of the movie, but I found as I was writing [that] the characters just took a life of their own. In fact, the DOGS IN QUICKSAND that you see in the current version is so different from the original concept that I still plan to turn my original idea into a movie someday.
JP: The first time we interviewed about DOGS IN QUICKSAND [before it was filmed during the summer of 1997], you hesitated divulging details because, to paraphrase, there were a lot of "holes to plug" in the script. How much importance do you put on the writing aspect?
MT: I believe that writing and editing are the most important parts of any film. Those are followed by music, acting, and photography. Directing is probably next, but I think a movie can be great without a good director.
JP: Is there any stand-out work of film, theater, or literature that you look to as prime examples of good writing?
MT: Everybody seems to say this, but I think PULP FICTION is great writing. The play and movie version of GLENGARRY GLEN ROSS is also great writing.
JP: You have a tendency to work with darkly comedic subject matter. What attracts you to stories of murder and mayhem?
MT: I don't know where it comes from. I just try to keep things moving. My biggest fear in writing is that I might bore someone, so I make a real effort to keep my audience on their toes.
JP: Did you ever set aside any material while writing DOGS IN QUICKSAND because it became too dark for its own good?
MT: I would never set anything aside because it was too dark. That would be censoring. Nor would I dismiss something that might be perceived as too mainstream. I write what I write. It is what it is, nothing more or less.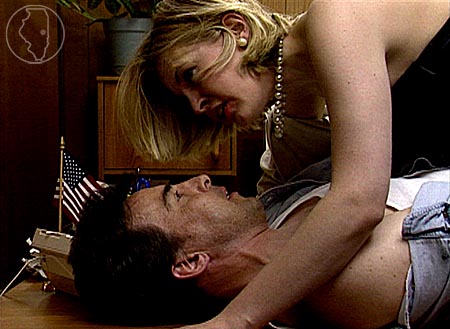 JP: How did you come up with the film's title?
MT: The original title was KISS ME, KISS ME, KILL ME, KILL ME, but for some reason I just didn't like it. The title DOGS IN QUICKSAND, to me, means people in situations way over their heads.
JP: The character of Mitch's best friend Tim "Murph" Murphy, played by Steven M. Keen, expounds on Mitch's so-called "B-movie life" as the melodrama unfolds. One of the ultimate ironies, of course, is that Murph is the master of puppets in this film, just like a low-budget director using his wits and available talent to bring his vision to life.
What endears you to the "B-movie" as a film watcher and filmmaker, and what constitutes a good one?
MT: I think B-movies offer more freedom because the general public doesn't expect much from them. Like mainstream movies, there is a lot of garbage out there, so when a B-movie is good, it's a nice surprise. And the reason it's good is often because it is not afraid to take a risk, which is the real problem with most of the A list movies.
JP: Do you think that people consciously desire to make B-movies, or is it a genre pigeonhole that many low-budget works get unceremoniously dumped in?
MT: I hope that most filmmakers don't consciously try to make B-movies. I would rather they concentrate on making good movies no matter what type they are. If it's good, it doesn't matter.
JP: DOGS IN QUICKSAND shares a similarity in plot and overall feel with your previous short, HALF-DEAD. Was HALF-DEAD a conscious dry run for DOGS?
MT: HALF-DEAD was not a conscious dry run for DOGS IN QUICKSAND. All of my films have elements in them that cross over into other films. If something works, I'm not afraid to use it again.
JP: Can you tell us about your working relationship with Steve Keen and Anne Shapland Kearns, who play leads in both films? They're quite good in DOGS, particularly during the flashback sequences that don't joke around with the characters' respective predicaments…
MT: I have worked as an actor and director with Steve and Anne for more than 20 years. I like working with them and watching what they bring to each character they play. God willing, I will work with them again.
JP: Why did you decide to take the role of Mitch and how did that affect your job behind the camera?
MT: I wrote the role of Mitch for me. I'm an actor and a writer. I hate directing. I only direct because no one else I know makes movies and I wanted to be in one. Obviously, it was easier to direct when I wasn't in a scene, but when I was in front of the camera I had total confidence in my director of photography, Bill Yauch.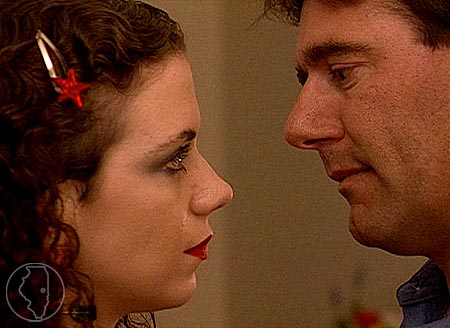 JP: I found it romantic and bittersweet that Mitch finds solace in "dancing with himself," so to speak, and that Monique develops an attraction to Mitch by helping him regain a sense of "innocence" as a dance partner. What influenced you to give Mitch this particular hobby?
MT: I'm a ballroom dancer. I've been one for more than three years now. In putting that hobby into the movie, I was just practicing "Writing 101," writing what you know.
JP: Lisa makes a big deal about Mitch stifling her artistic goals by moving to a small town. How does the community of artists and performers in a Midwestern college town like Champaign-Urbana differ from a place like New York City, where you spent some time early in your career?
MT: I was born and raised in Champaign and have always been proud of that fact. Anyone who lets their environment cripple them has given up.
I lived in New York City between 1979 and 1982. That was before the world had heard of AIDS and before Disney had cleaned up 42nd Street. When I left New York, that city was at the peak of its sleaze and I was tired of it. I went there to be an actor and all I was doing was drinking and getting myself into trouble.
They say "you can't go back home," but I say you can if you go home to start over instead of picking up where you left off. And that's exactly what I did. I started over.
JP: Apart from acting, how involved is your wife Sue in helping you bring your films to life?
MT: Although I'm sure a lot of people believe in me, Sue was the first person that I felt understood and supported my ideas and my ways to make them work. Through her support, I have gained a confidence to accept the fact that I'm different and that my ideas are worth pursuing.
Sue enjoys acting. She's been in several plays and many of my movies.
JP: You fill the world of DOGS IN QUICKSAND with several strange characters, such as the one Sue plays, most of them winding up dead or ultimately clueless by the end of the movie…
MT: If you watch any movie that I've made or anything that I have written, you will always see a lot of characters and subplots that all come together at the end. I like that. It keeps things interesting and always moving.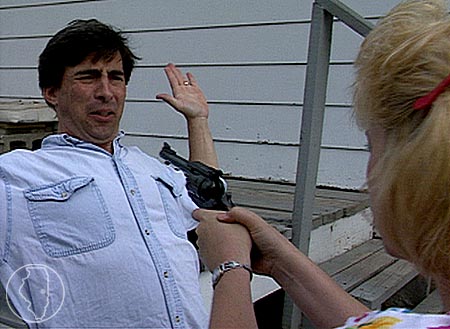 JP: What was it like to juggle more than a dozen good-sized speaking parts?
MT: DOGS IN QUICKSAND has 14 main roles and 26 speaking parts. It made scheduling very difficult and confusing for several of the actors, but what counts is what you see in the finished movie and I think it's a lot of fun. Fewer characters would have taken away from the quirkiness of the film.
JP: Many of those actors have appeared in your previous projects as well as other locally produced films and plays. It was rather neat to see a virtual roundtable of veterans at "Mom's Diner," including Keen, Rich Barrows (COYOTE'S HONOR), Steve Davis (LOTTO), Paul Damski (THE STORY OF MOMMY AND DADDY), and of course, Janice Rothbaum (Caged Vixens). How do your actors approach working for the camera, as opposed to the stage work they're probably more accustomed to?
MT: Every actor, stage or screen, prepares for a role in their own way. Unfortunately, several members of my cast didn't prepare at all. I think a lot of no-budget filmmakers have that problem. On stage, if they mess up, an entire audience will see their mistakes. On a movie location, they know if something goes wrong they can do it again. I think because of that, many actors become lazy. It won't happen in my next film.
JP: The production design, sound, and editing of DOGS IN QUICKSAND are relatively clean. Other than taping with professional Betacam gear, how much of a role did Yauch play in shooting the film?
MT: Bill played a very big part in the success of the film. I knew if I was going to make a feature, I wanted someone who shot and edited professionally. In fact, not only does he shoot video professionally, but Bill is also a certified Master AVID editor. Only a handful of people in the world can say that.
During the shooting, we would meet before each shoot and we would tell each other how each of us saw the scene. Most of the time, our visions were pretty close to each other's. It was a collaboration. Some of the great shots in the movie were my ideas. Some of them were Bill's. I don't believe in one person having all the answers. People never work for me. They work with me. That is the only way I'll approach a project. A person who says he does something all by himself is a liar.
Besides Bill and the actors, the other key people who worked with me were my audio engineer, Scott Cimarusti, and the guy who wrote the wonderful score, David Butler.
JP: And, let's not forget mention of "Sluggo" the dog, who appears during the opening and closing credits…
MT: The dog is Bill's. His wife Mary Keenan is an animal stage mother. She pushed for her dog to be a star.
JP: In retrospect, what do you think of the final film? Are there scenes or elements that you particularly liked, or would have accomplished in different ways?
MT: I'm happy with the final film. We did the best with what we had. Whenever a person looks at a finished product, they are always going to see things they wish they had done differently. I'm no exception, but overall I'm happy.
JP: What are your plans for your next film?
MT: I have a lot of ideas, but haven't decided what my next project will be.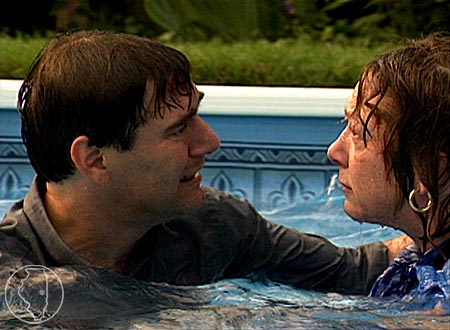 JP: Elsewhere, DOGS IN QUICKSAND features several references to your "women-in-prison" opus, Caged Vixens: A Drive-in Movie Disguised as a Play, which premiered in November of 1996 at the Station Theatre in Urbana. Several former "vixens" appear in lead or supporting roles – Willis, Rothbaum, Traci Nally, Mindy Manolakes, Heather M. Barrows – and Floyd Bundy reprises his catfight-loving "Warden" from the play as "Detective Bruns" in the film. What memories do you have of the production?
MT: You didn't mention Sue and John Tilford, they were in both as well. What I remember about Caged Vixens was working with a great group of dedicated actors who believed in me and the script. It was a good feeling.
JP: Has Caged Vixens been performed since its premiere?
MT: Caged Vixens was done in Memphis, Tennessee, in May 1998 and it will be done in Mendon, Massachusetts in July 1999. That production will be directed by B-movie maker Michael Legge, who has written and directed such classics as WORKING STIFFS and CUTTHROATS.
[According to a recent conversation with Trippiedi, the Legge production of Caged Vixens never took place, although it was staged in 2010 at the University of Alabama in Huntsville. Legge currently appears late Saturday nights on Urbana's cable access station, UPTV, in the vintage B-movie program THE DUNGEON OF DR. DRECK. – ed.]
JP: Are you still positive that Caged Vixens II isn't coming at us in the near future?
MT: I don't like sequels, but I'll never say never.
JP: You've produced several short films, which you've termed "videos" based on the media, including the aforementioned HALF-DEAD, the award-winning THE STORY OF MOMMY AND DADDY, and JESUSVILLE. What memories do you have making these early efforts?
MT: I have been making movies since 1970 when I was 12 years old. In fact, when growing up my whole neighborhood made movies. I made comedies, my brother Joe made slasher films, our friend Bobby Houston made martial arts movies, and another friend Sam Oldham played around with make-up and special effects. I was in most of their movies and they were in most of mine. Sam is a filmmaker in Los Angeles today. He wrote and directed several of the shorts in DARK ROMANCES as well as the movies ZOMBIE PARTY and THE MASTER DEMON, just to name a few.
I started with my dad's World War II movie camera and then went to video. The three films you mentioned are the ones that most people have seen, but I've done tons of other shorts with titles like QUE BALL McMASTERS: THE VERY FIRST SLASHER FILM DONE COMPLETELY IN RHYME, THE PLAIN JANE CLUB, POINT MAN, HANGOVER STREET, COFFEE BREAK, THE NUTS OF WRATH, and POLICE KID. [Trippiedi remade QUE BALL McMASTERS as BUCKY McSNEAD one year after this interview took place. – ed.] I have great memories of all of them.
They were a lot easier and more fun to make because I was the only crew and the only goal was to make a movie for fun. With DOGS IN QUICKSAND, I made an effort to produce a real movie for audiences outside my friends and family. That created a lot of pressure to succeed, which I didn't really care about with my other films.
JP: Did anything catch you off-guard on DOGS IN QUICKSAND that you didn't encounter while making the videos?
MT: From making movies my whole life, I pretty much knew what to expect from making a feature. Nothing really threw me off-guard.
JP: Who or what gave you the inclination to pick up a camera and do something with it?
MT: I always wanted to be in movies so I just started making them. I bring my life experiences to everything I do and I just take it from there. There is no right or wrong way to do things, but if you want to do something, then find a way to do it. That's what I have done my whole life. It may never get me anywhere, but at least I did something besides talk about it, which is what most people do.
JP: Do you have any favorite films or filmmakers that influenced you?
MT: I like movies that don't bore me. If it's good, it doesn't matter whether it's mainstream or no-budget. Every filmmaker has made their share of good and mediocre movies. I like and dislike films from Spike Lee, Quentin Tarantino, Ron Howard, Steven Spielberg, Wes Craven, Francis Ford Coppola, Sam Raimi, Kevin Smith, Sam Fuller, Rob Reiner, and the list goes on and on and on.
As for individual movies, I think TO KILL A MOCKINGBIRD is the greatest movie ever made. I also like COFFY, THE GODFATHER, THE DEER HUNTER, GET ON THE BUS, SLING BLADE, DEAD ALIVE, APOLLO 13, BLOODSUCKING FREAKS, SCREAM, SEVEN, CLERKS, PULP FICTION, DAWN OF THE DEAD, BOOTY CALL, THE PARENT TRAP, AMERICAN HISTORY X, KNIGHTRIDERS, EVEN HITLER HAD A GIRLFRIEND, and, yes, TITANIC.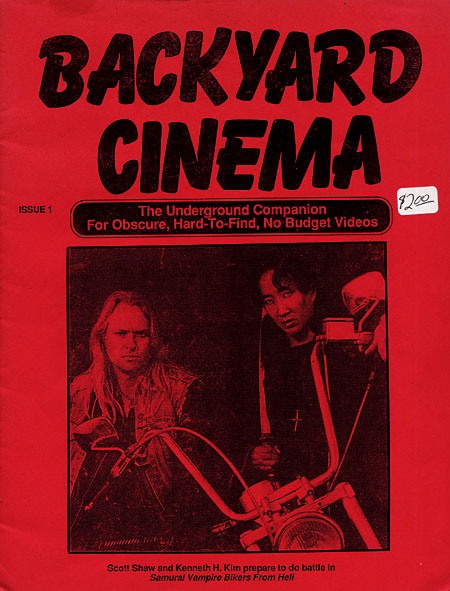 JP: Last year, I discovered in a local record shop a precursor to MICRO-FILM called Backyard Cinema that you published in 1993. It's a nicely composed magazine that covers many obscure grassroots titles, with a bent towards the offbeat and macabre. Would you try it again if the opportunity arose?
MT: I would love to continue Backyard Cinema. I even sold a copy to Fred Olen Ray at the Hollywood Book and Poster Company [in California]. Unfortunately, filmmakers were hesitant in sending me their movies and I just didn't have the time to pursue it properly. I might do it again, but if I did I would go all the way with it and really try to get it in stores all over the country.
The magazine was all reviews. Each movie was reviewed by at least three different reviewers. That way, a filmmaker had a chance of getting at least one good review. It also allowed me to see what other no-budget filmmakers were doing. I was happy to see that my stuff wasn't that bad compared to some of the films I saw.
JP: What kinds of roles should independent filmmakers play as far as supporting the grassroots, DIY movement we're experiencing in our country?
MT: Independent filmmakers should try to make the best movies that they can with whatever they have to work with, and then do what they can to find an audience for their films.
JP: What do you think of the increasingly marketplace-oriented mindset of the major film festivals? They promote programs of fresh, original works, yet does the presence of executives with checkbooks add unnecessary pressure on the filmmakers to tailor-make their films based on the expectations of these strangers, thereby negating the meaning of the word "independent"?
MT: What does "independent" mean? I think I'm an independent filmmaker, and Disney says their studio Miramax is independent, and there is no way I can cast Harvey Keitel in my next film or have even half of the budget that they will work with.
JP: Then, how does one stay true to one's vision without succumbing to the lure of the deal?
MT: I can't speak for anybody else but, if I'm offered a deal, I plan to succumb to it. If I have a vision that I don't want anyone to wreck, I will do it myself, but I have no problem doing something for someone in order to get a good paycheck.
If a true independent filmmaker really wants to make a movie, they should only think about making it for themselves. If they make it to please studio execs, then there is a good chance their movie isn't very original to begin with.
• Films & video productions through DOGS IN QUICKSAND:
CAPTAIN FAIRPLAY (1982)
QUE BALL McMASTERS (1990)
COMING SOON (1991)
I, VAMPIRE (1991)
THE PLAIN JANE CLUB (1991)
COFFEE BREAK (1992)
JESUSVILLE (1992)
THE STORY OF MOMMY AND DADDY (1993)
HALF-DEAD (1994)
DOGS IN QUICKSAND (1998)
:: Part 1 | Part 3 ::
~~~~~
Interview conducted February 1999 via e-mail.
All photos courtesy of Mike Trippiedi.
Promotional flier designed by Jason Pankoke.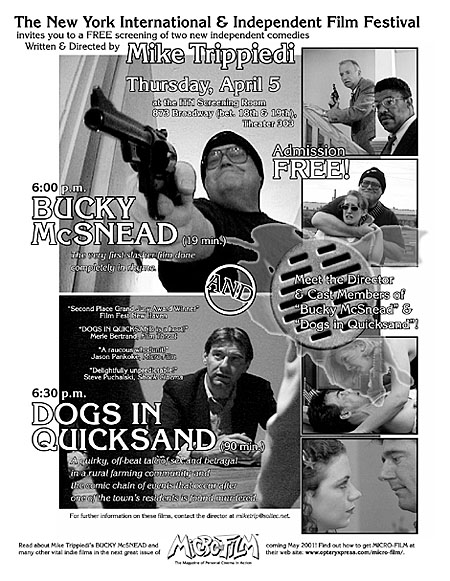 DOGS IN QUICKSAND is a production of Shut Up and Do It Productions. It was written, produced, and directed by Mike Trippiedi and stars Anne Shapland Kearns, Steven M. Keen, Mike Trippiedi, Mina Willis, Susan Muirhead, John Tilford, Sue Trippiedi, Dug Huntman, Mindy Manolakes, Jennifer Heaton, Floyd Bundy, Traci Nally, and Bill Yauch. Director of Photography/Editor: Bill Yauch; Audio Engineer: Scott Cimarusti; Music: David Butler. Running time is 91 minutes. Distributed by Salt City Home Video (1999) and SRS Cinema (2004).
CUBlog EXTRA! Interview No.5 © 1999/2012 Jason Pankoke