Come Saturday we'll be logging a few hours at C-U Flea in one of the fabled dens of Champaign-Urbana musical goodness, the Parasol Label Group building in Urbana, so we thought this might be the right time to spring our third belated DVD announcement in the last two weeks! Local-centric rock-and-roll documentary OUT OF NOWHERE, created by Bob Zimmerman of R.A.Z. Films in Villa Grove, received a low-key release last month through Parasol and Exile on Main Street in Champaign as a bare-bones disc. Several weeks beforehand, Zimmerman graciously invited us to preview this cut, and I'd like to buck tradition and comment on it – ergo, "a review," which we normally don't post on C-U Blogfidential – since I believe NOWHERE is a milestone of sorts and deserves attention out there, somewhere.
The film provides an overview of the foundation on which homegrown popular music has been built in the C-U, focusing mainly on veteran rockers and their bands, recordings, haunts, and lore. While rough around the edges in terms of editing and production value with a two-hour running time that could stand a moderate trim, OUT OF NOWHERE visualizes our scene's history on a scope that we really haven't seen before. I use "scope" in terms of the well-chosen elements Zimmerman brings in to tell the story including talking-head interviews, concert footage clips, music cues, photo collage, and ephemera, rather than a total inclusiveness of the scene which would be impossible to compress into 120 minutes. Whatever its preconceived parameters in terms of subject matter, such a project is long overdue.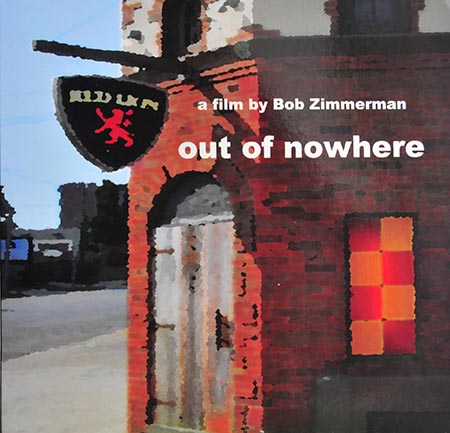 OUT OF NOWHERE sets up our milieu and drops a sizeable segment on REO Speedwagon, the most financially successful band to emerge from the C-U, before introducing once-prominent acts like The Finchley Boys, Skater, Head East, Starcastle, and The Rave, as well as famous promoter Irving Azoff who started earning his rock cred while a University of Illinois undergraduate. Brief detours delve into the early Nineties alt-rock boom, courtesy of Champaign mayor Don Gerard (ex-Moon Seven Times), and the lives and deaths of record stores run by Phil Strang (Record Service) and Cody Sokolski (Periscope Records). Zimmerman also uses the aforementioned collages to recall dozens of additional groups and individuals from the well-known to the rightfully obscure, adding a level of mystery since most of them otherwise do not figure into the film. We've turned out a lot of starry-eyed rockers, that's for sure.
Apart from appearances by Gerard, Pygmalion Music Festival guru Seth Fein (ex-Absinthe Blind), filmmaker and musician Jay Rosenstein (THE AMASONG CHORUS), and Elsinore lead singer Ryan Groff, who provides an eloquent passage linking the generations as well as characterizing Champaign-Urbana as an ideal place for music-makers to live and create, OUT OF NOWHERE is certainly the old guard's show. On-screen turns by Mark Rubel (Pogo Studios), Adrian Belew (King Crimson), Slink Rand (Slink Rand Group), John Schlitt (Head East), George Faber, Garrett Oostdyk, and Brian Cook (The Finchley Boys), Matt Stewart and Terry Hawkins (The Delta Kings, with Sokolski), and maybe 15 others provide an oral history that is a well-reasoned song of experience. Naysayers will still knock Zimmerman for concentrating mostly on middle-aged white dude rock, but getting bent over those apparent three strikes would be disingenuous at this point. I'll tell you why.
At the screening, Zimmerman revealed it took him more than two years to amass and then navigate the 100 hours of footage from which he assembled this edit, a staggering commitment to highlight merely one subset of the C-U music scene as we know it. He deserves kudos for turning out a respectable effort in the end, proving that local culture ethnography of its kind can be accomplished. I'd love to think this will inspire other filmmakers to produce companion media about our musicians, giving due attention to the worthwhile people, places, events, and genres otherwise absent here. Consider OUT OF NOWHERE an unofficial pilot for the best C-U "videozine" series that has yet to be produced by you, and you, and you.
All that said, the cut on the DVD is actually a pre-release cut. Zimmerman has told CUBlog he intends to shore it up before seeking bigger distribution avenues and screening opportunities outside the C-U. We're sure he would be flattered to receive feedback from those who watch OUT OF NOWHERE; you can reach him through his R.A.Z. Web site where you can learn about his other films and photography.
~ Jason Pankoke