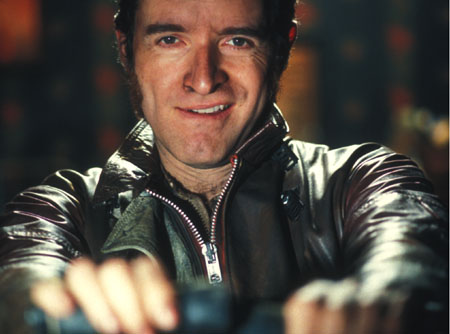 Our friends at the Champaign-Urbana Film Society will finally launch their "Visiting Filmmaker Series" by hosting the incomparable Cory McAbee during the next three days. Apart from the charismatic writer/actor/director's appearances at area schools including the University of Illinois, CUFS has organized two public events featuring McAbee. Tomorrow night, Wednesday, January 23, 8 p.m., the lead singer of The Billy Nayer Show will meet-and-greet fans at Crane Alley, 115 W. Main St., downtown Urbana, IL, and then screen his latest film, the hour-long children's fable CRAZY & THIEF, at the Art Theater Co-op, 126 W. Church St., downtown Champaign, IL, on Thursday, January 24, 7:30 p.m. The former is sponsored by Busey Bank/Busey Wealth Management, the latter is sponsored by the UI Hendrick House, and both are free admission thanks to support from an Urbana Public Arts Grant which also helped make possible a related show which is now past.
Last Thursday, January 17, about 50 folks gathered in the lecture hall of the UI Krannert Art Museum, 500 E. Peabody Dr., Champaign, to watch BNS Productions' first feature, THE AMERICAN ASTRONAUT, at a screening sponsored by the UI School of Art + Design. If you did not attend this prelude to McAbee's arrival in the C-U, we encourage you to seek out ASTRONAUT post haste if you love music, outer space, Westerns, monochrome photography, hand-drawn artwork, lo-fi aesthetics, odd humor, and even odder character ensembles in that ROCKY HORROR PICTURE SHOW/BUCKAROO BANZAI vein. Coincidentally, McAbee announced last week that both ASTRONAUT and its successor, the multi-part STINGRAY SAM, are now available for on-line viewing via the Sundance Institute. We hope you take these opportunities near and far to get your BNS fix!
After the jump, we reprint ace MICRO-FILM reporter L. Rob Hubbard's original Cory McAbee interview first published in MF 5 as THE AMERICAN ASTRONAUT played theatrically throughout the country. At its conclusion you will find a brand-new epilogue by Hubbard which summarizes the artist's creative output since his handsome rogue alter ego Samuel Curtis first hopped between planets and moons to deliver outré miscellanea with a psychotic birthday boy hot on his intergalactic tail. Enjoy!
~ Jason Pankoke
~~~~~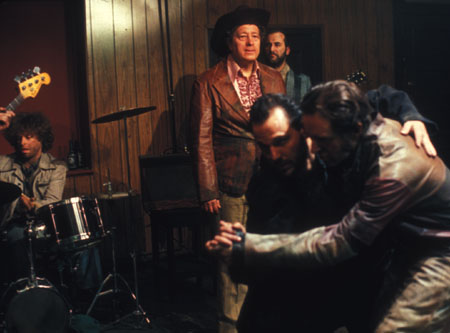 "A Space Oddity for 2002"
Song, dance, and surrealistic travelogue collide in THE AMERICAN ASTRONAUT, a darkly humorous meteor storm from The Billy Nayer Show's Cory McAbee
by L. Rob Hubbard
~~~~~
Musician Sun-Ra once said, "Space is the place."
He was almost right.
Forget the NASA broadcasts of the 1960s and 1970s. Forget STAR WARS, ALIEN, BLADE RUNNER, and all of the myriad permutations of that trio. Definitely forget cyberpunk, THE MATRIX, and the like. Think more along the lines of the stories of Ray Bradbury, with their mixture of the fantastic and the familiar. Now add in trace elements of the old FLASH GORDON serials, THE GRAPES OF WRATH, and just a touch of noir paranoia. And thus, a brave new world is born.
In this place, women may be from Venus, but men are not necessarily from Mars, although they hang out in bars on nearby asteroids. Men are from Jupiter, where they toil with only the tales of The Boy Who Actually Saw a Woman's Breast to keep them going. Real Live Girls can be cloned, but you don't want to know from whom. It's a place where Hurtz Doughnuts are not to be taken when offered; where mutated silver miners are grizzled, decent souls suffering from the effects of "space punies" after sending their barns into orbit; where fathers teach their sons to kill sunflowers; where lonely psychotics with birthday fixations and homicidal tendencies look for just a little love in all the wrong places; and where just about everyone you meet has intimacy issues.
This is not an easy place if you're an interplanetary trader from Nevada plying your wares and just trying to maintain some sense of equilibrium and normalcy. With all apologies to Sun-Ra, space is a lonely town.
That's according to Cory McAbee. He should know, since he's the mayor.
In real life, McAbee is the front man for The Billy Nayer Show, a band/performance outfit originally based in San Francisco. BNS Productions is the umbrella title under which McAbee and creative partner Bobby Lurie have produced five albums as a band, several acclaimed short films, and their first feature, THE AMERICAN ASTRONAUT, currently in limited theatrical release through Artistic License Films. Billed as a "semi-autobiographical musical space-western," ASTRONAUT has already raised eyebrows, but for those past and present devotees of The Billy Nayer Show, it's the usual business from the mind of filmmaker/artist/actor/ musician McAbee.
A Bay Area native, McAbee found his artistic abilities early. "The entire time I grew up, I was always drawing – I studied drawing and painting a little bit when I got out of high school. They developed at the same time, even the writing, which is also what I used to do as a child to amuse my friends," he says. "The writing is pretty much the crux of everything, the music and film work." McAbee also took up the autoharp, and by the late 1980s had found a way to synthesize those interests into The Billy Nayer Show.
Their first film, the three-minute animated short BILLY NAYER (1990), took McAbee two and a half years to complete. "[I first] made the soundtrack in a friend's living room, then acted it out, lip-synched, on film [photographed by BEING JOHN MALKOVICH cinematographer Lance Accord]. I set up my own rotoscope facility in my bathroom by hot gluing a cabinet door to my bathroom wall. I used the rim of the door for registration. Then, I traced the outline, painted it in [using house paint, and] re-shot them and synched it up with the soundtrack." The resulting effort premiered at the Sundance Film Festival in 1993 and has been featured on PBS television and in THE 24th ANNUAL INTERNATIONAL TOURNEE OF ANIMATION, a compilation film released by the Samuel Goldwyn Company.
The second film was THE MAN ON THE MOON (1992), a 20-minute Pixelvision short. As McAbee explains, "[The Fisher-Price Pixelvision cameras had] just been taken off the market … and I had no idea what one was. I was working as a bouncer at this club and this guy came in with this camera and said, 'Here, use this.' He didn't know that I was making films or anything, he just gave me this camera. I had broken up with this woman who was living with me at the time. So, I wrote THE MAN ON THE MOON, about a dejected husband who goes off to live on the moon with his cat." The character makes periodic broadcasts to Earth, including a "Christmas Special" featuring the ditty "Must Be Santa," a special appearance by musician Buck Naked, and bitterly ironic monologues on his wife's desertion.
After that came THE KETCHUP AND MUSTARD MAN (1994), a half-hour, stream-of-consciousness rant done as a musical. The finished film won acclaim at various festivals, but the production did run into rough spots. "Some people came in and said they wanted to help work on the film. They were going to bring 'great production values' to the film," McAbee explains. "We didn't agree on a lot of things, and they turned out to be some very evil people who were sending things out under their own name before the film was done. We called them on it. They said we were lying, and when we proved we weren't, they said, 'We're done!' and they left. Stories of evil like that, I find, aren't uncommon in the film world, but fortunately everything was covered before we met them so we weren't derailed." The shorts were collected together and screened as THE BILLY NAYER CHRONICLES, with the band performing live between films.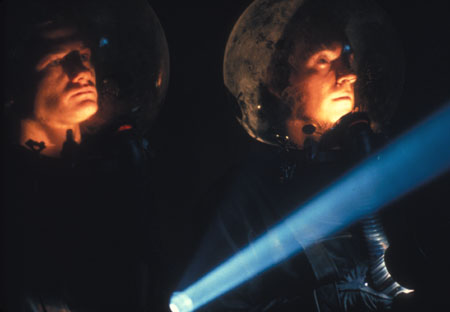 The genesis of THE AMERICAN ASTRONAUT began over a decade ago, when McAbee conceived the idea and composed songs to go with it. "The film is called 'autobiographical,' due to it being inspired by people and circumstances from one point in my life," he remembers. "I wasn't living anywhere, and I was working in bars as a performer and bouncer, and also doing odd jobs." The western elements are drawn from McAbee's family, "mainly from my father – he was a cowboy and auto mechanic from Boonville, California. [ASTRONAUT lead character] Samuel Curtis' temperament and aesthetic were largely inspired by him. The ship [piloted by Curtis] was inspired by my grandfather, who lived in a trailer in the middle of the Nevada desert and fixed things."
McAbee's script was eventually chosen for the 1998 Sundance Screenwriter's Lab, an experience that he found highly positive. "The screenwriter's lab presented new ways of looking at my work, different points of view from people working in film," McAbee says. "I felt nervous at first; I went up there thinking that I was out of place. I didn't really understand why I was going, but it was wonderful." The lab selected 11 people for the fellowship, and the advisors that year included Wesley Strick (CAPE FEAR), Alphonso Cuarón (A LITTLE PRINCESS), Nelson George (CB4), Chris McQuarrie (THE USUAL SUSPECTS), Dana Stevens (CITY OF ANGELS), and Stewart Stern (REBEL WITHOUT A CAUSE).
"I'm always dealing with chaos and I live in a vacuum with my work and nobody knows the characters in this script," continues the director. "Next thing I know, I'm on this hill with these wonderful people, all of whom know everything about the characters – they're talking about them as if they're actually realized. The nice thing about that, it brought a bit of closure to one process of the film, which took me three years to write and storyboard. Something I really loved about how people saw it – it's a musical, it's very funny, [but] everyone focused on the tragedy, which I thought was refreshing."
Even with such a prestigious start, it still took some effort to launch THE AMERICAN ASTRONAUT into orbit. Sundance did not provide funding, so that meant enduring a long process of raising money. "There were many companies who were interested in reading the script, [but] none of those companies liked the screenplay," McAbee explains. "They were drawn by the attention given to it by Sundance, but repelled by its content." Another sticking point was McAbee's insistence on having final cut, which narrowed things further. Eventually, someone introduced to the filmmakers at one of The Billy Nayer Show's live performances invested in the movie.
"The American Astronaut" is Samuel Curtis (Cory McAbee), an interplanetary trader from Nevada who gets involved in a shifty big-money scheme concocted by his pal, The Blueberry Pirate (co-producer Joshua Taylor), involving a cat and A Real Live Girl. The plan requires hopping from the asteroid Ceres to the all-male mining planet Jupiter to strike a deal with the owner, Lee Vilensky (Peter McRobbie), to trade the Girl for The Boy Who Actually Saw a Woman's Breast (Gregory Russell Cook). Then, it's off to the all-female paradise of Venus to trade The Boy for the remains of a Venusian stud and return to Earth rich. Unfortunately, Curtis is being pursued by his homicidal nemesis and birthday boy, Professor Hess (Rocco Sisto), who wants to kill him but is making do by murdering all of Curtis' acquaintances in the meantime.
Clever production design by Geoff Tuttle, costume design by Dawn Weisberg, and photography by Mott Hupfel III accentuate the look of THE AMERICAN ASTRONAUT, making life in outer space appear beautifully mundane and wonderfully lo-tech, sort of a dust-bowl noir. For example, an outpost on Ceres resembles the worst dive bar you've ever been in, the interior of Curtis' spaceship is a Lynchian hotel room, and a space station bears an uncanny resemblance to a barn. For the exterior space travel scenes, Tuttle and artist Maria Schoenherr hand-painted every shot, giving the scenes a slightly old-fashioned photographic quality. The costume design by Weisberg evokes the lonely routines of space, as well as reflects the choices of communities of isolated men and women. The photography brings to mind the retro look of 1940s and 1950s film noir and of the television classic THE TWILIGHT ZONE, helping to preserve a suspension of disbelief.
Another strong feature is the catchy music by The Billy Nayer Show that moves the story along. McAbee recalls, "I wanted musical numbers to be fully integrated into the story. So, one number happens at a dance contest, one at a rally of workers on Jupiter, and one number is even used as a kind of musical assault against Curtis in a bathroom ("Hey, Boy!")." All of these aspects highlight the film's tone, a combination of comic nightmare and sweaty fever dream.
BNS Productions shot THE AMERICAN ASTRONAUT in New York City on a 28-day schedule in early 2000. Remarks McAbee, "The funding came from New York, and my band is in New York, so working in New York was a given. There's also a lot of talented people here, so that made it easy." Filming went smoothly and, with an additional eight months of post-production, ASTRONAUT made its festival premiere at Sundance 2001 and played the festival circuit for the better part of last year. Artistic License eventually picked up the theatrical rights and has been opening the film in major markets since the fall.
"Making a feature was the most fun I'd ever had in my life," claims McAbee. "It gave me a chance to work with a lot of wonderful, talented people, and making them proud of the completed product and of their part in it means a lot to me." Now located in New York City, and having a pet project finally completed, McAbee still has many other surprises to unleash to the delight of old fanatics and recent acolytes. "I'm working on my next screenplay [a werewolf movie], but that kind of work takes a lot of time. Right now, working with my band and painting is what I want to do. I've turned down all of the management offers that have come my way – I'd rather keep going the way I'm going for right now."
~~~~~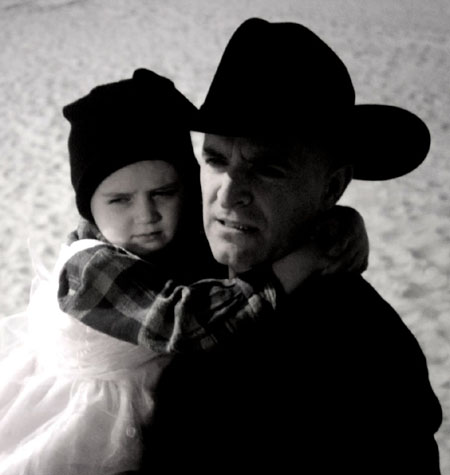 "'Crazy,' After All These Years"
Multi-media producer Cory McAbee continues to expand his own universe with a man named Stingray Sam, several hunters of werewolves, and tiny folk with a big sense of wonder
by L. Rob Hubbard
~~~~~
Going his own way has reaped rewards for Cory McAbee. Due to continuous screenings in the early 2000s and a DVD release long out of print, THE AMERICAN ASTRONAUT has amassed a cult following. His band, The Billy Nayer Show, released two albums subsequent to their ASTRONAUT soundtrack, Goodbye Straplight Sarentino, I Will Miss You (2003) and Rabbit (2004), while McAbee himself went on to co-produce two offspring, daughter Willa Vy and son Jack Huck. He also has continued development on his long-gestating project, WEREWOLF HUNTERS OF THE MIDWEST. In 2006, the Sundance Film Festival commissioned McAbee to create a short film intended for mobile phone distribution. That short, RENO, premiered at Sundance 2007 and its success led the filmmaker to conceive a new film story that could play on any screen, anywhere.
The result, STINGRAY SAM, premiered at Sundance 2009. Featuring droll narration by David Hyde Pierce (FRASIER), STINGRAY SAM follows ex-convict and current lounge singer Stingray Sam (McAbee) as he teams with his old accomplice, The Quasar Kid (Crougie), on a wild quest to save a little girl (Willa Vy McAbee) who is being held captive by Fredward (Joshua Taylor), the genetically designed figurehead of a wealthy planet. STINGRAY appears to be set in the same universe as ASTRONAUT and is paced as a serial which viewers can watch in segments or as a full-length tale. Catchy songs figure heavily in the storytelling as with prior BNS Productions films.
While the band marked 2010 with a new album release, BNS Presents The Billy Nayer Show, funding issues and the death of two prospective cast members effectively put WEREWOLF HUNTERS on hold. [That situation has apparently reversed, as McAbee announced just last week that new producers had joined the project. – ed.] McAbee soldiered on by shooting another low-budget film called CRAZY & THIEF, a modern urban fantasy about a young girl (Willa McAbee) and her toddler brother (John McAbee) embarking on a wide-eyed adventure. It has been screening at festivals across the globe since summer 2012.
Also in 2012, the filmmaker announced The Billy Nayer Show would be going on hiatus and then introduced a new venture, Captain Ahab's Motorcycle Club, a collaborative international collective that was conceived by McAbee and fellow filmmaker Gregory Bayne. The Club would entail various graphic, musical, and film projects, the first of which is titled THE GREAT AMERICAN FUNERAL and will dramatize the procession of President Abraham Lincoln's body from Washington, D.C. to Springfield, IL.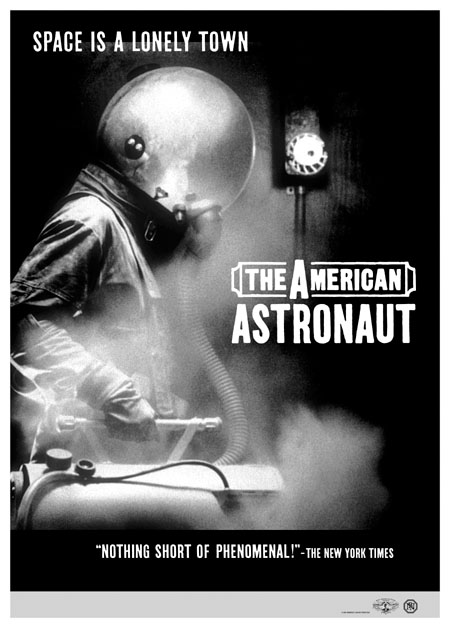 ~~~~~
L. Rob Hubbard has written about film for MICRO-FILM, Cashiers Du Cinemart, and 366 Weird Movies. He currently works in indie film production in the Midwest.


"A Space Oddity for 2002" originally appeared in MICRO-FILM 5, June 2002, p.8-10. Article © 2002 L. Rob Hubbard. Used with permission.
"'Crazy,' After All These Years" © 2013 L. Rob Hubbard. Used with permission.
CUBlog edits © 2013 Jason Pankoke
All graphics: © and courtesy of BNS Productions