The majority of our dearest readers have probably decided whether or not to attend tonight's 30th annual Insect Fear Film Festival. If you happen to be one of those folks perennially on the fence over this giddy collision of real science and subpar cinema, wrought by the University of Illinois' Entomology Graduate Student Association (EGSA) under the watchful eyes of Department of Entomology head May Berenbaum and News-Gazette film journalist Richard Leskosky, then maybe this year is your year to set aside all personal conspiracies and go!
The 2013 theme is "The InsX-Files: The Truth (About Insects) is Out There" as EGSA welcomes THE X-FILES creator/producer Chris Carter and writer/story editor Darin Morgan to Foellinger Auditorium on the UIUC Main Quad. They will take questions after screenings of the third season X-FILES episode, "War of the Coprophages," from 1996 – it is the "monster of the week" story with an entomologist character named after Berenbaum and a killer cockroach plot based on her research – and the 1998 theatrical feature, THE X-FILES: FIGHT THE FUTURE, directed by Rob Bowman and involving honey bees carrying an alien virus. In other words, no EMPIRE OF THE ANTS or GIANT SPIDER INVASION to weather before the good stuff kicks in!
The entomology component of IFFF takes place in the Foellinger foyer, where EGSA members will introduce young and old alike to the wonders of the insect world. (Fans of arachnids and other arthropods will also have something to marvel at, scout's honor!) Both live specimens and mounted collections will be on display. There will also be activity tables for children and a gallery of Art Contest entries. Doors open at 6 p.m., THE X-FILES presentation begins at 7 p.m., and admission to the entire evening is free!
A schedule of events appears after the graphic below, one of two new t-shirt designs that will debut tonight.
~ Jason Pankoke
[Updated 2/24/13, 12:30 a.m. CST]
~~~~~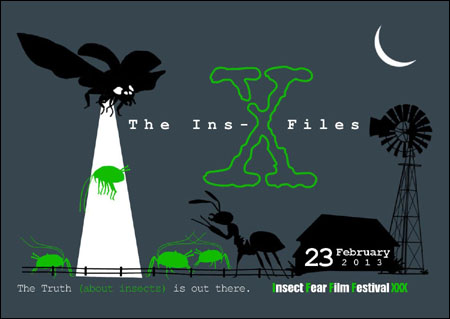 Schedule of Events
6 p.m. Doors open to public
7 p.m. Introduction to the program and Chris Carter
7:30 p.m. "War of the Coprophages"
8:15 p.m. Audience Q&A with Chris Carter
8:45 p.m. THE X-FILES: FIGHT THE FUTURE
10:45 p.m. Audience Q&A with Chris Carter