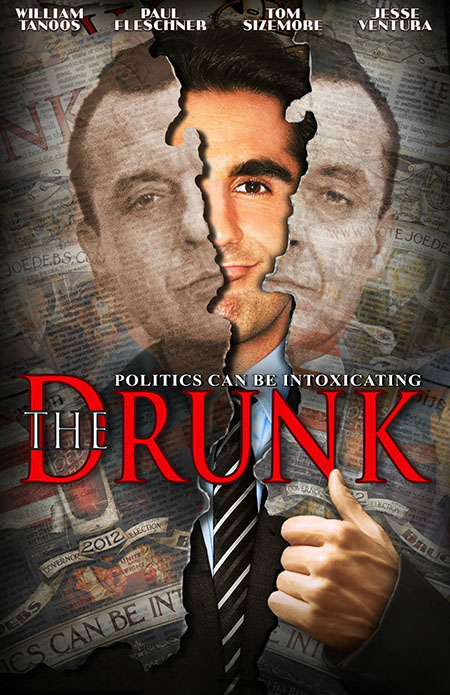 Ready to dig into the wonders of the Champaign-Urbana filmmaking contingent at the New Art Film Festival tomorrow evening, dearest supporters? We hope you will join us at the Art Theater Co-op for our fifth collection, a centerpiece of which is the new movie THE DRUNK directed and written by William Tanoos and Paul Fleschner of Tanoos Fleschner Pictures in Los Angeles.
Filmed not too far away from the C-U in Terre Haute, Indiana, THE DRUNK stars Tanoos as listless boozer Joe Debs, a relative of the radical United States labor leader Eugene V. Debs who decides to shape up and tackle prosecutor-slash-nemesis Bruce Frye (Tom Sizemore, BLACK HAWK DOWN) in the state political race. Debs talks long-time friend and promising young lawyer Paul Donegan (Fleschner) into helping run his campaign, while outgoing Governor Littleton (Jesse Ventura, PREDATOR) keeps an eye on this contest for personal reasons. In the heat of building up public presence, Debs meets wide-eyed Becky McKinney (Maura Kidwell), an assistant with another campaign who defects to our flawed hero's venture. Needless to say, Debs' platform opens up old wounds as much as it inspires new hope.
Terre Haute natives Fleschner and Tanoos developed this fictive tale using the exploits of early 20th century activist Debs as a historical basis. Following the feature's world premiere at that city's massive Indiana Theatre on February 15, the NAFF gives THE DRUNK its C-U bow due in part to the involvement of local media firm Shatterglass Studios, hired to help manage the production and provide select crew from the immediate Midwest region. You can read more about THE DRUNK, if not watch its trailer or peruse the full 2014 schedule, on the NAFF Web site. On-line magazine Smile Politely also shared a few words between Tanoos and writer Thom Schnarre in their NAFF coverage posted earlier this week.
THE DRUNK will street domestically on Tuesday, April 22, through independent distributor Green Apple Entertainment, which also handled similar duties on the southern Illinois zombie film FARM edited by fellow NAFF '14 filmmaker Andrew Gleason. Given the relative paucity of product specs available on the Interwebs, we will stick by our stock uneducated guess and claim this will be yet another bare-bones, DVD-only release. For those not available to get DRUNK at the NAFF or unwilling to wait for disc, a download is available through the producers' official Web site.
Below the still of actors Sizemore and Ventura in character, politely resisting eye contact while doing a press appearance in the movie, we share Green Apple's plot crunch for THE DRUNK. You've already surmised correctly the graphic above is the company's DVD cover artwork because we trust in you to be smart like that.
~ Jason Pankoke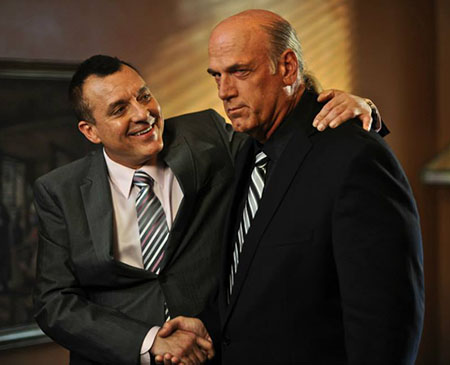 THE DRUNK [is] inspired by one of America's best-known socialists and union frontrunners.
When Joe Debs, grandson of legendary American labor union leader and socialist Eugene V. Debs, gets arrested for driving under the influence, he chalks it up to just another casualty in his long and illustrious drinking career.
But, when he discovers that the corrupt prosecuting attorney plans to put him in jail for his own political gain, Joe decides to run against him for the Democratic nomination for governor.
During the tumultuous campaign, Joe discovers the trials and tribulations of politics – while struggling to find a balance between his family's reputation and modern democracy – building not only a great appreciation for his grandfather's legacy but an even greater understanding of himself.
An inspirational story of love, loss, and healing.