"Annual Collection of Feminist Films Honors Diverse Voices"
This fifth program, curated by the UIUC Women's Resources Center, enables a safe haven for alternative voices in self-made media
by Lauren Laws
~~~~~
CHI CITY YOUTH took top honors recently at the 5th annual University of Illinois Feminist Film Festival, winning three of six awards categories including the coveted Audience Impact Award. An excerpt from the longer piece ILL POETS SOCIETY, featuring former UI Kinesiology and Community Health student Jazmine McKinney reciting her spoken word piece "Chi City Youth," was one of 13 shorts shown the evening of Thursday, May 8, at the Art Theater Co-op in downtown Champaign with numerous creators in attendance.
The evening opened with a welcome from Rachel Lauren Storm, Assistant Director of the UI Women's Resources Center (WRC), with a brief message regarding the diversity of genres, topics, and artistic styles of the shorts. Their directors, producers, and actors, as well as film enthusiasts, crowded the theater to see the finished films. Before the awards were announced, the audience was given an opportunity to ask the filmmakers questions about their work after the viewing.
The event is sponsored by the WRC, a unit of the Office of Inclusion & Intercultural Relations, and organized by Storm. According to their Web site, "The annual Feminist Film Festival is a grassroots event that uses art and alternative media to bring social issues to the fore. The goal of the festival is to showcase independent film spanning documentary, narrative, and experimental genres in order to explore perspectives often missing from mainstream media and culture."
WRC invited UI student filmmakers, both new and seasoned veterans, to submit pieces of up to 15 minutes in length. The Feminist Film Festival strives to cover topics concerning gender, race, class, sexuality, ability, and other dimensions of social inequality.
"This was a personal experience," said Gracy Xiong, director of THE LIGHT. "I'm an international student away from my family for two years. My mom passed away two years ago. I depend on God and Jesus, which is a new thing for me." THE LIGHT focuses on a woman's journey of self-love and empowerment through the discovery of her spirituality.
Other narratives accepted into the festival include TUNNEL TO GREENLAND, directed by Anne Lukeman, and THE KINGDOM, directed by Michael Zhang.
Although produced by Lukeman as a film, TUNNEL TO GREENLAND was actually written by then 16-year-old Ruth Chung as her submission last year for Pens to Lens, a screenwriting competition open to students from Kindergarten through 12th grade in Champaign County that is sponsored by the Champaign-Urbana Film Society. Lukeman commented that it was the "best script I'd ever seen."
THE KINGDOM is Zhang's first attempt at a fictional narrative. "The story is an amalgamation of a lot of things and is influenced by noir. Specifically, work that is surreal and doesn't make sense," said Zhang. "I wanted to create a short story that was something I could be proud of."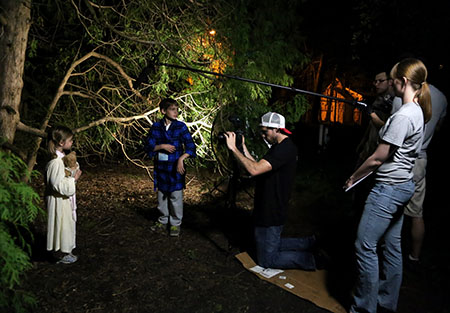 Quite a few experimental works were included in the Feminist Film Festival this year, including RUSALKA directed by Robin Lee, COMPULSORY PHYSICAL EDUCATION FOR CIVILIANS directed by Daniella Pavlic, INCANDESCENT directed by Iman Sharabash, and DON'T THINK TAIPEI directed by Ann Wu.
"I made [DON'T THINK TAIPEI] four years ago after I had an argument with a teacher about the use of art to prove a point versus written word," said Wu, whose film focuses on the congested and busy streets and life of the people of Taipei through visualization and music. She points out that "people are alienated [in Taipei] although [Taipei] is full of people."
Pavlic's piece, on the other hand, was influenced by her study of the Guatemalan Civil War. According to her artist's statement, "I situate my work as a critical platform to examine the processes of conditioning athletes in retaliation to the methodology of the Guatemalan government conditioning Mayan communities. I use the vernacular of exercise equipment and workouts to illustrate the methodical violence and coercion towards communities that were annihilated."
Documentary submissions this year included CHI CITY YOUTH directed by Dr. Raymond Morales, BREAKING SILENCE directed by Amanda Toledo, LGBT@UIUC directed by Isabel Arechiga, SEEING LANDING directed by Xinran Yuan, KNIT GRAFFITI GALS directed by Meghan Bohardt, and VICTIM BLAMING directed by Laura Semeitz.
BREAKING SILENCE and VICTIM BLAMING both focus on rape culture, although in slightly different ways. In a rather short run time of one minute and 50 seconds, VICTIM BLAMING urges viewers to stop blaming the victims of rape, while BREAKING SILENCE looks at how people view rape culture and what it consists of.
SEEING LANDING became a personal look at life and death for Yuan, as well as an exploration of man's relationship with wild animals. "It was originally just a personal documentary," said Yuan, who filmed a pod of whales during her stay in Iceland. "When I heard the news [that they'd been beached] it took a long time to process the emotion. I tried to not feel embarrassed by my reaction. It was a unique personal experience turned introspective."
ILL POETS SOCIETY is a project by Dr. Morales focusing on spoken word artists as they speak about the issues within their communities. Originally beginning as a short film project, it steadily grew into an audio album where selected pieces were turned into videos, one of which is CHI CITY YOUTH.
Six awards were given at the end of the evening
in recognition of the filmmakers' work:
Best Documentary: BREAKING SILENCE
Best Narrative Film: CHI CITY YOUTH
Best Experimental Film: DON'T THINK TAIPEI
Cinematographic Achievement: VICTIM BLAMING
Fiercely Feminist Achievement: CHI CITY YOUTH
Audience Impact Award: CHI CITY YOUTH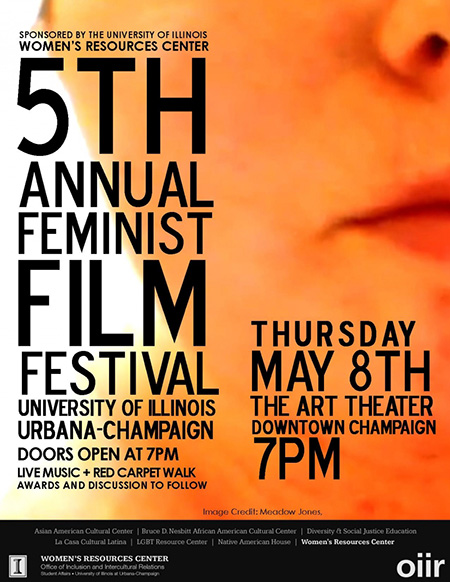 ~~~~~
Lauren Laws graduated with a degree in Journalism at the University of Illinois at Urbana-Champaign. She has written for Smile Politely, The Daily Illini, and C-U Confidential, and also produced video work for The News-Gazette.
Article © 2014 Lauren Laws. Used with permission.
CUBlog edits © 2014 Jason Pankoke
Graphic courtesy the University of Illinois Women's Resources Center